Discussion Starter
·
#1
·
preparing the top
At our old house we had what my wife liked to call a breakfast nook, it was a small table with two benches that occupied the corner of the kitchen. It had cost us 50.00 bucks on craigslist and is/was just the right size for that kitchen prompting us to leave it there. The fact that the benches were notorious for dumping the unsuspecting on their asses may have assisted the decision. The result is that the wife is requesting a replacement.
I decided that I really like the look of butternut from some items I've seen here and have decided to mix it with walnut. Currently I've been working on flattening the top boards on my workbench which is just a flimsy table that is holding up for now.
Here is my shooting board. The nearest place to buy the wood doesn't sell butternut that is pre-surfaced, rough cut only. The result is the set up that you see.
I have two scrap pieces connected with a screw and attached to the table with clamps. The piece of slat that is the actual work surface was from a professional level pool table and is as flat as anything. All jointing is being done with my bailey no5 which has not been easy. I hope to have a no8 by the end of the month but not in time for this top.
I have gotten 3 of the 4 boards jointed on one side; as soon as the 4th is done I'll run them all through the planer to get them the same thickness throughout and all the same thickness. These are the three that are done, the first board still has some rough cut spots but was the flattest of the boards, the result is that it is completely flat as is and ready to run through the planer. The board on the bench in the above pic is the last of the 4 and has a nice big curve in it that should take some effort.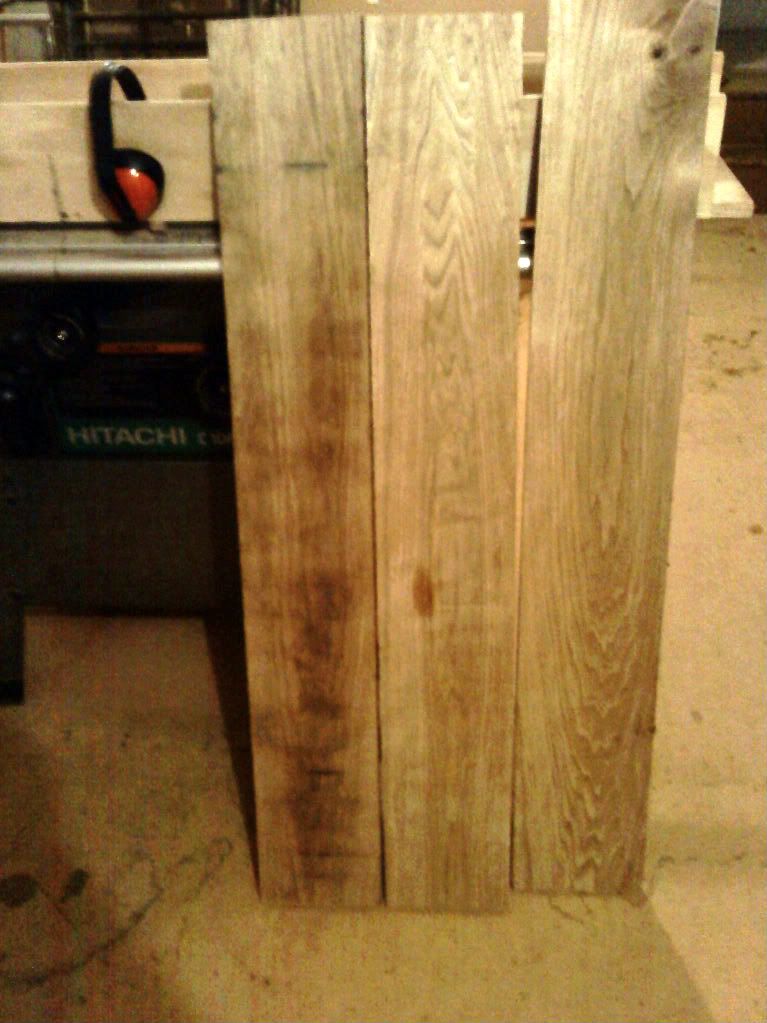 Once planed they will all be lined up together and one side will be jointed square to the faces and the other side then run through the table saw to get them square on all four sides.