Discussion Starter
·
#1
·
Have form...will bend
Scope of work: Replace transom (subject to change)
Vessel: 56' Schooner
Material: Sapele
So, we're a couple of weeks into our repair and restoration class here at the "boat school" and we have something like 8 boats we're working on between the 16 students in the class. One of which I will be working on is the replacement of the transom on a 56 foot wooden Schooner. For those who are not familiar with boats and related terminology, the transom, on a boat is the surface that forms the stern or "tail end" of a boat. (Pictures following)
Now, this is a large piece of wood that we are going to wreck out of the boat, while preserving as much of the planking and internal framework as possible. Once the original transom comes out, the scope of work may change to include more if there is any rot present in the internal structure, planking, or decking. To give you some scale of this project, the transom on this 56 foot boat is about 7 feet wide and 44 inches from top to bottom and 3 7/8+ inches thick. Did I mention that it's a curved and raked transom? A big curvaceous and important chunk of this boat! So, in this series of blog posts, I'll be documenting our progress.
First order of business, obtain the camber or radius of the transom. And the only way to do that was to visit said boat, and get into another boat. So we devised a plan, grabbed the tools and hot melt glue gun, several lengths of door skin and hit the water.
In this first photo we're using hot melt glue to fix blocks along the transom to rest the door skin on so we can spile or scribe if you will, the cruve of the transom. Don't worry ma'am, your're boat is in good hands, we're training to be professionals!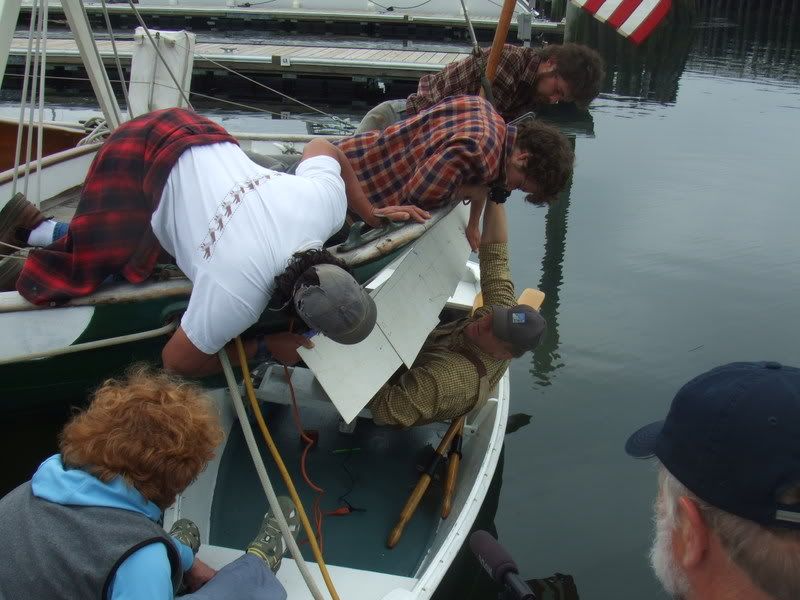 Once we obtained that critical bit of info, we were back at the shop. Now, rather than carve this transom from solid stock, it was determined that we would make this transom out of laminated stock. Ok, sounds easy. But there's still the matter of the curve. So, we took the curve we obtained, laid it out on the bench, faired it up, then transfered that to some 2×8's and cut the curve out on the bandsaw. This was the beginnings of our bending form. We spent the better part of a day building a bending form that eventually all 7-8 lifts will be glued up on.
What might you ask are we making this transom out of? Well, it appears that we wood workers have used up just about all of the teak, hondo mahogany, and other exotic trees for our handiwork, that now we're using Sapele for our boats. It's in the mahogany family, and relatively nice stuff to work with. We milled all of our 4/4 stock to the dimensions we needed and set to work.
Here's a shot of the bending form.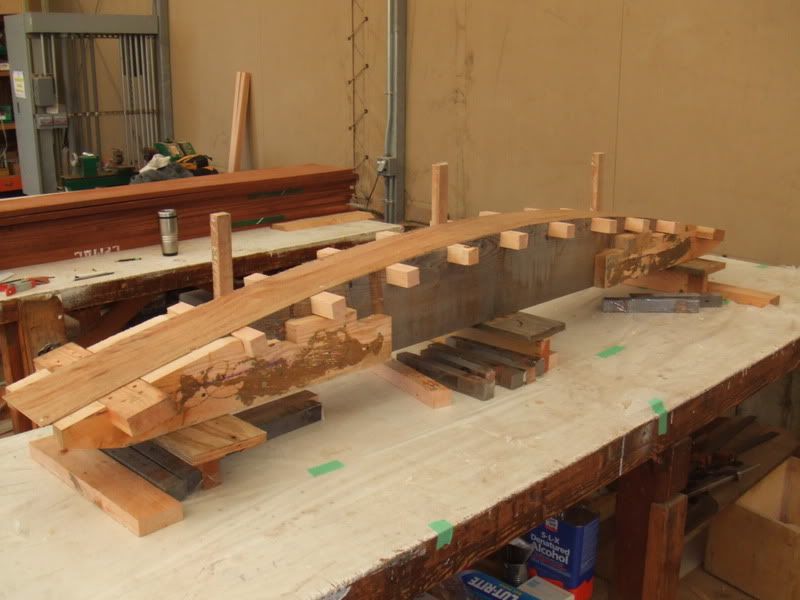 And here's a shot of that Sapele.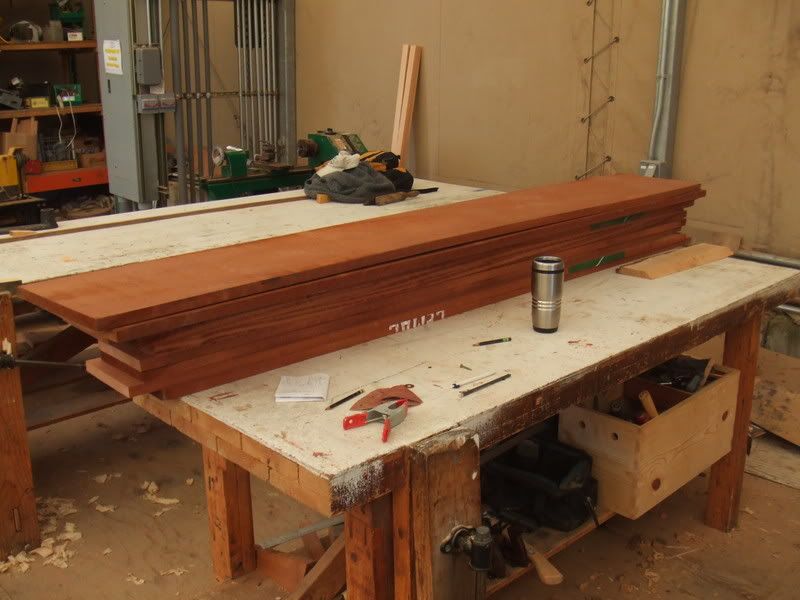 The sapele bends pretty easy around that radius and did not fight us much. We did have two clamps go flying today though. As of this afternoon, we have glued up 3 lifts, and will be continuing tomorrow. So, I'll leave you with a look at one of our lifts on the bending form. This should prove to be a great project for all those involved, and I can't wait to get down to the boat yard. The Schooner is hauling out tomorrow!
And here's the first of many glue-ups that I'll be doing this week.