Hi everyone, Spring has suddenly arrived to our place, in fact we've seen daily highs over 80 degrees regularly the past week or so! Since we live in a very fertile floodplain, a small amount of sunshine means the grass is already growing out of control.
I'd estimate that I try to mow 5 acres of 'yard' including around the house, around the barn and pond, around the shop, a good 1/2 mile of road frontage (both sides of the road), and a mile-long path around our larger field. I certainly don't want it to look like a golf course, but if the grass is over 5" tall you simply cannot see the snakes before stepping on them! Our free-range guineas do a surprising job on scaring off most snakes, but they have a wide area to cover. So, we have snakes. I realize they are an important part of the food chain, so only take out the stupid ones that I encounter in the mowed areas. LOL!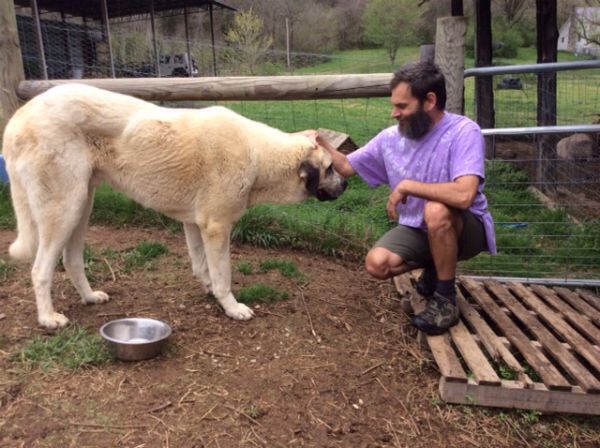 That's me and our livestock guardian dog, Mr. Beast. His size is much more impressive in person…as well as His extremely low frequency bark! He's lost a little weight over the winter, but still pushes 160 pounds easily. For scale, the fencing behind him is 48" tall, if you can even see it!
He's an Anatolian Shepherd, very gentle with the goats who are under His command, and simply a large puppy around my wife. He sleeps most of the day since His job is to watch the fence line all night, and keep out predators. After just mowing the outside of the fenced area yesterday, I still see no evidence whatsoever of intruders. Since we live so far from civilization, we have a healthy coyote population, but as soon as they start to howl in the distance, Mr. Beast answers with His long-reaching barks! Only a fool or rabid animal would enter our fence…and I've only encountered ONE rabid coyote in the 10 years we've lived here.
Shop time has been somewhat limited lately due to troubleshooting our ZTR mower, which finally saw a trip to the dealer for a new fuel pump. A quick introduction to the pressure washer, and now it runs and looks brand new. A very important power tool out here!
My main focus in the shop has been to complete the 12 foot stud wall I started last time…
Sheathed with cheap B/C plywood, painted with Kilz eggshell which I had on hand, and 'framed' with red oak to match the french cleats. I decided to add the vertical strips of oak to hide the ply joints, and shorten the french cleats to 47" since I ripped them by hand. Crazy!
But, that gave me more time to spend with my vintage tools, instead of a few minutes of risk at the table saw. Honestly, since I'm not working on commission, enjoying the time in my shop is more important than the stuff I build.
However, I had no idea how difficult planing the bevels would be. I shaped them close to a 45 degree bevel, and mounted four cleats to the wall, but after trying to hang the first cleat, I realized the bevel had to be more precise than what I had made. So, out came the marking gauge; and a fresh knife wall for me to aim for. I was able to plane 4 cleats to a clean bevel, but the amount of time and effort convinced me I was using the wrong method!
Time to tilt the table saw, and admit defeat. I cut a couple of longer push sticks from 3/4" birch ply and made a sacrificial fence that rides over the factory piece so I would have more room to clamp a featherboard. Then ripped the remaining eight cleats in just a matter of minutes. I think it's time for me to work past my fear of the table saw, and gain knowledge!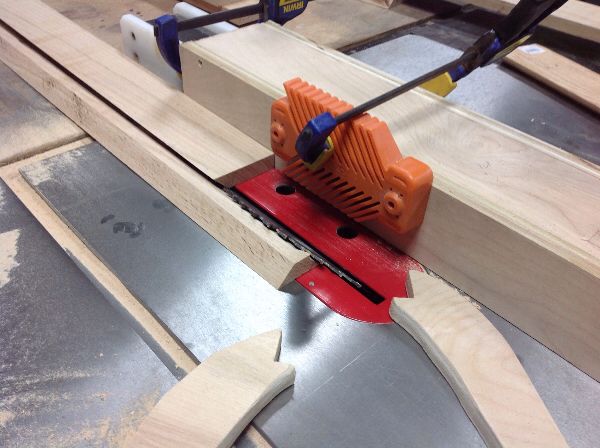 Since the shop is a complete wreck, I've found a lot of time lately to sit and chip rocks…an extremely addictive hobby! I learned the basics of flintknapping in 2005 from reading, but luckily I attended a Knap-In in another state after 6 months, where I met a genuine Master who loved to teach. How strange that He lived only 10 minutes from my home! Fate, perhaps? Over the course of 4 months, I learned the finer points of chipping; changing my life since Primitive Technology presented me with fascinating skills to learn.
Fire-making, hide tanning, constructing bows and arrows by hand, burning out bowls and spoons with coals from a fire, making cordage from animal and plant fibers, flintknapping…all simple skills that empowered our ancestors. Those same skills remain important today to those who enjoy being self-sufficient!
You guys think using a 100 year old handplane or hand saw leaves you with a grand sense of being alive? Try shaping a tool from a rock, or weaving strong cordage from deer sinew, and your enjoyment will leap to an unimaginable level! We allow hunters on our land once every few years, in trade for the deer hide, skull, and legs. At first, they cannot believe we want the skull, but after seeing one of my knives using a jaw bone for a handle, they immediately want one! I've even been known to grab the legs off a deer on the roadside since the tendons make excellent cordage. It only takes a little time and skill.
Here are a few flint knives I recently completed…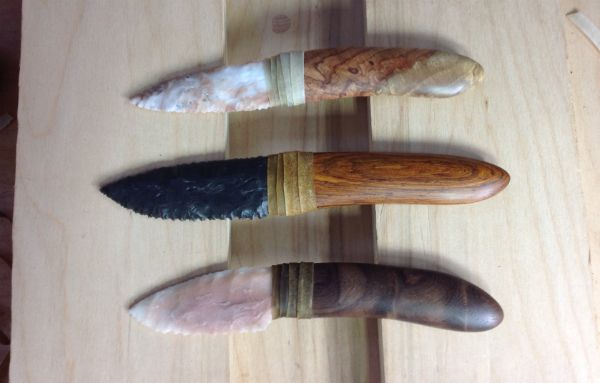 Each is roughly 6" long, the blade is epoxied into a mortise in the handle, and the joint is wrapped with thin deer rawhide to give an old appearance. The top knife is chipped from Piute Agate (Montana) and features a redwood burl handle…this one is actually in the mail and headed to an LJ buddy as a gift! Next is Dacite (volcanic ash) hafted to Cocobolo, and Novaculite on Claro Walnut. Yep, the Novaculite is the same Arkansas stone that we use for sharpening in the wood shop. Although, the colorful stuff is usually reserved for knapping and lapidary work.
I've also chipped a few decent points this past month…
The one in the middle is a 'Dovetail' knife chipped from Mahogany Obsidian; decent notches on that one considering how little practice I've put in lately! The other points are just lanceolate blades; the left one is Texas Pedernales and the far right is Missouri Keokuk. Both materials have been heat-treated to improve the workability of the stone.
And another knife that didn't make it into the previous photo…Novaculite on Claro Walnut again. Then, two more knife blades. I enjoy making knife blades a little more than specific points since a knife can be asymmetric and pretty much any shape! These blades are from man-made Fulgurite and Keokuk…the former is actually sand that was used to form the Space Shuttle tiles, and was cooked into the gorgeous glassy material from the heat of the tiles! I only have a small stash of this rock, and it gets offered at a premium price. Especially after I add a stabilized handle!
I was FINALLY able to complete a heavy bench knife which is also a gift for an LJ friend. This one took much longer than expected due to life itself…which always seems to get in the way of woodworking! LOL! The blade is shop made from 1/8" thick O1, heat-treated to 57 Hrc, and has handle scales made from East Indian Rosewood and Elk antler. In the mail now…
Just a teaser photo of glue-up…I'll save the finished knife till AFTER my buddy receives the gift!
As soon as I added a few storage shelves to the new wall, I moved the lathe next to my shop's front door, and arranged lathe tooling on the cleats. Then I HAD to turn a bit of wood to prevent withdrawal symptoms from worsening!
Here are two completed bowls…the Purpleheart and Walnut should look familiar from last time…and the other is Spalted Maple with Bubinga added for the rim. I'll continue to play with these layered bowls to use some of the scraps in my shop. And to create taller bowls from my 2-3" thick blanks…
I've also started to rough turn some of the wet bowl blanks in my shop so they can dry quicker. Many of my blanks have been in storage here for 4 years, but are still wet due to the high humidity in my shop! Turning the blanks to 1" thickness should allow them to dry in under a year, and be re-turned into finished bowls.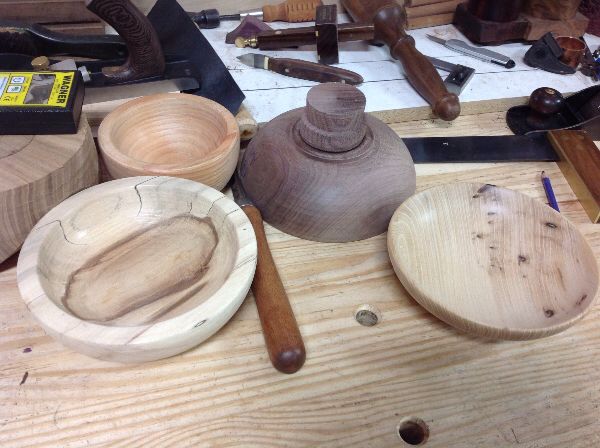 Above you can see the rough turned blanks; from Maple, Coffee tree, and Walnut, and a couple others floating around somewhere. The bowl on the far right is from Elm and completed except for removing the 'foot' from the base. As I was preparing to turn off the footer, I realized my Cole Jaws aren't large enough to grab this bowl…bummer! So, I'll have to build another set of jaws…
I've also started my build for the current Plane Swap. The most difficult part was deciding on a shape for the plane, then the woods. Somehow, I spent nearly 2 hours just selecting the woods from an assortment of thin stock! And another hour arranging the woods into a pleasing array. Sorry, no photo of the plane till later; don't want to ruin the surprise for anyone!
Enough for this update…hope you guys enjoyed the photos!
-- tr ...see one, do one, teach one...
---