Hi everyone, I've decided to try a new format for Blogs for a while and see the response. I've been reading Paul Sellers' blogs nearly every day, and enjoy his ramblings on tools, woodworking, and life in general. So, thought I'd start sharing more of my shop life instead of focusing on one build.
Since I'm such a slow typist, I'm always behind on sharing recent projects from my shop anyway. Maybe this unrestrained format will let me introduce builds in progress and completed as I feel the need?
For the most part, the past 6 weeks have seen me struggle to keep our Farm working despite sub-freezing temps. Since we don't have running water on the other side of the road, where the livestock live, that means hand-carrying water several times daily, and ice removal. Frustrating at the very least…
We received nearly 10" of total snowfall during the month of Feb…and it only takes ONE inch to shut down this entire county! Hey, sometimes the truth hurts.
My 1200 square foot steel shop remains uninsulated, so shop time also gets limited during extreme cold spells. I still have glues and finishes stored in a warming closet made of rigid insulation and duct tape to prevent damage from freezing. :(
Luckily, I was able to find enough time to complete my gift items for the most recent LJ Tool Swap! A handle for an ErikF-made saw plate, and a small brass mallet. Here's the start of the cocobolo tote…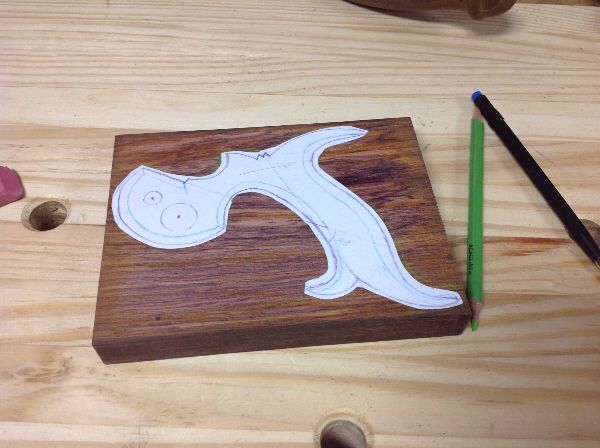 The design is a combination of Gramercy's and a vintage Moses Eadon, with the double nibs that I like so much. Since I allowed the deadline to sneak up on me, I chose to use power tools for most of the shaping to cut down on time. Of course, I paid the price by dealing with all the coco dust in my shop and lungs. Oh, the horror!
The finished saw came out fairly nice IMO! Brass hardware also from Erik. I wanted to attempt shaping my own hardware, but time just ran out for experiments.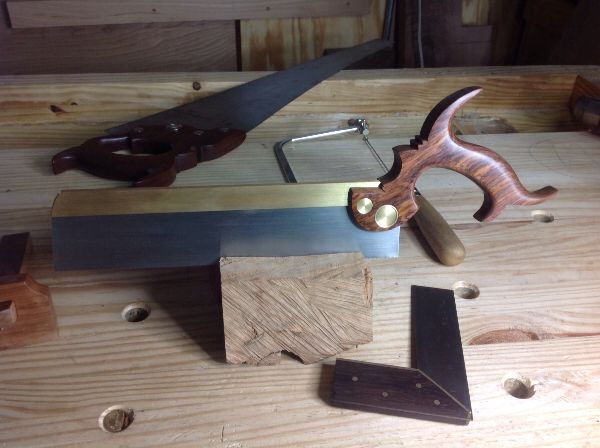 I also added another piece of coco to an August-supplied brass head for a nice heavy, little mallet. Glen-Drake styled…
...wedged with Apple, and pinned with a brass thumbscrew that I shortened. This lil tool was hard to give away! :) As a small quirk in our swaps, Paul…HammerThumb…received this saw AND my previous gift which was also a saw! He also received a gift mallet recently with a coco handle, so has a pair. Luckily, the saws are different ppi, and the mallets are different weights.
I've come to prefer these small mallets lately while chopping the waste from DT's. They are easier to see around and take up less space on the bench.
Speaking of DT's, I also made a DT alignment board, a blatant copy of David Barron's. But, after seeing August's recent build, and watched Mr. Barron online, I could see this would make a grand tool in the shop! previously, I've been aligning pins and tails with cheesy clamps and planes on their side. That method works, but the board should improve my accuracy.
Shaped from H.Mahogany and Walnut…probably my best DT's to date. Honestly, I've become amazed at how EASY it is to cut DT's. I'm still quite the beginner, but improvement seems to come quickly when I take my time. Hard to believe I was intimidated by them…since there's no valid reason for the feeling. Cutting DT's just takes a few careful steps. That being said, perfect DT's may elude me for some time, but I'm OK with that! :)
I hate to admit it, but the sawdust and clutter in my shop has become a very real problem that hinders workflow! When preparing inventory for an upcoming vending event, I tend to just let the wood chips and sawdust gather on the floor. A very bad practice! Especially since my hurricane proof shop seeps water from underneath the building's concrete foundation. That just allows the debris on the floor to soak up water, and keeps the humidity out of control.
Solution? Ummm…working on that! More concrete outside to assist with drainage, more sealers to fill gaps, and no wood debris on the shop's floor.
After a few days of cleaning, I started on a stud wall inside to provide more space for storage. This should have been done from the very beginning, but wasn't in the budget.
Just a 12×8 foot wall for now…that's literally all the floor space I could clean at once without completely emptying the tools from my shop. The plan is to move stuff into this clean area, and keep working my way around the whole shop, cleaning and organizing the overwhelming amount of tools I've collected. AND using the shop vacs to collect debris better from today forward.
Perhaps the 'messiest' tool in the shop is my lathe…although I vacuum up chips several times daily! Frequently, it's hard to even tell…
This tool provides such instant gratification, that I become addicted to it easily. Perhaps that's why I volunteer to make so many things for other folks? LOL. The past few weeks, I've started laminating together a few layered bowl blanks. Not segmented, just layered vertically for now.
Here's a walnut and purpleheart bowl in progress…note that I'm using the tailstock as long as possible to help secure the wood on the spinning lathe. Even though this is a small bowl, I still don't like hollowing out endgrain. I need a better tool rest to keep the tip of my chisels closer to the workpiece to prevent vibrations and small catches.
There are a few more of these laminated blanks in progress…including one with ELEVEN layers!
I also turned a new shifter knob for my Ford since the OEM came unglued this past cold spell. This walnut feels so much better in my hands that I'm sorry I waited so long (10 years!)
For my shop, I also turned a nicer split nut driver from Apple, using a tip I purchased from Gramercy, As well as a new handle for my short flat head screwdriver from Koa…gorgeous stuff!
I had previously turned one of the walnut knobs above as a replacement for an LJ buddy. But, since the counterbore on the base was off-center, my OCD asked to try again. However, the 2nd attempt had a bum counterbore at the top (bent 15/32" drill bit…really?), so I had a third attempt in wait. Looking for a little help, I turned the little jam chuck above which fits into the top counterbore of this size knob. I'll certainly use it in the future for shaping the base…
That's enough for this blog…no time to ponder the meaning of life. Especially since all our female goats and hogs are pregnant and due any time! And 50 baby chicks due to arrive tomorrow. Goodness…
Lemme know if anyone sees my bench!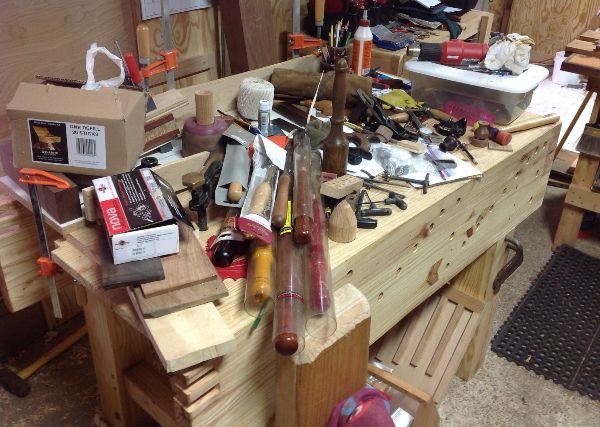 -- tr ...see one, do one, teach one...
---