This is going to be my first blog series on one of my projects. In advance thanks for looking! I have a base idea I want for our living room furniture. We currently have table (GASP) bought from a low end furniture store. They are ok, and in good shape but well me being me I need something I made in the living room. Well low and behold I just finished a side board for the dining room. What's next my wife asked? LOL silly question! I was going to start a second night stand to mirror this one href="http://lumberjocks.com/projects/8467">

After a lumber inventory I don't think I have enough cherry. After a little bit she starts talking about a table to go by the front door. Well my light bulb goes off and here is where I am at with my design.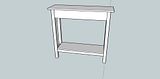 Special thanks to DaveR for the tutorial and hand holding going through his Sketchup tutorial. This is just a rough idea at this point and I am probably going to end up doing some design on the fly. You can probably tell where I am going with the design. It's pretty much typical arts and crafts, I am still debating on the vertical slats between the side aprons and the possibility of adding a drawer in front. The only big difference from traditional arts and crafts design is going to be material selection. I really like the cherry and walnut combination from the night stand and that's what I have in the rack, so I think I might continue that on this piece with the top and the shelf made from walnut, the legs, aprons from cherry. The slats when decided upon are still up in the air, maybe walnut. I think that will be a design choice for when we get that far.
Thanks for looking and any comments or suggestions welcome.
Dave
---