This project is coming along quite nicely. I am surprised how quick it's coming together :). Today I finished the mortise I forgot to clean out, finshed fitting the mortises and did another dry first. before continueing. Everything fit pretty well. So on to shaping the top rail. Did my layout and everything and was talking to my wife about the project, well lo and behold she has a little bit of an idea. She has some candle sticks with stars on them and she thought we should continue that theme to this bench. I found a picture of a decoration on a web site and printed it for the basic shape. Then laid that out in the center of the top rail. Here's the result after the first star is cut.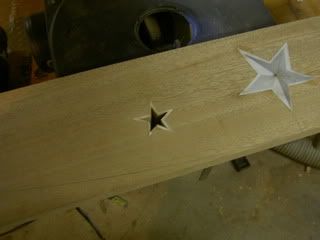 This is just a pic of the scroll saw.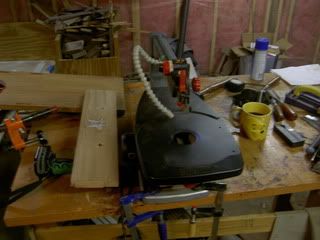 The second star cut


And all of them cut with a little sanding. Not perfect, a few goof ups while cutting them out. Overall not too bad.


Once that was done it was on to cut the curve and sand it. Here's the result of that operation. It'll need a little bit more shaping once it comes out of clamps.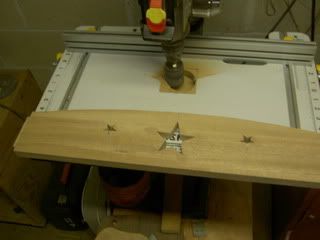 At this point I started sanding just to make life easier after assembly. I realize I made another slight goof. Actually kind of a big goof. I found at the bottom of one of the sides that there were some defects that looked pretty bad. Fortunately the defects were right in the middle of the side panel. Great, I can lighten the look of the side panel by making a semi-circle cut out to make "feet". I didn't get any pics of that unfortunately, but you can see in the clamp up pictures you can see the cut outs. Once the cuts were made I smoothed them out and went on to sanding. Next is glue up. Here's a couple of views of it all in clamps.

As always thanks for reading.
---