Where I left last time was promising pictures of the free standing frames.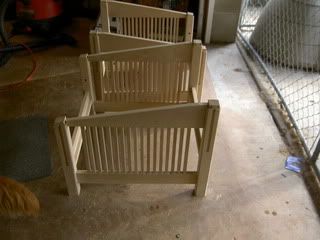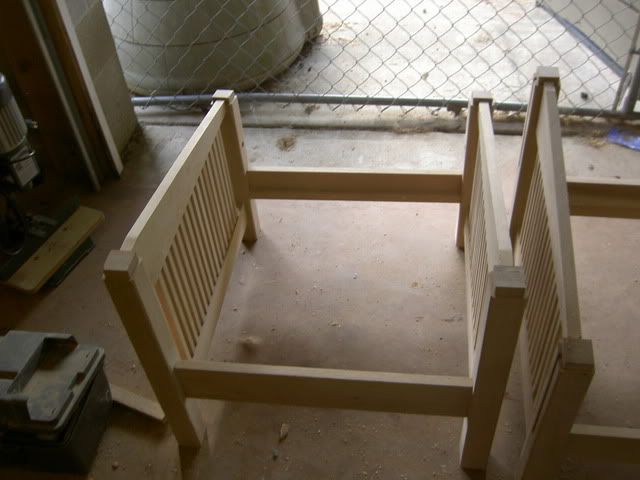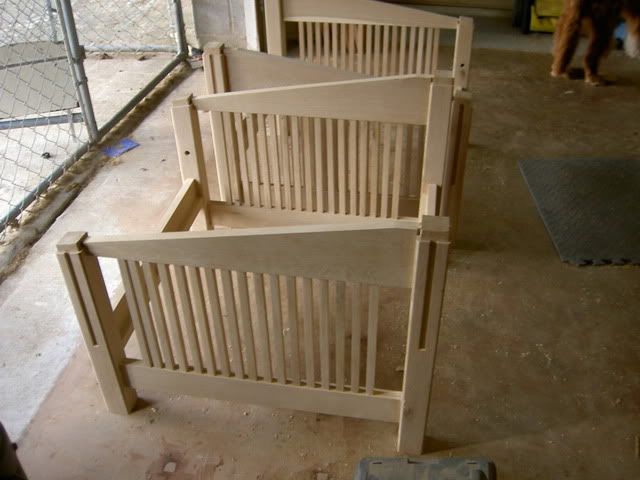 Here we're actually starting to look like chairs. Not just a pile of sticks. I think the worst part was getting all the spindles in their respective holes and getting everything to stay put while I put the clamps on. I most certainly need more clamps. Long story short we made it through and measurable progress.
Yesterday (Sunday) I worked on the arms. I have decided partly due to the lack of time and mostly due to the lack of clamps I have decided to use Woodsmith's angled arm instead of the bowed arm. I have my first commision piece that I need to finish by the middile of December and here we are middle of October already. UGH. Here I have glued the blocks on the front end of each arm piece.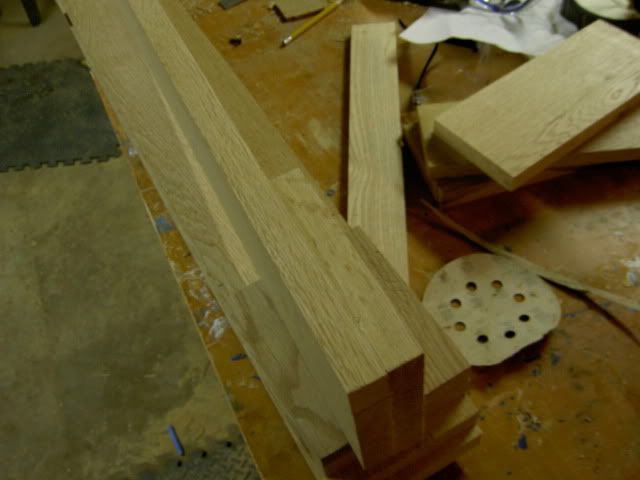 And here is the angle layout. Can't see it very well due to the flash unfortunately.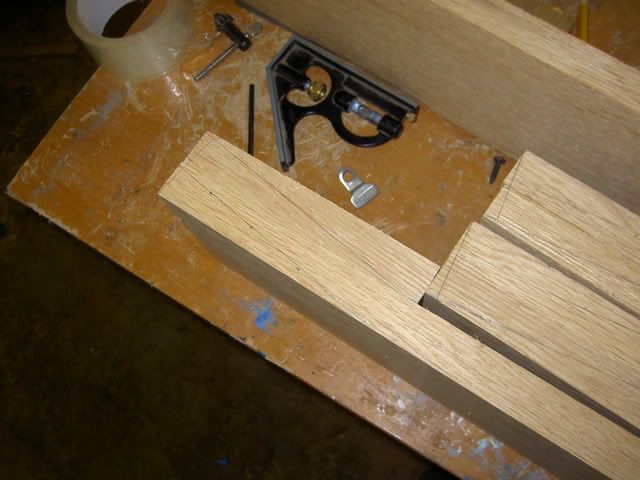 I missed taking pics after initial shaping at the band saw, but stood each arm on edge and cut the angle on the front. Here I have final shaped the arms with my belt sander and a block plane, then laid each arm on the chair for the picture.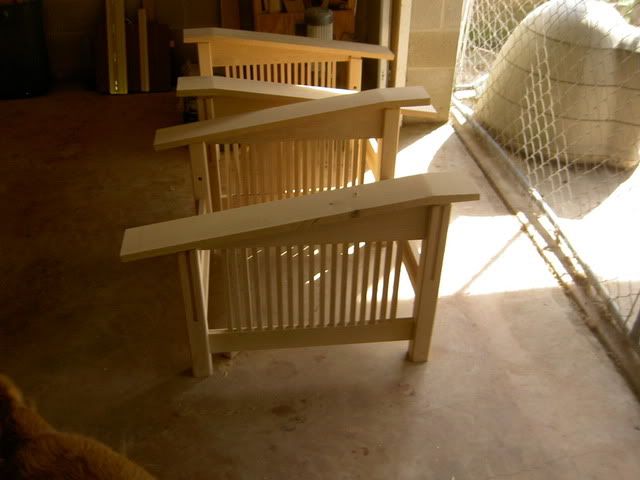 After this step, I drilled the holes in back of the arms for the adjustment pin that will allow the back of the chair to recline. Once those were drilled the plan calls for lightening the look of the arms by cutting an angle off the back. This called for a trip to the band saw and some smoothing with a block plane. Now comes the real fun, the through mortises on the arms. I am sticking pretty close to Woodsmith's plan here for simplicity and time sake. The tenons on the leg only go part way through the arm and then is capped with a smaller piece that has the traditional pyriamid shape on top. Before I quit yesterday, I was able to get the mortises roughed out at the drill press. Tonight I had a couple of hours in the shop and got the 2 mortises on one arm completed.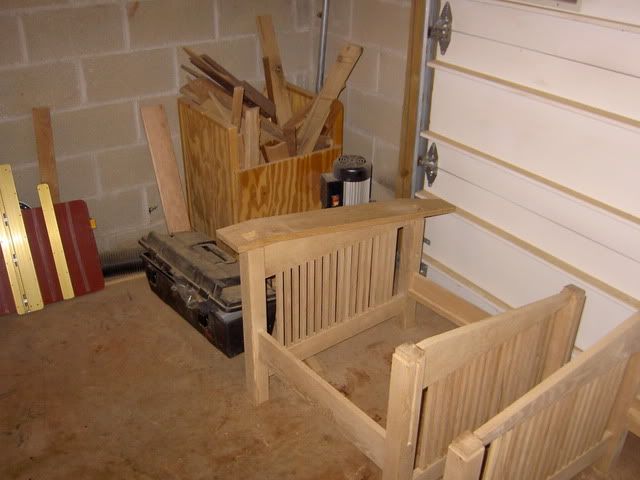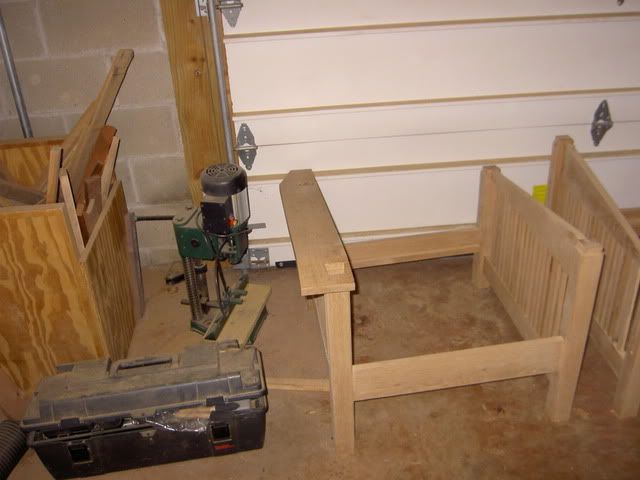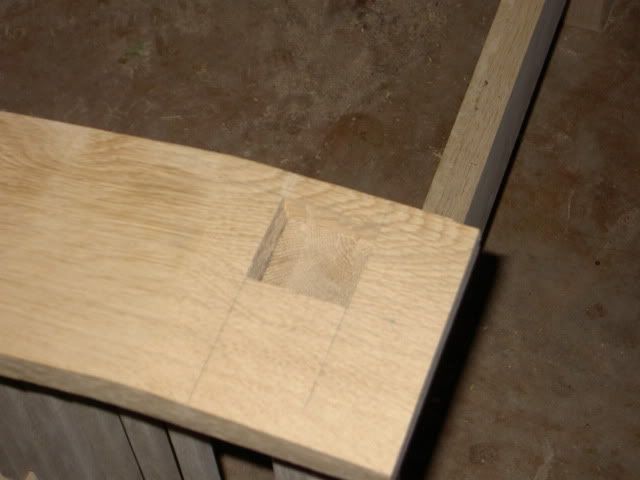 Hopefully by the end of the week I can have the remaining mortises completed and can start moving on the to the corbels and the back. Then find somebody to make the cushions once I have my final dimensions. I have no confidence in my upholstery skills.
---