I changed the title of this series since this next entry uses wood I don't think I could ever throw away (it used to say "burn bucket" instead of "scrap pile"). I have had these this planks of cherry for a long time. They are about 24"x3.25"x1/8". This is another case where I do not have a design, but I'll figure it out as I go…
I had cut them for a project that didn't work out and they have sat ever since. I decided to make an arched votive candle holder. I have looked at a couple examples at galleries and here on LumberJocks and I liked the idea. At first I thought I would need a form for clamping the strips. Then it occured to me that this was not part of a larger project and I did not need to match an exact curve. Just bending the planks over a piece of wood should do the trick. So I grabbed a peice of scrap about 1.5" thick and played with it.
The cherry bent easily – no heating, soaking or steaming would be needed. The next step was to come up with a clamping method. If I were to do an arch, I would not want to change the shape at the ends. But wait! The cherry bent very easily and a "camel back" arch would look pretty cool. Now I could clamp the ends parallel to the workbench. Time to glue it up and use lots of clamps.
At this point, I'm pretty pleased. I have a unique shape, no fancy forms and I think the final design should be pretty good. After waiting a full day, I took the clamps off. There was no perceptible springback. The shape looks pretty good!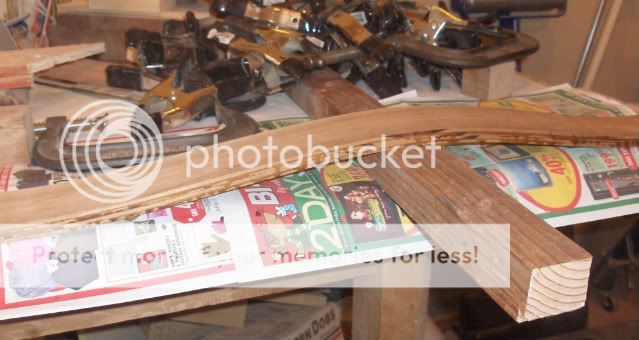 Closer inspection shows some gaps. Rats! I probably needed to use stronger clamps and work out from the center and let the ends slide more. It's not the first time I've done a clamp up like this and I should have done better.
That's enough for now, the next step will be trimming the sides and hoping the gaps get trimmed off. If not I'll have to come up with a plan to hide the gaps. Luckily I have some more thin cherry to work with. All part of designing as you go…
-- Steve - Impatience is Expensive
---