First the story;
In January this year I made a saw vice. Because my working space is minute I decided to clean it up and chamfer it outside. It was freezing!!
When I'd finished planing it my hands and fingers were numb with cold.
I was thinking about this later in the day and came to the conclusion that a wooden block plane would have been more comfortable to use, due to the thermal efficiancy of wood. However…..
All my life I have used a Stanley 60 1/2 low angle plane. These are 1 1/2" wide. No matter how I tried over the years, I never was comfortable with a plane the size of a Stanley 9 1/2, so to make and use a wooden plane of that width would restrict me to a blade width of 1"- 1 1/8", too narrow. I also desired a steel sole because I tend to plane all sorts of material which would destroy my Lie Neilson 102 bronze block.
So the parameters were set;
a. no wider than a 60 1/2.
b. no higher than the above.
c. the only metal parts could be the sole.
( I compromised later and added an adjuster.)
Looking in my junk/treasure box I found this very poor example of a 102. Steel sides awful.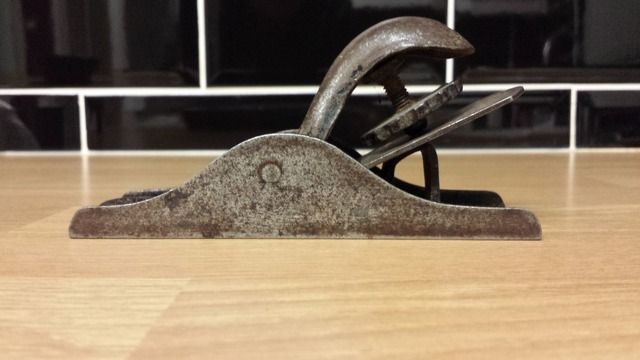 Note the mouth was enormous!!
I set about stripping the plane down, removed the bent metal blade support, and reduced the mouth opening with a piece of steel angle, screwed on.
The original height over the cap iron was much more than I wanted and was contemplating milling a lower bevel. However, when I sketched it out I thought I could get away with the existing blade angle.
I infilled it with walnut, put a simple adjuster in, and, because i had a couple of thin rosewood offcuts. fixed them on the sides with epoxy.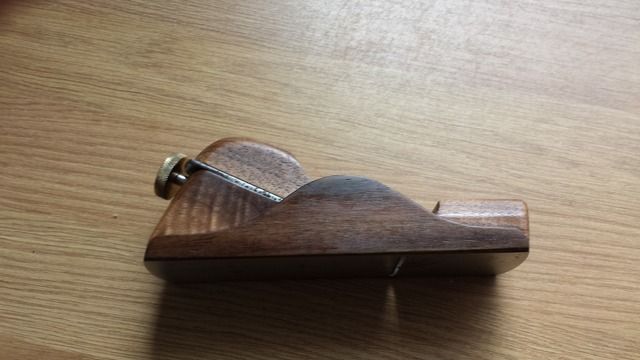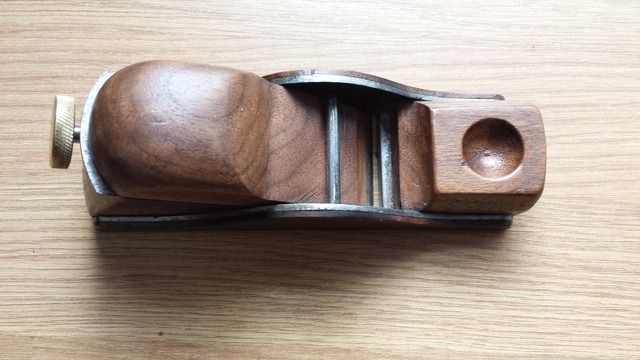 Tadaa!!! Probably the most inelegant plane I've made, or even seen. But it works. Now I need a bitterly cold day to test it properly.
Allweather??? Well should we ever have a real scorcher of a summer in England, I've no doubt that the thermal wood coating will keep me safe.
regards,
Paul
-- Paul England
---