After I put a riser on my band-saw it ran like an old one-lunger. I worked for weeks trying to figure it out, measuring the wheels for alignment and bearing tolerances. No matter what blade I put on it ran the same: rough with a "chunk-chunk" noise. The cuts looked like the chop from a 20 k wind. Resolutely I finely called the company to see if they could direct me. I was amazed when they sent someone out to make a shop-call.
George was a lovely gentleman who had unexpectedly gone into the hospital in early January and was just getting back to work. His replacement had made up the blades. The welds on all three blades were bad. If one had been different than the others I would have been more confident that was the problem. Now the difference it pretty obvious to me.
The temporary replacement had also made up blades with six teeth, which George said was too aggressive for my machine and one blade was actually for metal working, not wood.
So George gave me a new blade (his welds and fewer teeth) and will make up some more. He spent some time showing me how to fine tune the tension and bearings and "SinCity" (my name for the band-saw) wherrrrrrrssss like a high speed turbine. I re-sawed a 7×7 inch block and it was gorgeous. No chop, just gentle little ripples.
Good lesson. I learned a lot today; and for many reasons, besides the selfish ones, I hope George stays healthy.
Littlebox prototype, cut after SinCity makeover: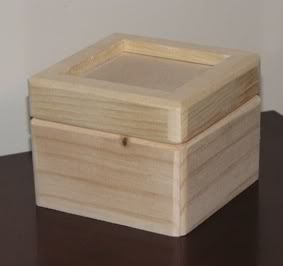 -- SM
---