Old Mill Coffee table
This oak board is 9 1/2" x 1" x 11 feet. As you can see, it is has some twist and cupping going on.
Never having worked with oak or a piece of wood this large and rough hewn I am unsure as to whether this is an appropriate choice for a coffee table.
1. If I rip it into three wide strips and rejoin it for the top, will it stay flat?
2. Is it a shame to cut up a board this wide into strips? It does have some figure.
The dimensions for the table needs to be roughly 53×21' wide and 19' high. I could make the strips 7,8,7 or six strips: 3-1/2, 4-1/4, etc., depending on what you think would be best for the wood. I realize I could also put a frame around the edges but if possible would like to avoid that. Here is another look at the board: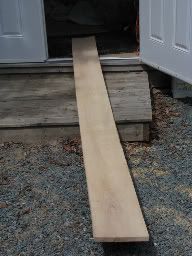 I am kind-of writing this to outer-space. If someone wants to contribute it is appreciated.
-- SM
---