I do not get on here very often but when I do I really enjoy reading and seeing what everyone else does with hand planes and wood working.
I wanted to post some pictures of my first ever hand plane restoration. My first was plane was not one with very much value so if I messed up it would not be a big deal. I had bought about ten rusty planes at an auction for like $40 dollars so that I could fix them up and use them.
One of the planes was a Trustworthy and believe its a no. 4 (Stanley number system). I chose that one to work on first and restore. Below is the picture of before and after pictures.!!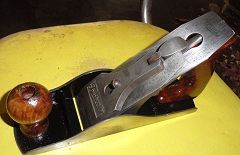 Thanks for looking.
---