Project Information
It's no surprise that the Adirondack chair is such a popular project with LJ's. What else can you build so simply that is also so very comfortable to sit in, sipping a cold one after a long hard day of sore muscles and sawdust.
Scanning the entries on this site I can see the many ways people have delightfully altered the basic design, using different woods, colours and finishes, all the while adding their own personal flourishes. I have built a few myself and sat in many but this project is about the precursor to the Adirondack, that being the Bunnell, or Westport chair, the place where it all started. This particular one was given as a gift to my brother on his 50th birthday.
Now for those that are interested, you can read a brief history of its development here:
http://www.orvis.com/intro.aspx?subject=2978
A warning though, there is avarice, deceit and a friendship lost over money and trust involved in this tale, common themes for sure in the cut and thrust hardscrabble world of small shop woodworking. Oh sorry, sorry, I was thinking of the 1%, not us.
Built completely out of western red cedar, using plenty o dowel joinery and tasteful brass screws, this is a bit of a departure from the original plan which incorporated just 12 pieces of wood in its basic form and sometimes featured a footrest as well as storage under the seat. You may view the 1905 patent and plan by Bunnell here:
http://www.google.com/patents?id=jsVNAAAAEBAJ&pg=PA1&dq=794777&source=gbs_selected_pages&cad=2#v=onepage&q&f=false
Even though being a design that's over a hundred years old, this chair looks surprisingly modern in its simplicity of form and looks quite elegant,, even after falling over with you after too many cold ones. With that narrow rear footprint it's a little tippy if you tipple too much.
For those of you who wish to have a go at this, a full scale plan is available for sale here:
http://www.adirondackmuseumstore.com/westport-chair-plan.html
36" x 34" x 30"
About 34hrs.
Build on LJ's.
gene
Final assembly in my spare bedroom shop.
The birthday boy.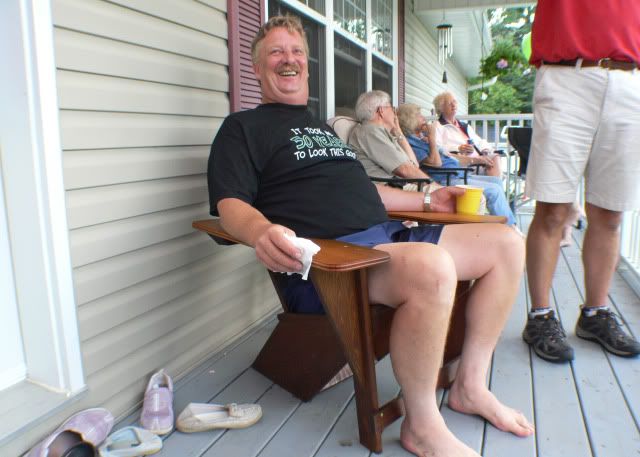 What is not apparent in any of these shots is long grain, thick strips of teak, glued and screwed to the bottom of all ground contact pieces of the chair. Cedar is quite poor for scraping or dropping damage, and sucks up water like a camel to water, but is otherwise fine. i.e. warm and light and soft. A real class act with finer details possible could be achieved in mahogany or ipe.
Gallery