Project Information
This is my first and only attempt at a guitar so far. It's a hard tail electric lead guitar made from curly maple and mahogany, made for my 18 year old son. The neck is a used Mighty Mite Fender replacement that's birsdeye maple with a rosewood fretboard. The tuners and other hardware came mostly used from Ebay. The pickups are a double humbucker from my brother's John Petrucci OLP, a used Duncan Lil '59, and a used DiMarzio D-111, all mated to a 5-way switch. (The pics show some stock Squire pickups that have since been upgraded). Total cost was about $125.
The curly maple was given to me by a good friend, and the mahogany came from a garage sale…turns out that the mahogany was from a boat table that belonged to a coworker's brother. The birdseye maple for the pick guard was part of a deck that was discarded at work. Like any memorable guitar, this one has plenty of history …even before a single note was played.
The finish on the front is an aged maple stain on curly maple. The back is natural mahogany, and the whole thing is coated with spray on poly. I've since learned that nitrocellulose lacquer is the finish of choice for instruments.
To get started, I sketched out a shape with french curves, and transferred that to a template that I used on the body. The front and rear pieces were cut separately using the same template. There's alot of routing involved to dig the channels and receptacles for the electronics…much of which is buried beneath the pickguard.
When we started out, we were just hoping the guitar would work. It actually sounded pretty good and we made the decision to upgrade two of the pickups. It sounded much better with the better pickups…good enough that I followed up this project with a homemade 5W single ended tube amp made from parts from my father's old 1939 Stromberg Carlson radio. The amp chassis is stuffed into an American Bosch radio cabinet from roughly the same era…the Bosch also had belonged to my father. The schematic is a bit of a hybrid between the original Fender Champ and a more modern P1 Extreme. As with the guitar, I had no prior experience in amp building, so once again embarked on a massive research effort. With alot of enthusiasm and the bliss that accompanies ignorance, somehow or another, we got that darned amp to work too. After some experimenting with output tubes, it sounds pretty incredible. It was now obvious that we needed a more appropriate speaker so we bought a used Fender Blues Junior speaker and mounted in a cabinet….I did have lots of previous experience with speaker design so was less daunted by this step. We can now boast that we've built the entire chain in his setup. We're biased as could be, but it's got a wide range of different sound styles that all sound good…a couple of which are classic blues sounds. We're extremely pleased with the end result.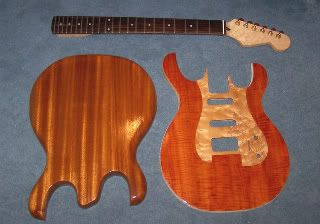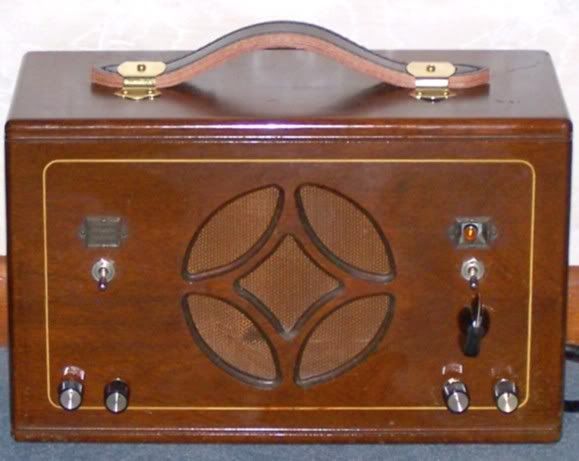 Gallery