Project Information
I needed some storage space for tools and such that I don't use that often. So I decided to build some cabinets. I'm a poor bastard so I salvaged some plywood, drawers, and slides from some old cabinets that were demo'd, and thrown in a trash pile on a job I worked on.
Brought it home.
So I built the carcass out of scrap.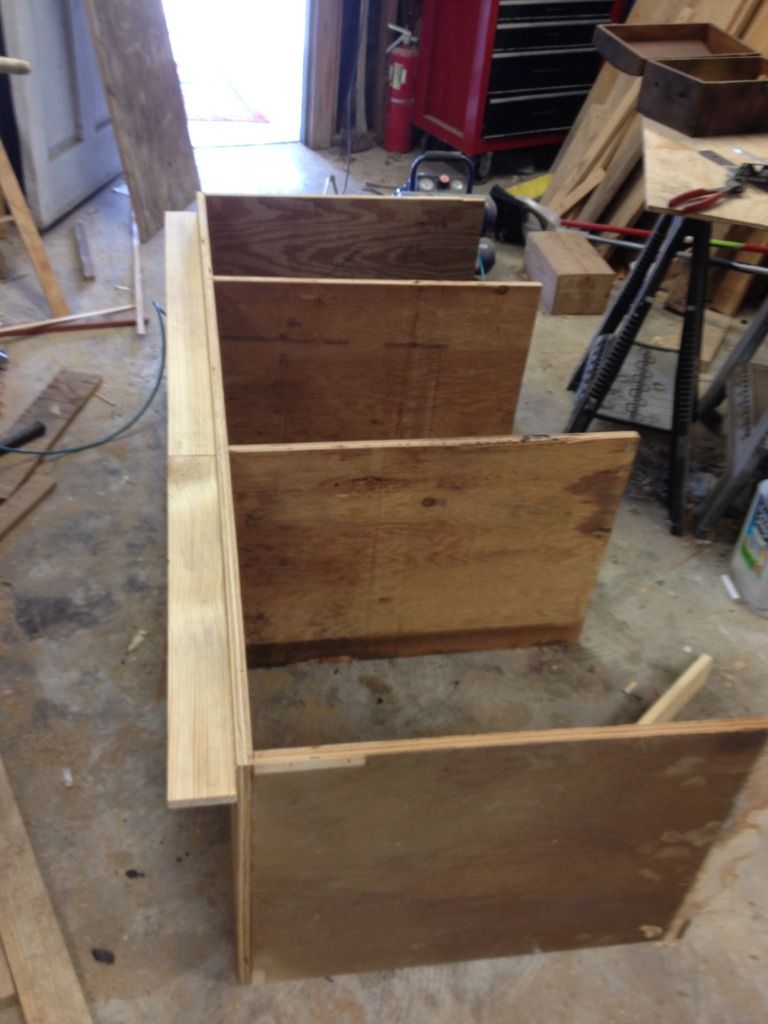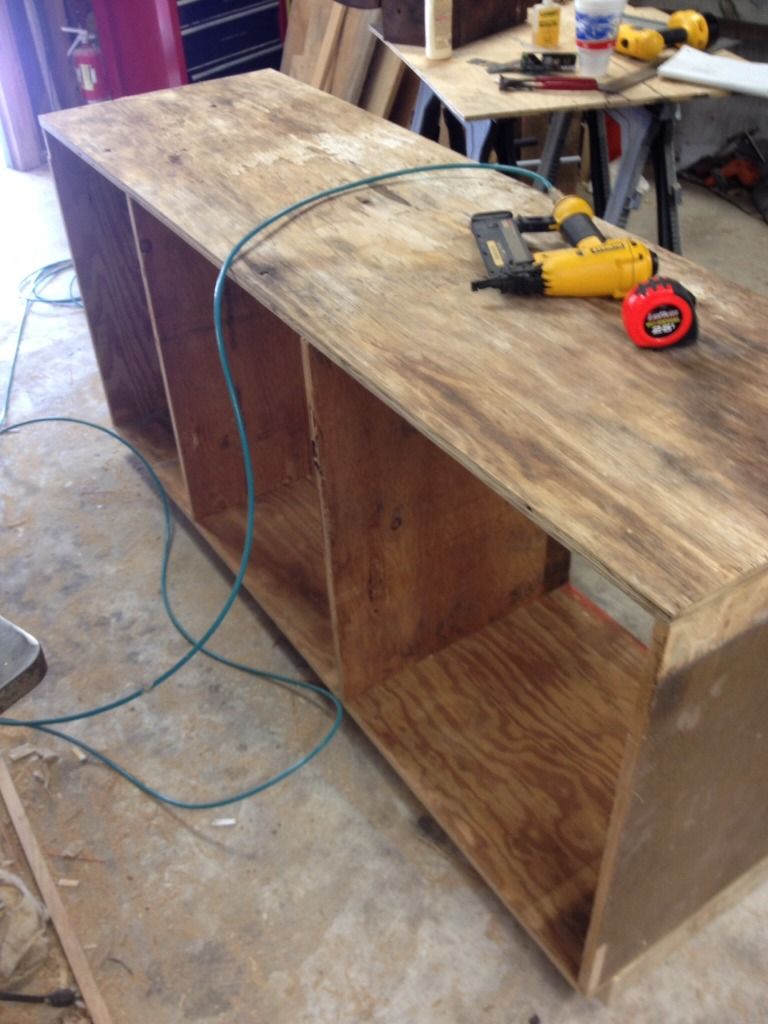 Milled some cypress for the face frame. I used a kreg pocket hole jig to join the frame. Then unfortunately I had to nail it to the carcass, then used glue and fine cypress dust to fill the holes.
I had some pecky cypress I really wanted to use and figured it would make some sweet drawer fronts. I used a small wire brush, a 1/4" chisel, and some compressed air to clean out the rot and get it lookin like good.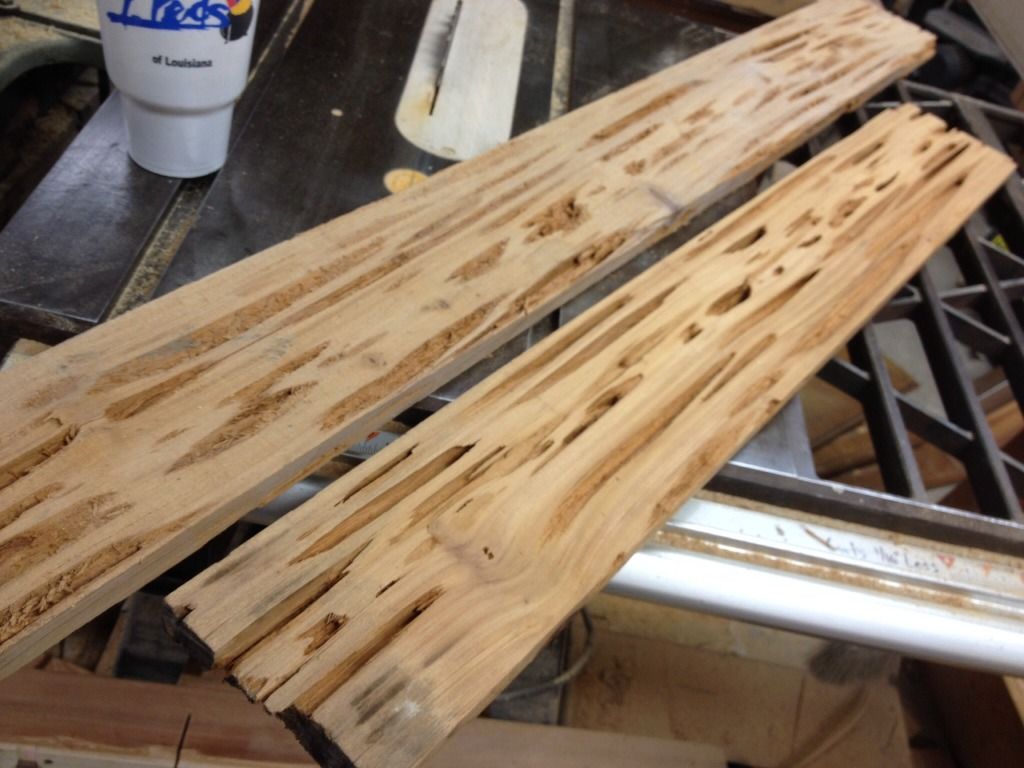 Drawer fronts cut, edge routed, and ready to go.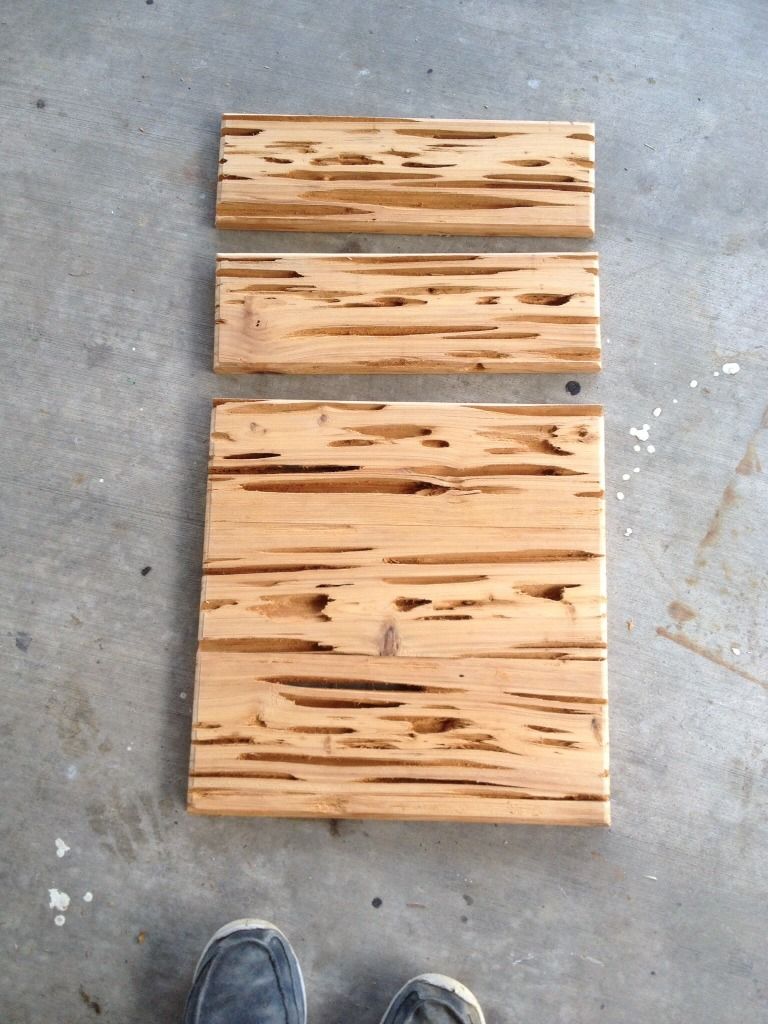 Drawer fronts installed. Yeeah.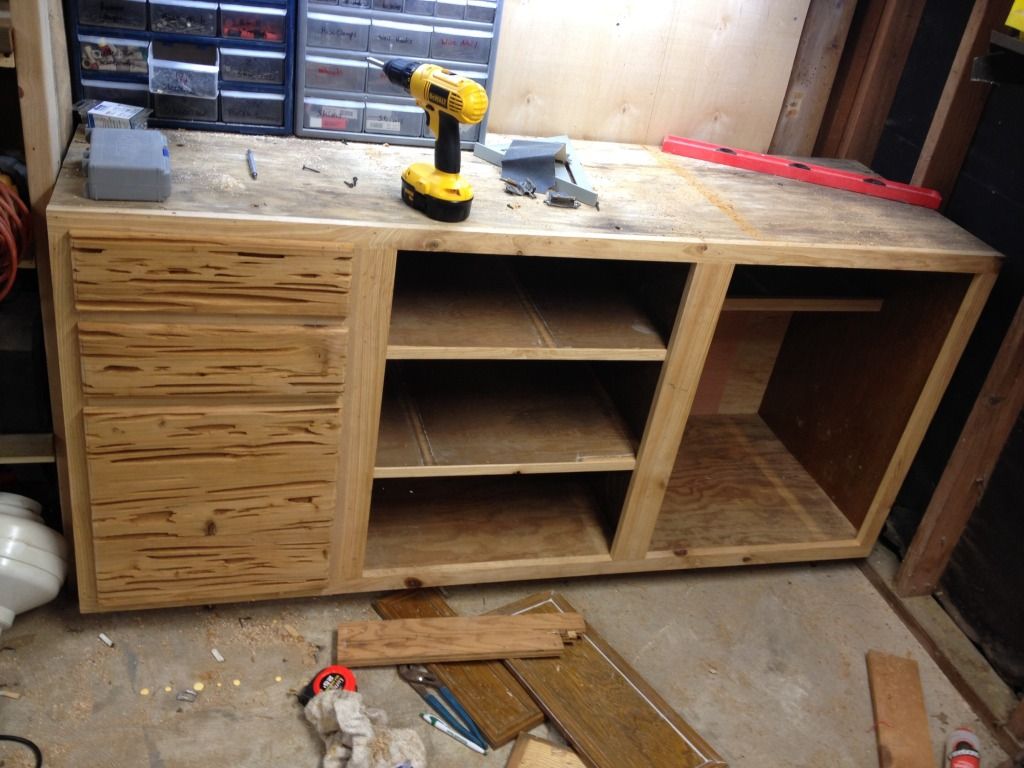 I milled the rails and stiles for the doors out of cyprees also, but for the panel I just used some scrap hardwood ply I had laying around. Looked ok to me and it's for the shop so I gave it a pass.
I used some hinges, don't know what they're kind (euro?), for my mantel project and I liked how they closed the door after a certain angle. I couldn't drill a recess in the doors because I didn't leave enough to overlap the face frame 1/2" to 3/4" on both sides of the door. So I went with a similar hinge that could adjust how I needed it to without drilling the door.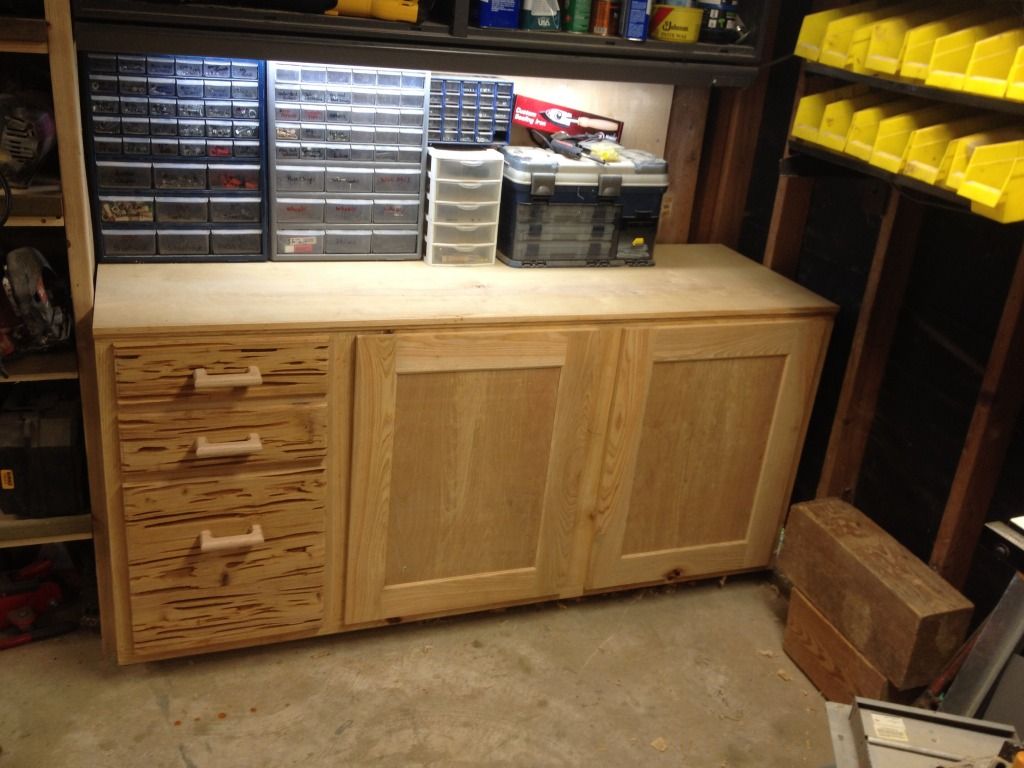 I made pulls out of oak. For the drawers I squared up a piece of stock and cut it into a c-shape on the bandsaw. Then just rounded over the edges on the router table, knocked the edges of on the belt sander and voila! Easy, sturdy, purdy, simple drawer pulls. Maybe not purdy but I'll never say my baby is ugly.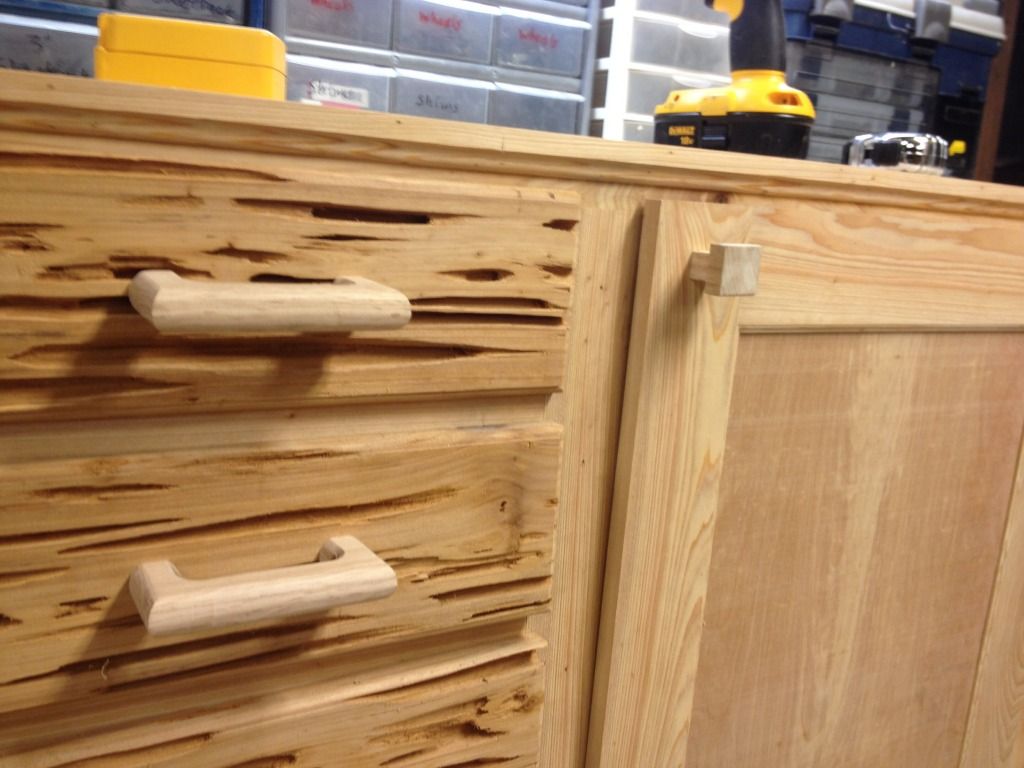 I used more oak for the pulls on the door. Just a basic square with a back bevel to give a little room for my fingers. Predrilled the oak so it wouldn't split.
The old plywood top wasn't in the greatest shape so I cut apiece of 1/4" leftover from a project to put over it. Good thing I accidentally bought an extra bottle of titebond 2 recently because 1/2 of that bottle came in handy. Along with a bunch of heavy items I have floating around that il probably never use or get rid of but make make great weights.
For the edge banding I cut another piece of cypress 1-1/4"x1/2" or so, and routed a profile into it just because.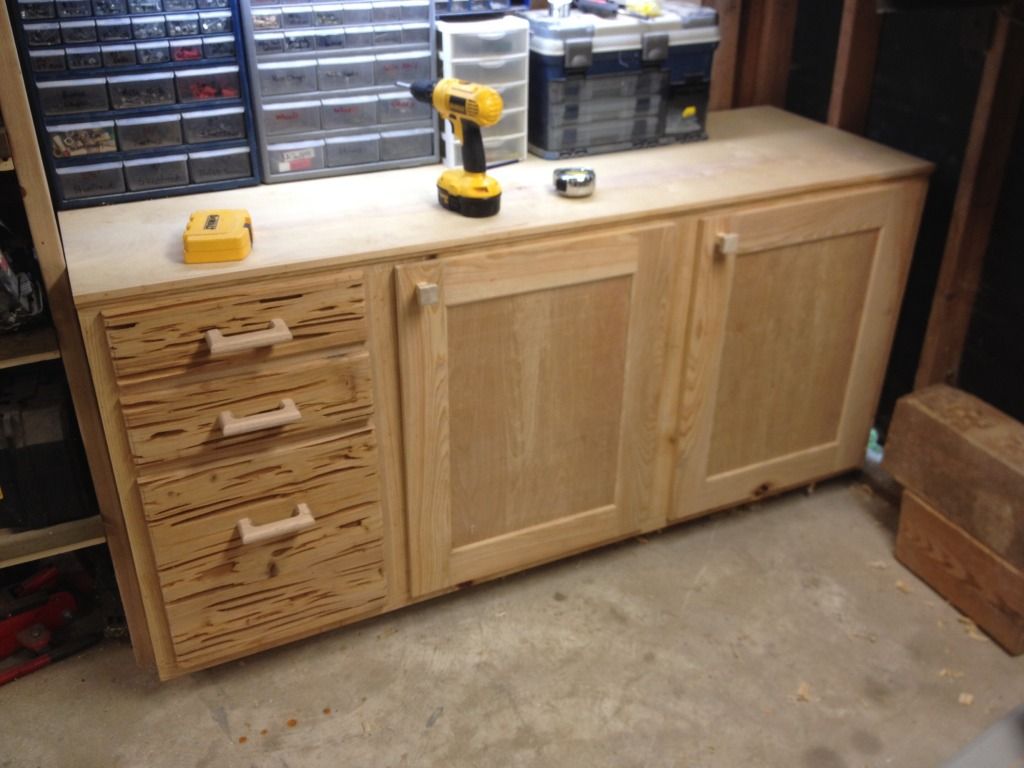 I may put on a coat or 2 of brushing gloss laquer just because I have a gallon of the stuff, and will never use it all. And i don't want it turning grey for a while so eventually I'll get around to it. Plus laquer over cypress looks awesome to me. Especially on and around knots.
So this are my new shop cabinets. If I had to do it over I would have made it frameless so it would accumulate less dust, take some close up pics, but all in all, I like how it came out and I have more storage instead of just stuff I may use every now and again on the ground. And I got some sweet shop time. Yeah bro.
Then duty calls. For the next 17 years or until I can kick her out.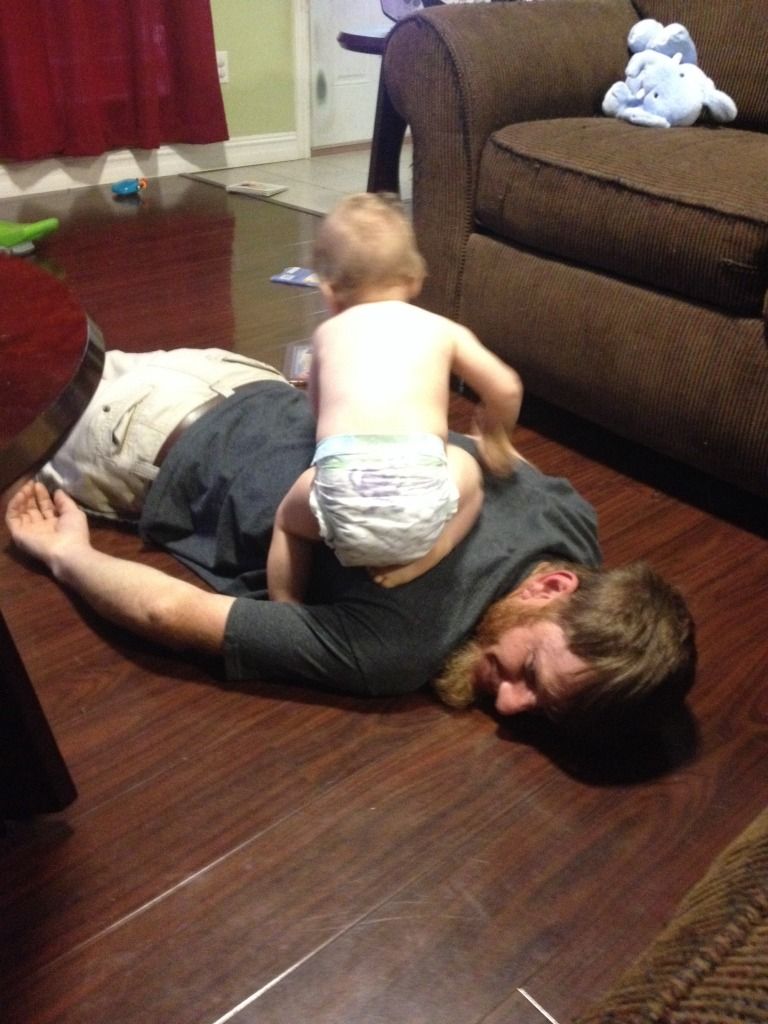 Thanks for lookin.
Gallery