Project Information
We moved into our house 8 years ago, with allot of great ideas of what we wanted to do to the place. Number one on the list was to renovate the bathroom. It was the original 1960 bath, and desperately needed to be done over. Unfortunately, things didn't work out exactly as planned….. fast forward 7 years and we finally have the opportunity to do the bath over…and just in time, I might add as we found out as the demo happened. I wanted to do allot of the work myself, and hired a friend of mine that does remodeling to basically do the project, with me helping as much as I could to keep the costs down. One of the main money savers was to build my own bathroom vanity.When we started to pick out materiel's for the bath, it was clear how expensive vanity's were..in the range of $1200.00+ for what we wanted….and that's not including the top, sink, and faucet. My buddy who owns Morris Woodworking, here in Middletown, CT. was in the middle of doing a kitchen with flat panel doors, so he was set up to make the doors I wanted. I worked out a design based on what the wife wanted…lots of storage, three draws on the side, and she wanted it to be kitchen cab height. So I went to work in Sketchup and came up with this for a design..these are Podium renders of my SU model..
FULL SIZE IMAGE
FULL SIZE IMAGE
FULL SIZE IMAGE
Once I was happy with my design I did a full AutoCAD plan. I did most of the work at my buddy's shop since he was doing the milling for the doors and he had all the materiel's, it didn't make sense to haul it all home first. We made it out of 3/4" maple plywood, with soft maple face frame, doors, draw fronts and finished end panel. So we milled all the door, draw front and finished and panel stock and glued everything up.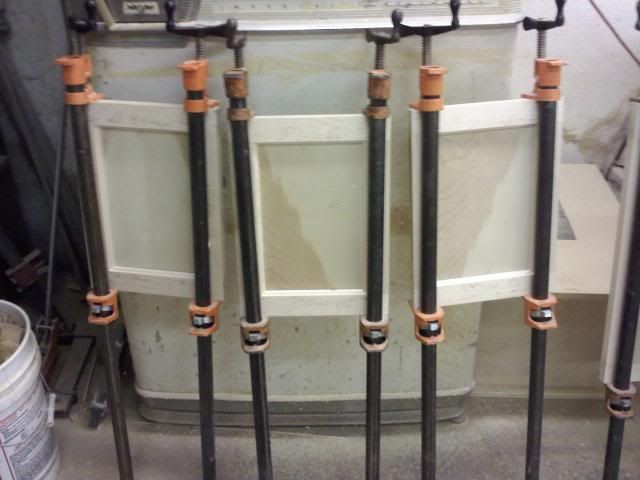 While that stuff was in the clamps, we cut and assembled all the carcass pieces. Then everything came out of the clamps, and we installed the finished end panel on the carcass. The face frame was assembled and clamped up.
After allot of hard work and allot of help from the guys at Morris, I had a finished vanity…I was desperately working both ends at the same time..the renovation and the vanity build, so the guys helped me out by mounting the face frame and mounting all the draw slides and fitting the draws once I had them built and sanded. I would go there and work on it, and when I would come back a week later, there would be stuff done on it that I didn't do..Thanks guys!
Here are a few shots of the finished vanity at my shop getting prepped for paint. The guys at Morris were going to have their pro finish guy do the spraying for me, but the vanity would have sat there till he did a white job..possibly a week or longer..so I decided to spray it with rattle cans.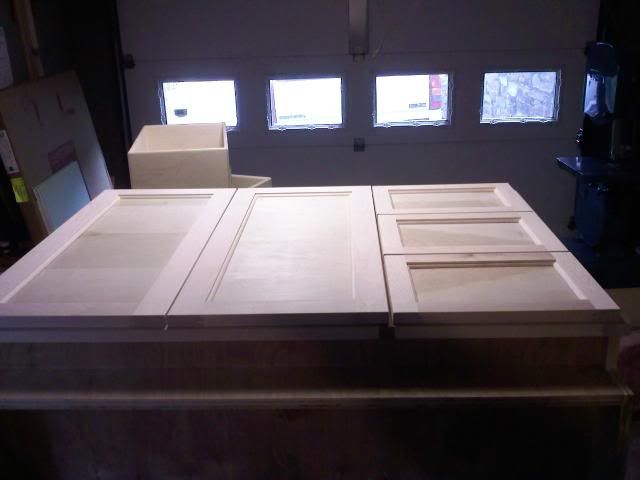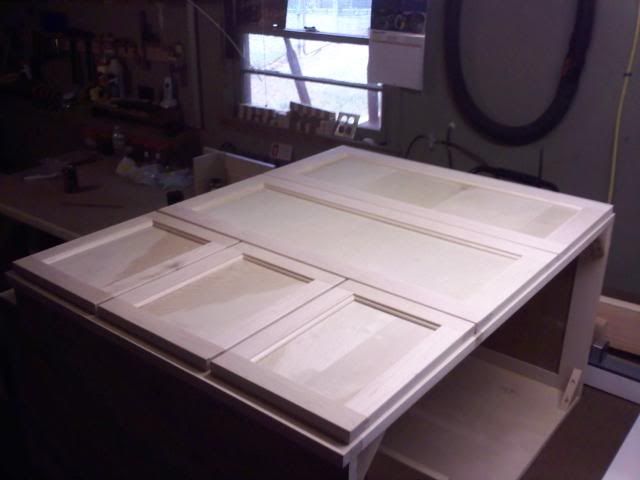 During the painting process…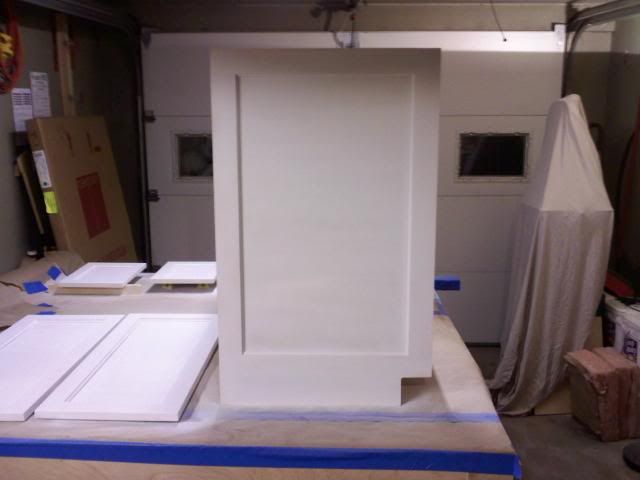 Fitting the doors and draw fronts..
Here is the finished vanity installed. It has an absolute black granite vanity top and splashes, with a china bowl, and Delta chrome faucets. The bathroom is so small, it's hard to get a good shot of it..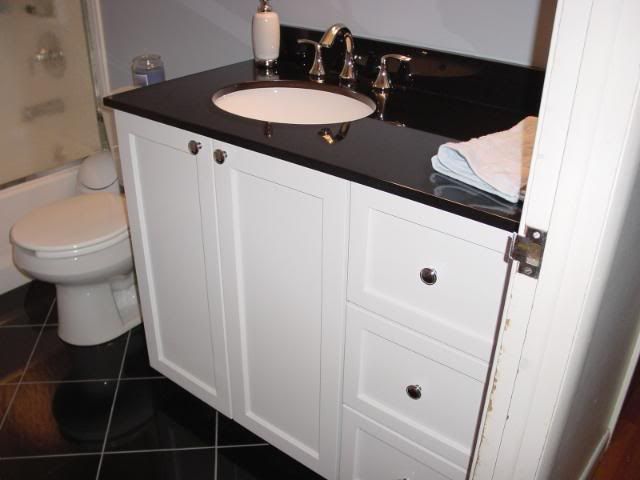 I think it came out awesome! It looks exactly like my SU model…I love it when a plan comes together! The wife loves it, and I get allot of compliments from people on it. I have to say thanks a ton to my buddys, Pete and
Tom
from Morris Woodworking for helping me outwith design consultation, milling the door parts, assembling and generally helping me get it done as fast as possible!
Gallery