The curved legs were one of the things on the list of "gotta haves" for this table. I'm still limited to the 4/4 lumber and I don't own a band saw. So I milled up 8 pieces to 3/4" and glued them up to make four 1 1/2" blanks. I used my jig saw to rough them out then sat down with the sander and a couple cups of coffee.
Cut some pieces for a frame to brace the legs and a quick dry fit.
And the legs assembled.
Details of the frame supporting the legs.
One of the requirements for the table was that the top needs to be removable so that it's easy to bring in for the winter. So here's what I came up with.
The top rests on the legs, the legs slip in between the blocks, and the 1/4" bolt keeps the top from flipping over. The bolt only gets hand tightened. I intentionally left the fit between the bocks sloppy to allow for movement and so that you don't have to acheive "perfect" alignment when putting it back together in the spring.
One more dry fit before calling it quits for the day.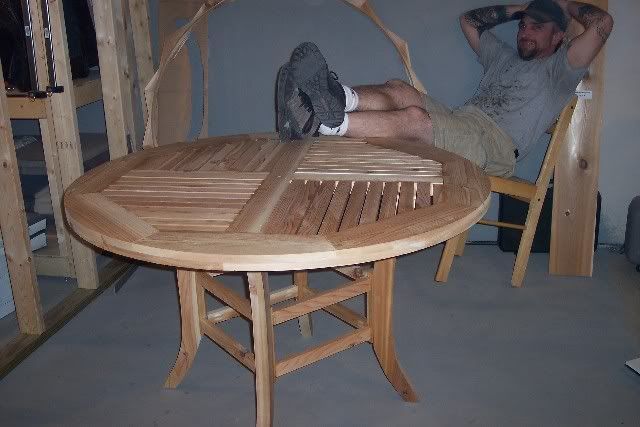 Yup…. fits pretty good.
-- I've cut that board three times and it's still too short!
---