Im going to try and post as much detail as I can with the pictures looking for opinions and ideas as to what I could have done better so feel free to fire away. If anybody sees any fatal flaws please point them out now.
I did some quick math and figured I'd need about 32bf (leaving room for errors) of 4/4 rough sawn and came home with this pile of S1.
The top had to be in four sections with the direction of the slats alternating from one section to the next and there had to be at least 8 slats per section. After making it work on paper I realized that in order to make the demensions work and leave me with the ledge that I wanted for the slats to rest on, I drew the boards of the bottom octagon 8" wide. It didn't really occur to me that my jointer is only 6" wide until I started milling the pieces (I'm still not sure how I failed to recognize that when I was drawing it up).
I solved that one by cutting eight pieces to 4" and eight pieces to 4 1/4" then routing in 1/4" tounge and grooves and glueing them up to get my 8" boards. I tried to alternate the end grain as much as I could to avoid cupping. Here's the pieces for both octagons ready to be assembled.\<ahref>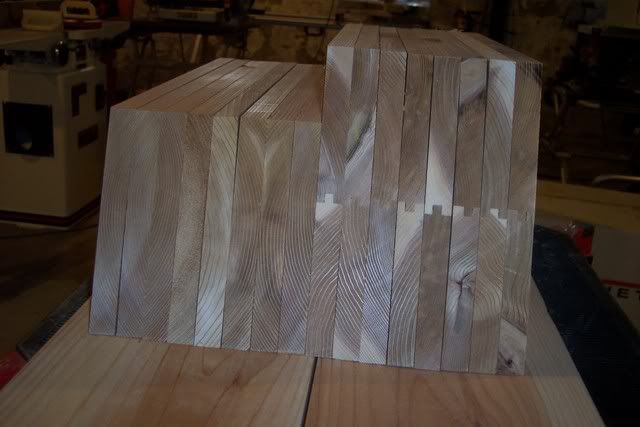 I assembled each of these frames with glue and #7 1 1/4" deck screws in pocket holes. The deck screws are are coated and the manufacturer claims that the coating is specifically formulated for cedar and guaranteed not to stain (I hope they're right)


That's the bottom section on the table and the top in the background
-- I've cut that board three times and it's still too short!
---