You can review this article and others at my blog www.bradfordwoodworking.blogspot.com I cover woodworking , wine, cigars and more.
Since it's been quite awhile since my last post I looked around my shop at the various items to review and discuss and decided to focus on one of my favorite/best purchases in the past few years… and while I wish it were a Sawstop that day has not yet come. I'm talking about upgrading my drill/drivers from an old worn out Craftsman drill to something new. While the old Craftsman beast had served me well it did have quite a number of faults of which a few are below.
HEAVY! Dear God it was heavy. I didn't weigh it before i tossed it but it had to weight close to 10 pounds and it wasn't even a hammer drill!
Battery life! Sure it started out great but within a year the battery lasted maybe a few long screws and it was done and it gradually died during use.
Fatigue! Since it was so heavy and large just using it became tough especially when doing overhead work or extended drilling.
When I decided it was time to switch to something newer I did a bit of research and while the likes of Festool far exceeded my budget i didn't exactly want to settle with something bottom of the barrel either. I had in mind several check list items of which I've listed below.
Light weight! No more fatigue on long projects or drivings lots of screws!
Battery life!
Quick Charging fr those times when I'm just tripping through screws and such.
Compact- I didn't want anything huge.
Power… nothing crazy since I wouldn't be doing anything too crazy but enough to drive those 3" lag screws when necessary.
After looking around at the various different options I settled on the Dewalt 12V Max driver/drill/impact combo. I've pasted the specs for the drivers and drill below.
Includes 1/4-in screwdriver, 1/4-in impact driver, 3/8-in drill/driver, 2 12-volt max Li-ion batteries, fast charger, 2 bit tips, 3 belt hooks and contractor bag
3/8-in drill/driver offers a 2-speed transmission for high-speed in fastening and drilling through a variety of materials with 0-400 and 0-1,500 RPM
1/4-in impact driver features 3 LED lights for increased visibility and shadow-free lighting
12-volt max screwdriver features 1/4-in 1-hand loading hex chuck for easy bit changes
12-volt max Li-ion batteries provide extended run time and long-lasting battery life; nominal voltage 10.8-volt, 12-volt max initial battery voltage
Li-ion batteries are backed by a 3-year limited warranty
30-minute charger provides quick charging for minimum downtime
All tools include belt clip and weigh less than 2.4 lbs each for convenient carrying and easy portability
Here is a nice shiny picture of them new…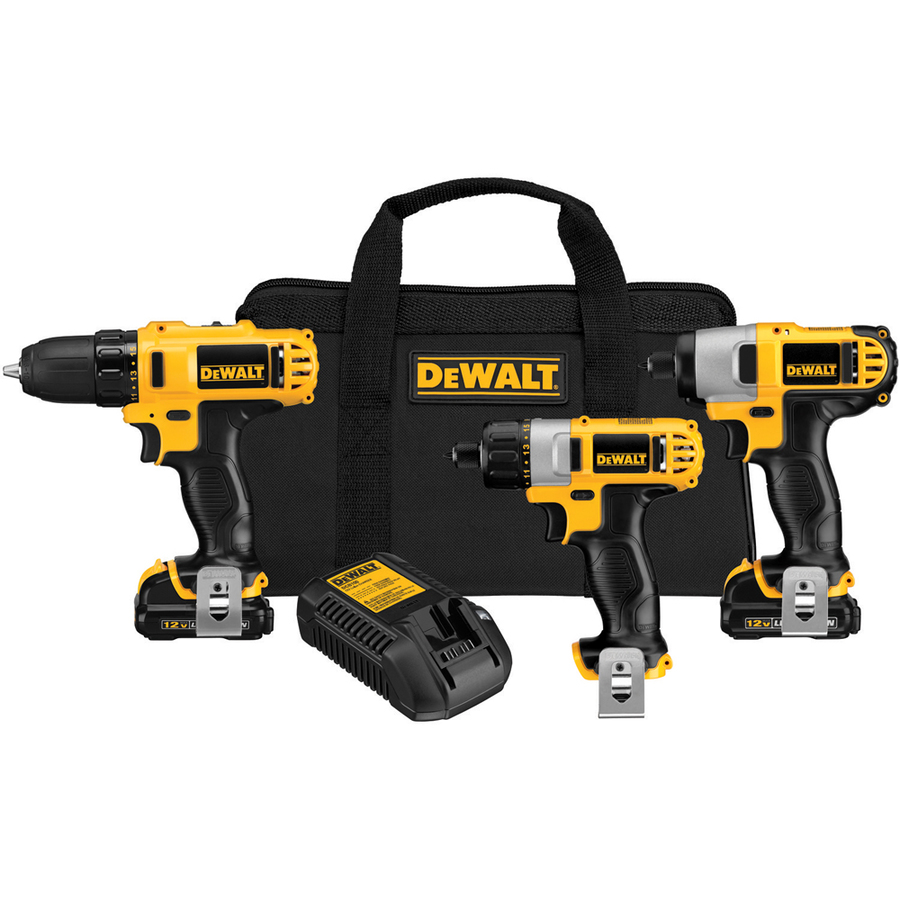 Here are a few pictures of mine after about two years of use!
This one is the driver which I use most frequently for driving screws and the like and have even used it very often for automotive applications with quick connect adapters for attaching my 1/4 and 3/8 sockets.
The batteries are awesome not only do they charge quickly but the technology that allows them to run strong right up until they run out of juice. No more slowly dying while trying to finish the job
I love these little guys. They hit all the points on my check list and then some. The shining star I believe of this set is they are very compact and very light which were two big items on my list. Beyond that I've found them very adept at reaching tight corners when needed and the bonus of bright LED's make drilling and driving in a dark cabinet no problem! Well that's all for now if you'd like more info feel free to reach out.
-- Brad -- www.bradfordwoodworking.blogspot.com
---