I want to thank everyone for their respective welcome messages. This is my first post so I want to give a little more primary information about me and my shop. I'm literally starting over and am glad I have found this site to be able to share my progress with and entertain your comments and suggestions along the way. It has been over ten years since the "Ex" kept all the good stuff and i relocated. All is forgiven, as it's just stuff, and the love of my life now said, "Go ahead and do it if it brings you joy." Better make her something before she has too much time to think about the green light she gave me. My skills are rusty as is the craigslist find of a saw (we all gotta have one) I picked up for twenty bucks. That in itself is a hell of a story that I will remark upon as I progress.
The model is a 113.241680 with a flex drive shaft, which didn't warm my heart totally, but for twenty bucks I can't howl too much. Her only caveat to me was frugality!!!
As you can see, I started working on it before I started the photo shoot.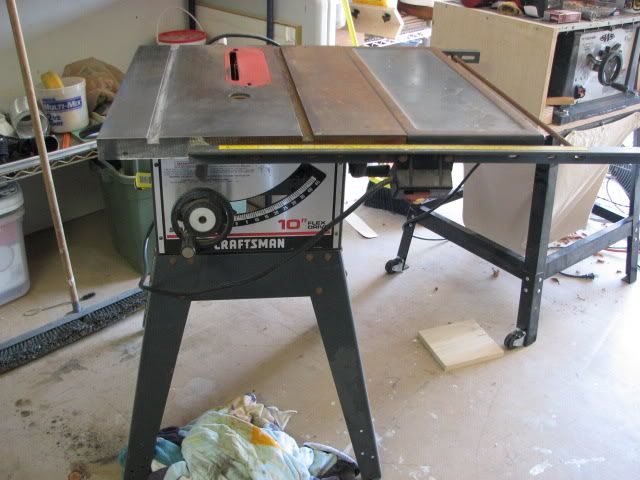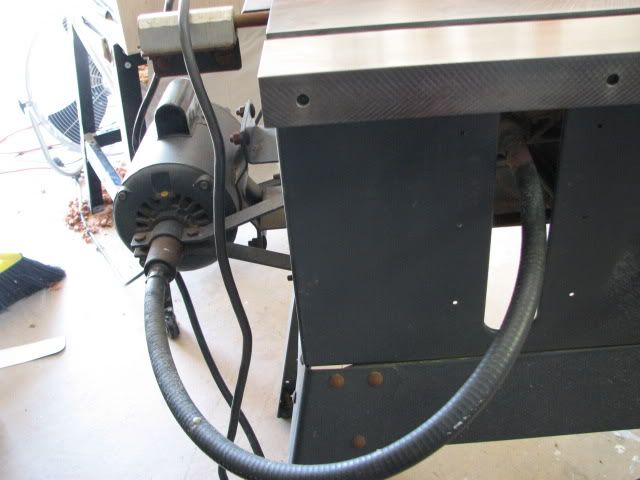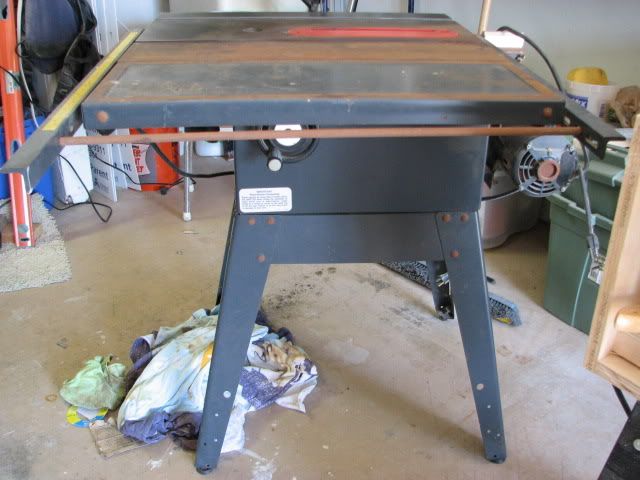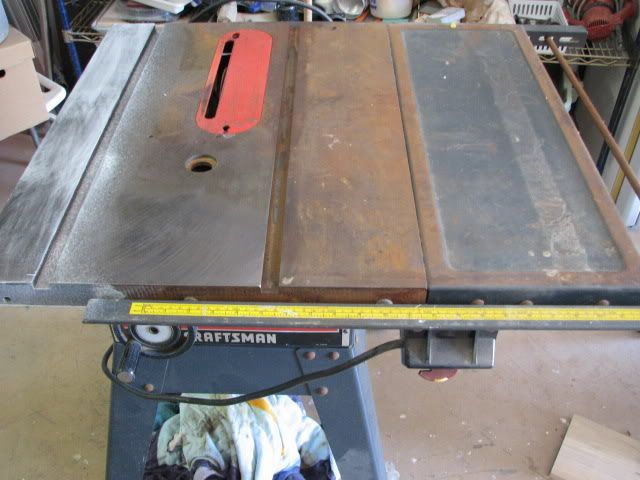 I had to partially disassemble the saw where I got it just to get it in the trunk of the car, because my guy with the truck had some trouble so I was on my own.
Here it is after I took the rest of it apart and started cleaning. I sealed it after some of the rust removal with PB's dry lube temporarily.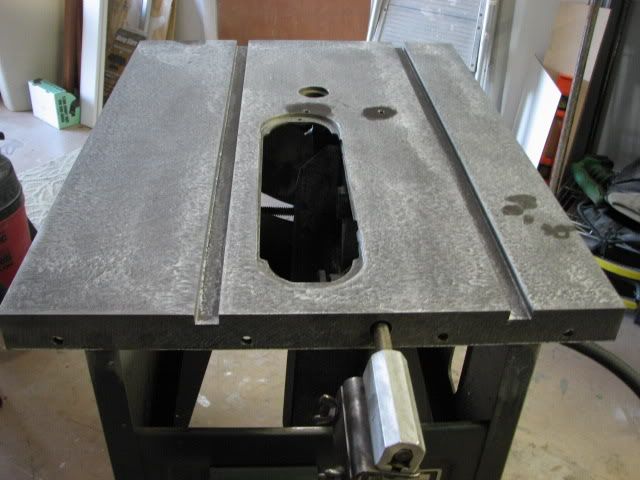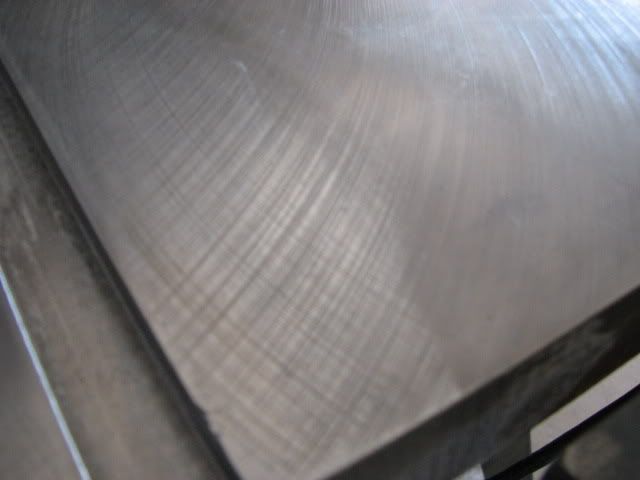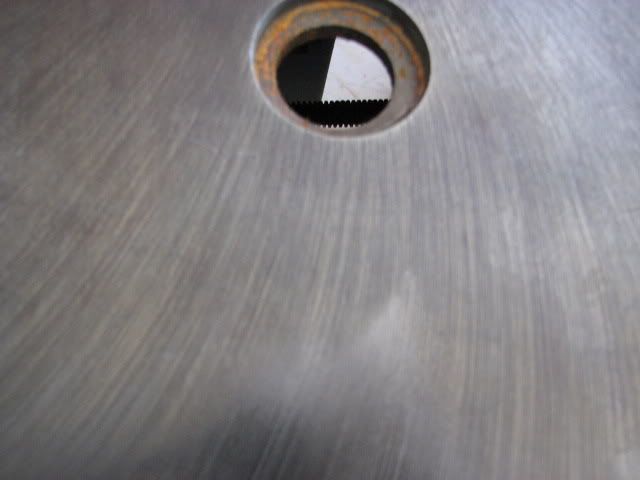 You can see that the original milling marks are quite prominent and I batted around a few thoughts in my head about taking it to a machine shop,as my father was in front of a machine for forty years and I know what he'd say. The son of a machinist does not a machinist make! I did listen to him occaisionally, and have some time at a few machines when I was paying for college. So I did get the diamond hone out for awhile. Maybe an hour of equal passes then a second hour of the same, then I talked myself into a brass brush and the paste wax. Whew. She says it was seven hours total. Hmmmm. I asked if she was running a union shop and she went away for a little bit, then called her family. This is how it turned out.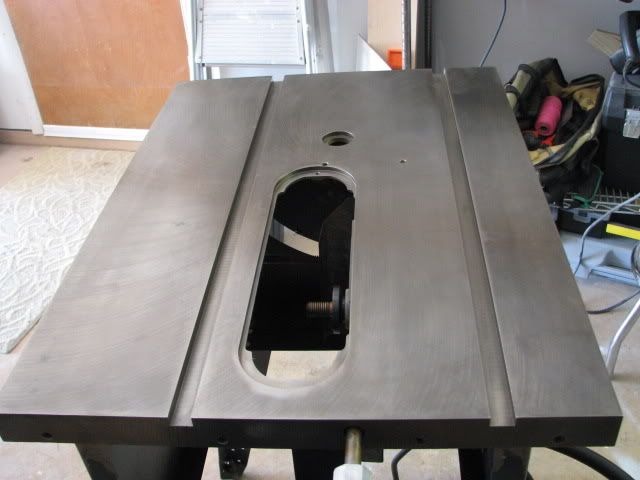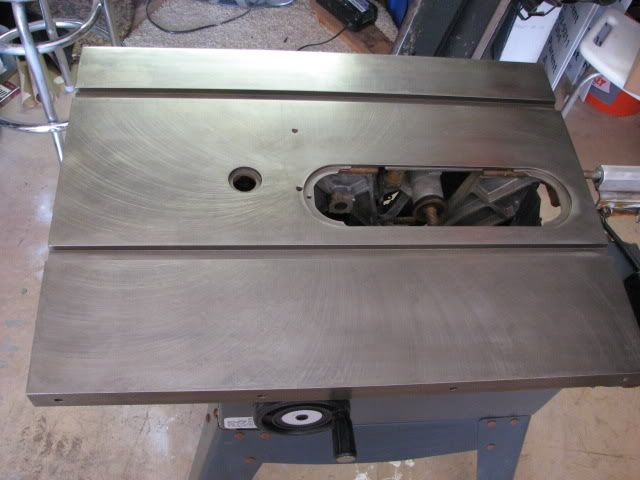 Done for now. This is ultimately going to be set up in a mobile workcenter with a router table on the right, but I am caught in the chicken and the egg conundrum, as I need the saw to manufacture that.
The steel wings were badly rusted so I did what I could for them and coated them with wax, and will re-install them for current use. I think I am going to splurge a little for a solid cast iron wing for the left so I can have a true surface for sanding and jig assembly. Any thoughts?
Here is the 8020 extrusion i purchased for the homemade fence. It's how I found this site to begin with, looking for and stumbling across the DIY fence blog. Great blog by the way. I am going to friend him. Rest of the parts are on the way, and I'm going to wait to install it after the final dimension for the workcenter are established.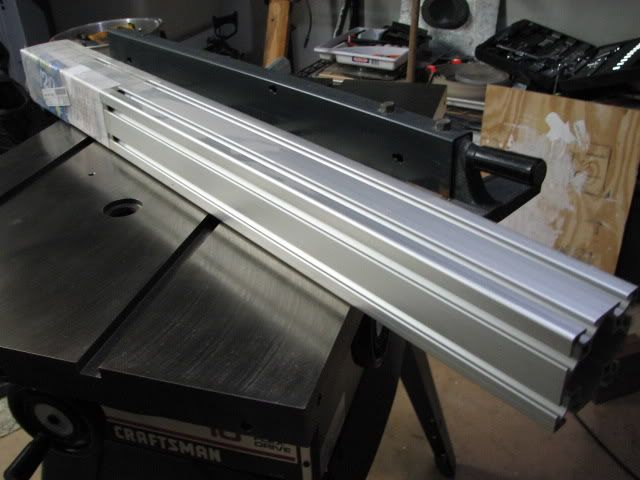 ---