Meant to do a first week in review… but I've been a little busy with turning and blogging, not enough time for more blogging! – in fact, I think I've spent slightly less time in the shop, than in documenting the process.
Week one: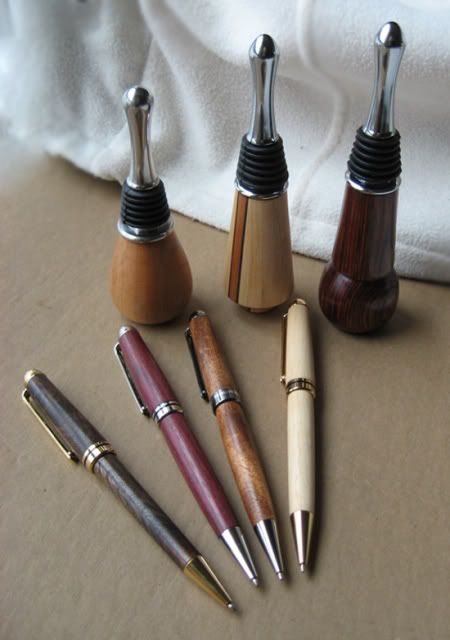 A week or two before I began, I took stock of my pen kits, and noted that I had nearly enough to do a months worth, I did order a few bottle stoppers to make sure I had enough kits to have something for everyday, just in case I didn't have time to work out some supplemental projects over the course of the trip. Before day one, I selected, cut, drilled and glued up a bunch of blanks so I'd be ready to hit the ground running, but I didn't prep everything so I could do some things on a whim as well.
I thought about starting a few days early, and having a bit of a backlog so I could be less frantic about the creation and documentation, (and I'd be done in time for thanksgiving – you know, when I'd have a few free days to actually spend in the shop!)... as luck, work and seasonal illness would have it, I didn't start early, I woke up on the first with no projects, but being a saturday I had time to turn (and rake the yard) before putting up the first pen, The Walnut Burl Euro.
I chose to start with a Euro because I knew they were a little forgiving with the tube lengths. I've got a cigar pen to repair because I took just a bit off the tube when squaring the blank and things just wouldn't go together quite right… so best to start off slowly – because I hadn't made a pen in several months.
I planned to use lots of interesting woods, from the swaps and trades with other LJ's as well as local (in some cases VERY local woods)
The first stopper was from a piece of cherry I saved from the firewood pile, and I had a bit of trouble with the end… easy, and inspired fix… inlay a state quarter! (I thought this would sell right away as a nice souvenir… but alas, none of the stoppers were bid on.
The second stopper was "supposed" to be a lilac one… I've been looking at a piece I harvested from my yard, with a split in it, for months… decided to finally give it a go, but I didn't like how the split looked in the final piece. Too bad as the grain was really neat, with its purple swirls of grain.
I tried cleaning it up with some carving tools before I ultimately filled it with epoxy and returned it smooth. I could have gone with clear, or filling it with sawdust…. but I thought I'd try another color. Having some black anthracite left over from when we epoxy grouted the kitchen counters, I mixed that in, a very fine black powder.
It turned fine enough, but not without grinding away part of the chisel… maybe the (admittedly old) chisel wasn't HSS or something sturdy enough, or perhaps that just won't do as a filler. One lesson learned… Oh and design wise, I'm not happy with the color, finish or how it looks with the overall piece… Nothing ventured, nothing gained. (and no money lost, so all's good)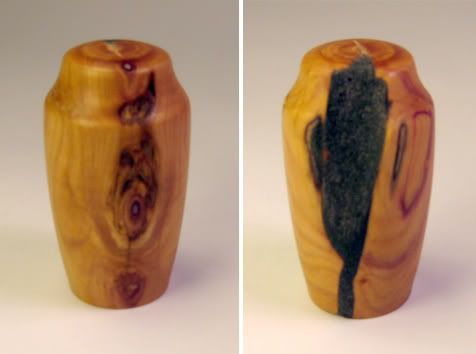 Current tally of projects = (n)umber of days (n) +1
Then over the course of the first full week of the month we had the election and I was working over an hour from home, so I really wanted to get ahead (did I already mention this?). So, sunday I did make (well, turn, but not assemble a couple of pens, which did make things a bit easier the next couple of days, but for the rest of the week, and everyday since I've had to come home from work, turn a pen and then post it online. Facebook, Lumberjocks and on the thirtydays site. – oh yeah and my own blog – thank you Lumberjocks widgets!!!
I pretty quickly stopped getting anxious about if people were commenting on the projects on facebook, or more hopefully, bidding on them. – Three pens sold to date! (the first three pens posted in fact) and I was realizing that I was getting the knack of quickly putting an edge back on my tools and getting right back on the lathe. I was getting used to the zen of turning a little something everyday, a little meditation before (or just as likely) after dinner. And it didn't take long for me to see this whole body of work begin to accumulate.
come the third weekend I was going to get ahead for sure – I've got a birthday coming up, going to see the new 007 movie with Mom this week, and I'm still working about an hour from home, so I've got a bit of a time crunch coming… but, after seeing a bunch of Euros posted and a few bottle stoppers posted with no activity on the facebook page, I thought I'd offer up something different. Something I could post for cheap, something just as useful, and I decided to make one of those paper pot making tools – for starting seedlings. They retail for about $20…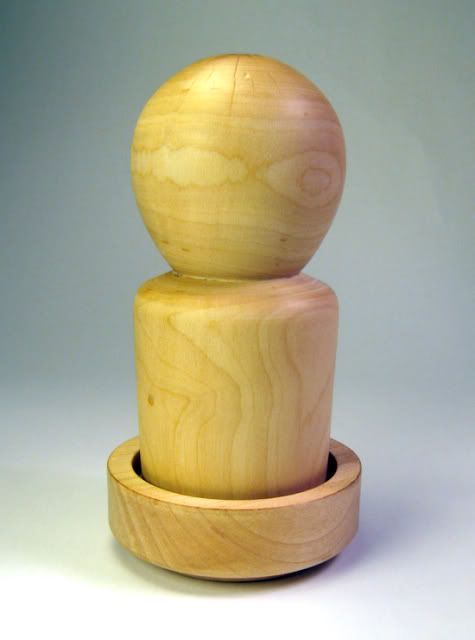 I grabbed a piece of "vintage" maple that I set aside from the neighbors civil war era maple that came down a couple years back, and turned the bottom and top of the tool (I had plans from a magazine to follow…. I was going to make a bunch of them from salvaged railings, but those were too small in diameter, so I had to go with the maple that I was afraid might check, if not split.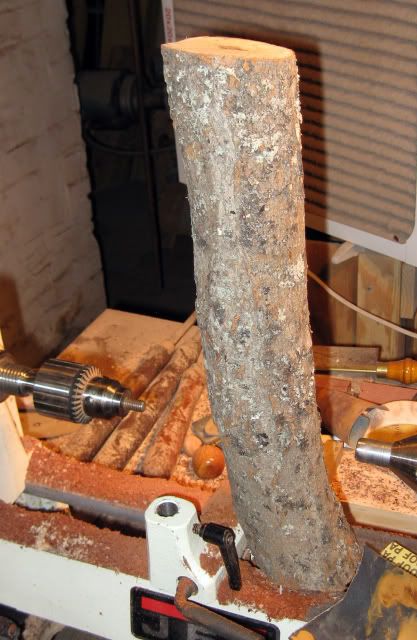 The bottom was made from 4/4 stock, saved from my maple pub table, the top grew up next door.

I cut a few inches off the log, which days later hasn't checked, but the "head" of the tool checked almost immediately, but after a few hours seemed to become stable. Seeing that, I decided I couldn't really offer this up as a "sellable" piece, but after turing the bottom I was pretty confident to try a small bowl. – so I made two (which I'm counting as one project).
you wouldn't know it to look at it, but between looking at the plans, mounting and remounting both pieces between centers, in the 4 jaw chuck reversing it, ooops, re-reversing it…. this project took me most of the afternoon saturday,... so much for getting ahead. The bowls were easier, If I remake the pot making tool for sale, I'm sure It'll go much faster.
current tally: n+2—or potentially, 32 projects in 30 days.
The only casualty in this process so far is TV. I've got a backlog of taped shows to watch – will be just the ticket when everything goes into reruns!.. but until then, I'm really enjoying the creative process… the meditation at the lathe, playing with so many different woods, and getting better and more efficient at sharpening. You couldn't get this experience from a class at any price. (but I'm still asking Santa for a class just the same)
Chris Schwarz wrote about taking this 30 day approach to improving his hand cut dovetails (which was a very successful venture) and with the improvements I'm seeing after a week, I'm already thinking about what I might try for the next 30 day event in April – or maybe a 31 day event in Jan if I get itchy to try something new. But for now, I still have a few things planned for the rest of this month that I've never tried before.
-- I am always doing what I cannot do yet, in order to learn how to do it. - Van Gogh -- http://blanchardcreative.etsy.com -- http://snbcreative.wordpress.com/
---