Oh what a month for wood finds!
This summer I was sitting at the computer as I received a guild wide notification that a local church was replacing it's pews – 12 foot long oak ones, if anyone was interested. I immediately replied, "if it wasn't too late, could I get my name put on one?" (I'd figure out how to transport it later).
Yep, one was reserved for me, (should be available late Aug, early Sept), but after a few months I thought I missed the phone call when the time came to come and get em. Long story short, someone didn't take as many as they requested and I now have two pews taking over my front porch! They were installed in the 50s, and are still in pretty good shape… eventually they'll turn into a bench for the house, and a daybed for my daughters room, as well as several other projects… Eventually.
This week I finished a basement remodel for a retired woman (barely a stones throw from the same church) who's late husband was a woodworker. After hearing about the dumpsters full of clutter that was cleared out before we began the job, I inquired about a some lumber in the corner of the former workshop – I spied a few natural edge slabs in a dark corner, presumed they were pine – she told me that they were black walnut that her husband was going to make a grandfather clock with. These were originally purchased from a sawmill in PA in the mid 50's (so does that make it antique lumber?) . She was going to keep them, and I was glad to hear they weren't going to be tossed out. She surely was aware of their worth. Hopefully she had a nephew or neighbor who'd do something with them.
Then, this morning she told that she had no one to give them to, and when she passed, they'd most likely be thrown away. So, if I would do something with them, then I could have them. I told her that I wouldn't make a grandfather clock, but perhaps a Nakashima style, natural edge bench. And I certainly wouldn't burn them. – no matter what happens to the price of oil. The kitchen table, and 70s era coffee table (pine stained to look like walnut) would keep me warm on a cold winter night, followed by green wood from the back 40, long before these old slabs.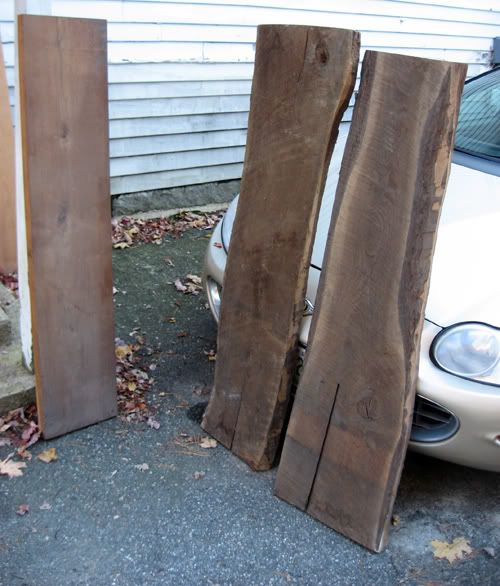 the one on the left was dimensioned S4S, some years back, still a little rough, but pretty. One of the other two still has the bark on the edges.
Oh, did I mention, these were the 3 smallest slabs? Here are the 3 wider ones I had to go back for!
-- I am always doing what I cannot do yet, in order to learn how to do it. - Van Gogh -- http://blanchardcreative.etsy.com -- http://snbcreative.wordpress.com/
---