I was struck with inspiration for the piece I found with a hole in it. What purpose the not round hole served in a piece of quartersawn pine served I can only imagine, certainly not the byproduct of modern wiring.
I also decided I'd take a page out of Yorkshire Stewarts book, and let the piece dictate it's own rules. This called for only using wood and nails found in this salvage pile… and out of a desire to not take this potentially mold and bug infested wood into the shop (or laziness for not wanting to bring my mitersaw and nailer up out of the basment, I decided I'd only use period tools from when the house was built in addition to the period lumber and cut nails. So I grabbed a handsaw and hammer and got to it.
The historic plastic handled Japanese pull saw and venerable 20 oz. Stanley anti-vibration hammer, both still commonly found at the big box stores, were found in the tool belts of any forward thinking 1880's craftsman.
I had a rough idea for how I wanted this birdhouse to go together, but it decided that up was down (to which my daughter agreed), so I just went with the flow and let this fall together in a matter of a few minutes. I was motivated by being caught up in the process, and the sound of not too far off thunder "helped" in it's own way.
3 pieces of lumber, 5 cuts with the pull saw, and about a dozen cut nails became: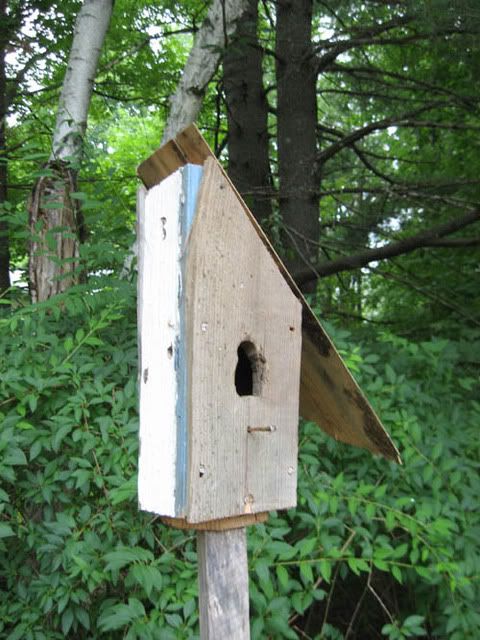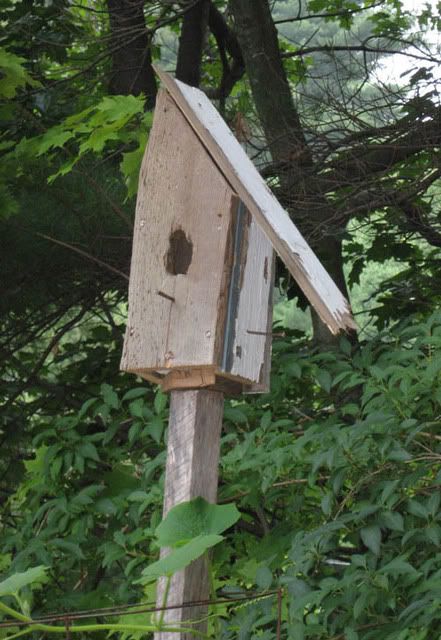 A cut nail serves as a perch under the entrance hole, another cut nail serves as a perch under the side overhanging roof.

worms eye view (looking up from beneath the buttercup squash, which are climbing up the post this birdhouse is perched on.
There are a couple 18-20" x 3-4' pieces of 1" thick siding (pre plywood days ya know) that are just begging to become my take on an Extreme Bird house – albeit a "small" one ;)... but for now, here's just first stab at a trash to treasure project.
-- I am always doing what I cannot do yet, in order to learn how to do it. - Van Gogh -- http://blanchardcreative.etsy.com -- http://snbcreative.wordpress.com/
---