I've been very excited about this particular contest. Making things out of other things, and granting things a new life has always appealed to me. I've got a bunch of wooden relics and artifacts in the basement and attic awaiting inspiration. I also have a bunch of junk in the attic. – well I wouldn't call it junk, it's too good to throw away, but I sure wouldn't be heartbroken if it was lost in a fire or whatever.
I had a few ideas for this contest, but nothing that really resonated… so while awaiting inspiration, (and running out of time) I decided I just had to break down and do something. I remembered another pile of trash. A pile of salvaged wood – sheathing, clapboards and trim, from some home reno projects. This stuff has spent about a year, heaped under the shed as I'd have to pay for the recycling center to take it.

removed two rotted windows (both had been boarded over, or under) before we moved in several years back. repaired/replaced plenty of the inch-thick wall, put on new clapboards, replaced the foundation sills were half rotted, completely turned into soil, or missing entirely, and an too tall interior outswing door has been replaced for a real exterior door.)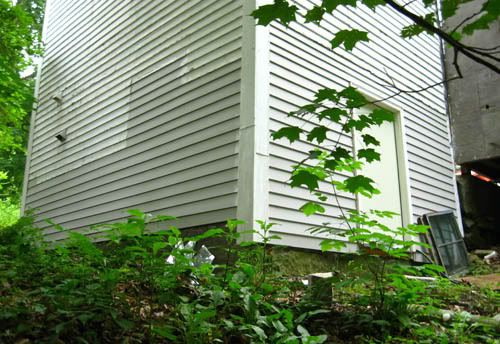 Nice new walls, overlooking a mountain of debris. And encroaching woodland.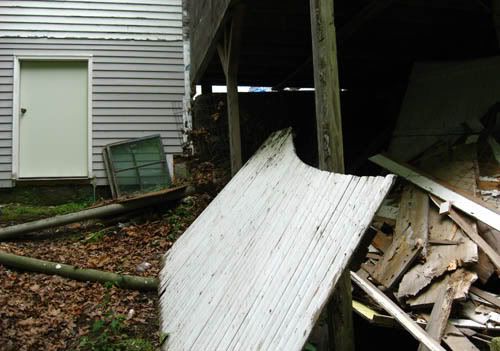 I tried hiding the mess behind this salvaged stockade fence, but even when it stayed up, it still wasn't pretty.
When we bought the house (how many of my entries harken back to that phrase?) ours wasn't the worst off on the street. While we were in desperate need of an "extreme home makeover," there is no way they'd take up the challenge. Apart from the logistical issues with fitting in any amount of trucks, trailers and crew on our short dead end street, our neighbors house was far worse off than ours. The previous owner gave up at least two decades back – by his own admission, and it was surely his life force keeping the roof up.
When they finally sold, the ad read something to the effect of "as-is, move in, fix it up or tear it down. No warranties. attached barn unsafe." How I wished we could afford the land, or pooled in with the neighbors and had a community garden. Anyhow, a developer bought, and refurbished the place, (bottom shelf Home Depot), which allowed the now owner to buy it at a reasonable price – he's in construction, and knew what had been, and what needed to be done.
What's the point of this sidetrack?... well, with new siding, and a nicely landscaped back yard (both rescued from being overtaken by mother nature) was to the point where if "Extreme Home Makeover" did show up, they wouldn't apologize for skipping us and taking care of the neighbors instead.
What does this mean to me? Well for starters, the pit of debris living (and turning back into soil) under the shed around back (we have a lower back yard outside our walk-out basement, about one story below the "real" back yard.) has now become quite the eyesore for the neighbors (In my head, they've never said anything, but I'd rather they not have to look at a "Sandford and Son" landscape hidden from my view, but right in sight of their firepit or hot tub.
So this morning, I pulled out all this mess, and stacked it up neatly in where I can more easily get to it. The plan was to sort out what I had, and what could be useful.
Carefully stacked, it took up a lot less room than I expected! Still not pretty, but could easily (now) be reached, and cut up into small pieces and brought to the dump one bag at a time. Much cheaper than a full pickup load.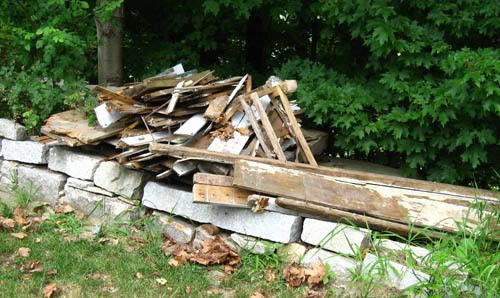 While i was at it, I also sorted out this pile of leftovers from the day job. Mostly preprimed 1x, some spindles and oak column wrap offcuts. gotta clear off this space eventually to make room for firewood.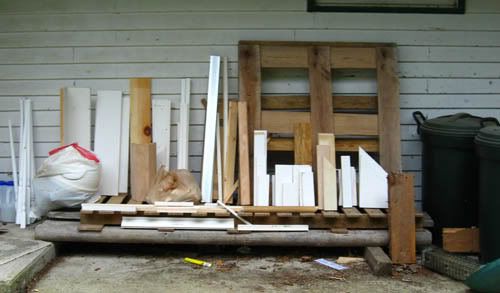 In one of my last posts I eluded to making birdhouses, and I had the idea to turn some of this detritus into just that – and look what I found!
Now what to do with it?... ;) Or rather what did I do with it?
-- I am always doing what I cannot do yet, in order to learn how to do it. - Van Gogh -- http://blanchardcreative.etsy.com -- http://snbcreative.wordpress.com/
---