This morning I finally got around to making a sled for my tablesaw. Thanks Niki! great plans. easier to follow than the 2 or 3 others I'd been eyeing, but never got around to making. I expected this to take all morning – and despite spending a LOT of time trying to get a perfect fit with the runners everything went together quite well. I even added a box (half of a hexagonal column wrap) on the back as an added safety measure.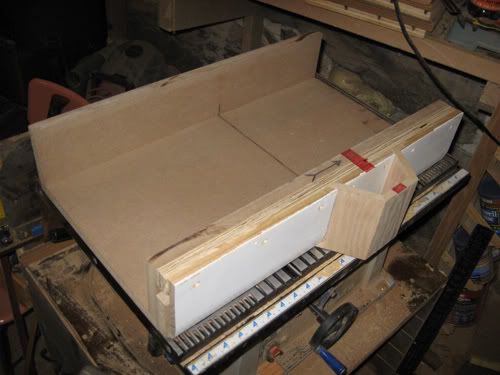 Never mind the arrow I drew on, that was a reminder to me that there was a little slop in the fit, and how to push it when using it.., but I fixed it and now it rides nice and true.
How does it cut? Awesome! I don't even trust my miter box for cuts this square!
I'd been holding off on making my next box project for this sled, which I rough dimensioned this afternoon. The irony is that I finally got this jig made now that my table saw seems to be on it's last legs. – It still runs just fine – whether it's turned on or not! Needs to get me some sort of "off" switch rigged, as a new table saw isn't as forthcoming as I would like (The visit from the Tax fairy wasn't as nice as we'd been hoping)
So, so keep myself, and my shop humming, I put some scrap to work, and saved myself a bunch of cash…
Here's my "wolverine grinding jig:"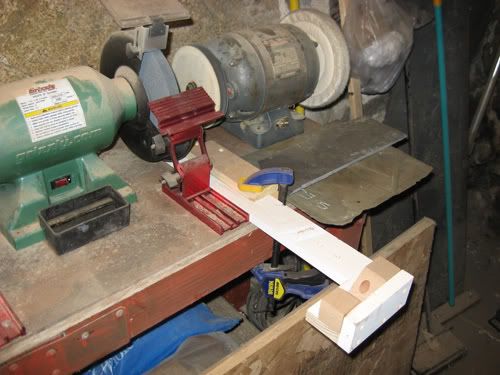 My gouges have never sharpened so well – or consistently!
and here's my pen blank drilling jig: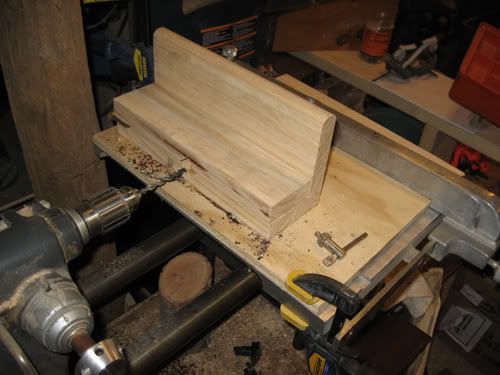 I'd originally made this for my (all but useless) mini drill press… but as I realized it didn't have enough quill travel, I modified this for the Shopsmith. I had issues with the first couple of blanks breaking (well exploding). A couple of thin shims and a clamp to hold it shut (rather than relying on myself to hold it shut) took care of that. (Too bad I lost my only bloodwood and blackwood blanks from Karson ;( Why oh why didn't I test it on scrap first?! Initially I thought the blanks might have had a crack, but I've solved the problem – I was able to salvage a couple of the blanks that cracked. Those turned out nicely. as for the first two… I'll have to pick some up at my semi-local hardwood supplier, or trade for 'em again in the next round of the "travelling pen swap". (Or maybe now for some Bamboo blanks?)
Anywho… who needs fancy jigs, when you have a shop full of scrap, a couple of clamps, and your fellow LJ's to inspire!
-- I am always doing what I cannot do yet, in order to learn how to do it. - Van Gogh -- http://blanchardcreative.etsy.com -- http://snbcreative.wordpress.com/
---