We woodworkers are a thrifty, if not funny bunch. Small bits of hardwood, no matter how small or seemingly useless, just don't make it to the scrap bin or the burn pile. I had these two small pieces of mesquite – barely an inch and a half across by half an inch thick. Not really good for much, but the grain was so nice, I had to think of something… and think I did.
Well, not think so much, as have an idea hit me when I wasn't looking for one. (That's how you know when the muse gives you a good idea.)
Small round frames. – Art to be added by my "assistant". Pseudo cameos if you will. But fit for the tree, or even a necklace if not TOO big. The grain on this mesquite is positively semi-precious gem like. Well, not gem so much as nice stone. Remember the Rock Tumbler, and its perfectly river rock smooth bits of quartz, tiger eye and other interestingly "grained" stone? – well, there you are.
It seems, what with my finger rings, that I'm really getting into turning small, really small things. Funny to work on projects that are smaller than the business end of most of my chisels!
These photos are prototypes from the "figuring out the workflow" session.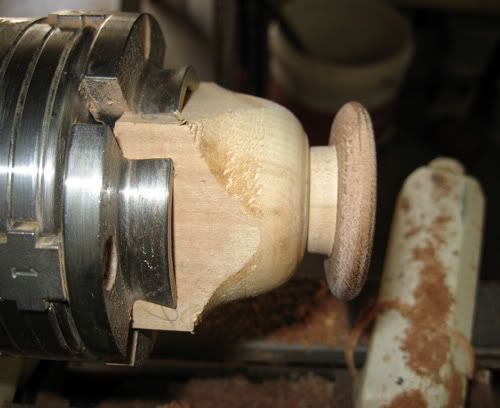 First stab, was taping the blank to a block with two sided tape, and turning the curved side – mostly with added support from the tail stock, and then finally with light cuts relying on the tape, and crossed fingers (well, toes) to hold everything together.
That worked, then a rounded jam chuck (concave hole cut into a scrap of soft pine) to invert the wood into for turning the recess. That worked fine, though getting it out (without damage) took some doing.
Didn't take too long – but could require new chucks (or adjustments made to them) for each one. Two added turnings per, does not a smooth workflow make. Nope, no time or money saved there.
Second attempt – pre-drilling the recess with a forstner bit – these are 1 3/8rds" holes, then attaching that to a block – also turned to 1 3/8, with a spot of 2 sided tape on the end.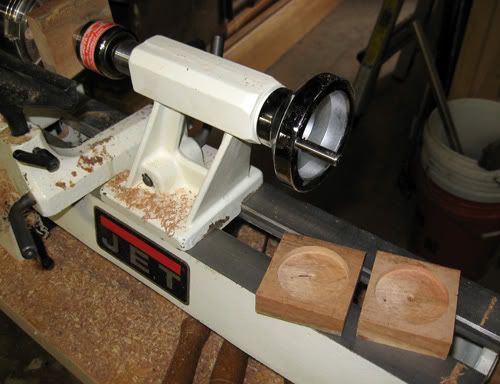 This worked perfectly. Recess for the art was already done. The back could be turned, sanded and finished in one go. I banged out a couple more in short order. Only once I brought them inside did I see how small they really were. Above photo shows blocks with 2 1/8" holes – conveniently sized to fit over my scroll chuck perfectly. I won't need to make a wooden chuck for the larger size. Nicely saved myself another step!
3 mesquite turnings, one maple. All approx 1.5" dia. sanded to 220, or 400 grit, wood left unfinished.
Test successful, today it was off to the hardware store to pick up the aforementioned  2 1/8" bit and prep for some serious production! Then it'll be off to post them on Etsy. Otherwise these items for the tree, will first go under the tree…. but If I've already blogged about em, I can't exactly give them away, now can I? But you can!
-- I am always doing what I cannot do yet, in order to learn how to do it. - Van Gogh -- http://blanchardcreative.etsy.com -- http://snbcreative.wordpress.com/
---