My grandfather had been holding onto some hand-me-down tools and equipment until I was ready for it. (read – had the space for it, as in moved out of that basement I started serious woodworking in).
And finally, after walking around it since Fathers' Day. This weekend I finally got around to ceiling mounting this puppy!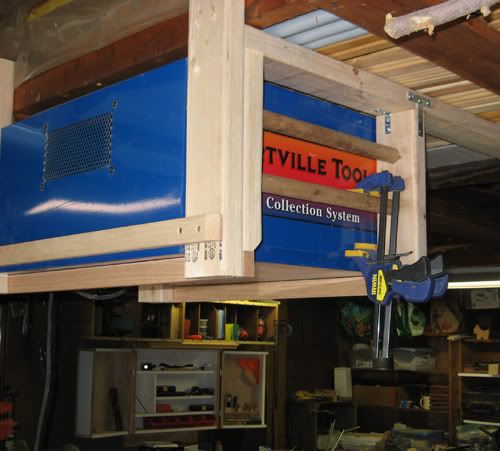 As I was building the cage for it – 2×4 and some offcuts of oak treads. it occured to me to make use of the space on the sides…. As I have the headroom now, and this is directly over the tablesaw (who's outfeed table doubles as a work surface) what better spot to hang some clamps from?
In the old shop, I'd expected to make a downdraft table or somesuch with one of these in it… and that thinking is still evident in my shop plans. It's so hard to think vertically, when I spent so much time planning and devising in a severely vertically challenged obstacle course of a space. I debated putting this up at all, but I expect it'll do the most good where it is. UP off the floor. UP overhead, and I've got a box of filters that came with to boot!
Headroom. At present, I think my "helper" would nearly be able to touch the floor joists overhead in the old basement shop – the ones I kept hitting my head on.
I'm happy to inherit some things from my grandfathers old shop, I just wish I could have avoided inheriting his organizational skills too.
Now I know the table saw is under there somewhere…
-- I am always doing what I cannot do yet, in order to learn how to do it. - Van Gogh -- http://blanchardcreative.etsy.com -- http://snbcreative.wordpress.com/
---