The second piece of old fashioned book binding equipment (nearly 2" thick Maple!) going into this project:
Removing metal hardware before running through the tablesaw. The mortising for it, done almost entirely by drill.
threaded metal rods run through both ends, cross grain. for rigidity? structural integrity? aid in glue up?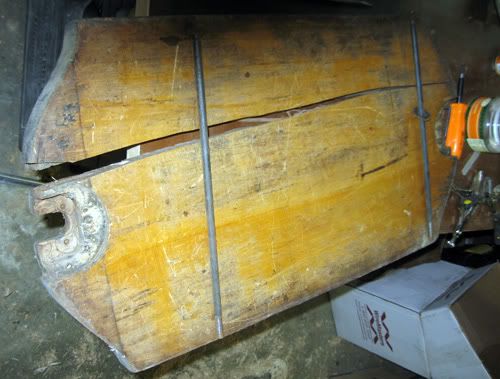 Didja guess #2?
Ok, so I knew this one had a split in it, but I didn't know how bad. Luckily the plan was to rip off both edges, like I did with the rails/apron for the top, to use as the feet. Also, luckily, the crack was so close to the middle, allowing for maximum foot depth. I thought I'd have to waste some time to glueing the slab back together, only to rip it apart!
One design consideration was to cut off the ends and join them to the edges for more of an interesting design element… But simplicity and practicality ruled in the end. The legs are splayed 5 degrees, and the feet should probably be as long as possible to match the same offset. from top to floor.
I ripped the feet as wide as possible: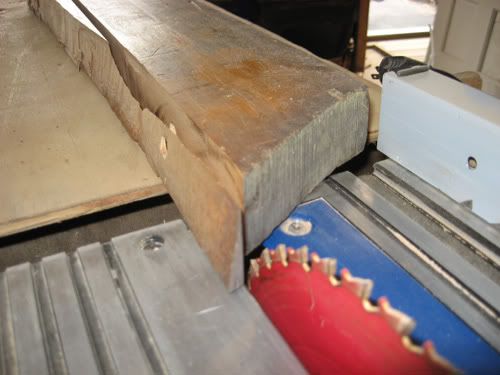 and I still have a rather large piece from the middle of the slab left for another project or two!
I set those down to mark the height to notch out the legs. After already using the table saw to mark the vertical cuts, I finished off with my friend the pullsaw, Then chisel to pop off the waste on one side… a little to aggressive a bite, so I used the pull saw, for both cuts on the other leg. Not too bad, really.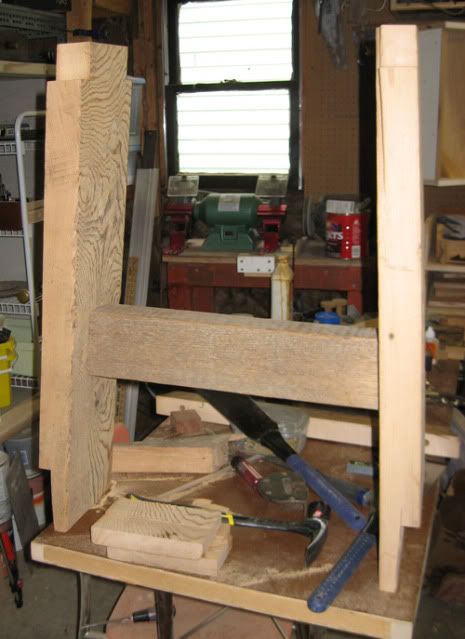 Good fit.
But I think I'd like a bit less offset. Time to dado the feet… but this time, just this once, NOT by hand.
attached & glued.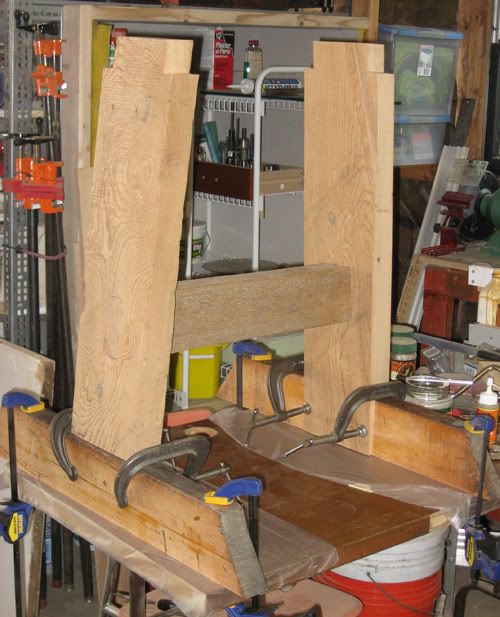 The legs are indeed clamped to the table – a nice flat torsion box in the (former) guise of a hollow core door. Should make for things all nice and level. When all is said and done.
At least more level than the floor is likely to be… hence the beauty of those threaded rod holes. I can put on some threaded feed and adjust as needed… or it could be permanently mounted to the floor as well… in the next house, that is.
Next up, leveling and attaching the top… and making shavings baby!
(and brainstorming what to do with those leftoverhardware bits )
-- I am always doing what I cannot do yet, in order to learn how to do it. - Van Gogh -- http://blanchardcreative.etsy.com -- http://snbcreative.wordpress.com/
---