I spent, (what started off as) a nice cool Saturday morning, cutting and fitting the mortise and tenons for the base.
Since I cut the tenons by hand, I figured I'd break out the brace and bit I inherited to drill out most of the waste for the mortices…. Not for a lack of trying, but I just couldn't get it to hold the bits… so I moved over to the shopsmith. It was still set up in drillpress mode afterall. Aligned the table height and fence, and two seconds later I had the first one drilled out. Oops I forgot a backerboard to prevent the massive chip out on the backside. the second piece came out a lot cleaner.
Over to the sawbench with chisel and Mallet (Texas Osage Orange from my Bro) to chop away the rest of the waste.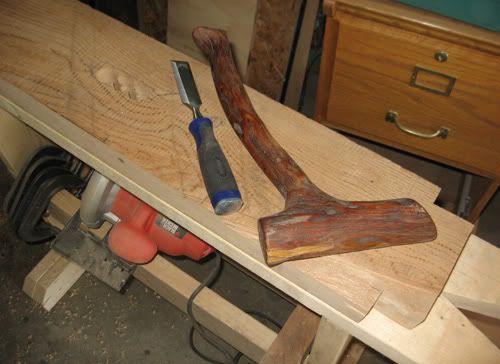 With a little elbow grease, and the help of a microplane liberated from the kitchen, I spent the remainder of the increasingly warmer and warmer morning, paring, filing and fitting.
It didn't occur to me to drill out the mortices at 5 degrees to match the angle of the legs, so I had to open them up a bit more than intended. but as I'd be wedging the tenons, it didn't matter much. Good practice and lessons learned before I give the Schwarz Roubo a shot.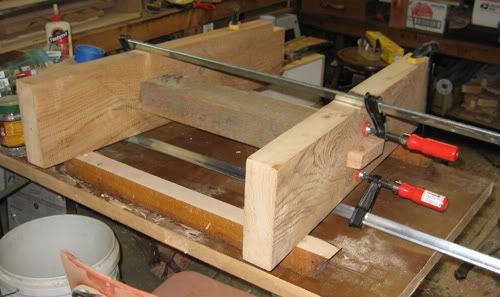 Test fit before glue up. In days of old I'd have just gone with the glue up, and then had to live with (or fight with) the results.

Negligible, but a tiny bit of racking. I rasped just a wee bit more and everything fits nice and flat. Nicely (quickly and easily) saved.
Glued up, wedged tenons – with the same oak as the stretcher – and some help from the Gorilla. The glue I won for my birdhouse in fact. (One that stayed with the old house) A whole other level of recycling and reusing on this stand!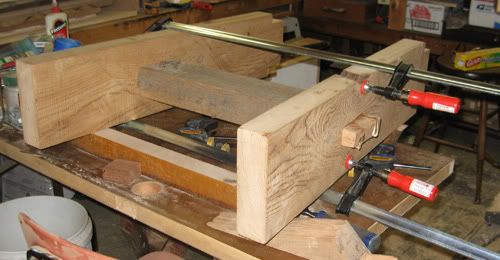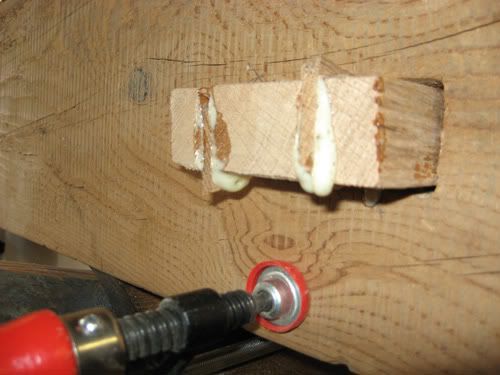 Yeah, the sides of the mortice aren't perfectly square. My rasping kind of rounded the sides a bit. That and some chip out on the outside faces is evident. But the tenons do fit in quite snugly.
I was going to wedge the tenons diagonally to fill in the gaps, but feared splitting the legs. I'll go for strength over appearance on this project. I suppose I could try to fill in the gaps with filler or some bits of wood… and I might. But it's supposed to be old, rustic and stout anyhow.
Next up – notching for the feet and attaching the top.
-- I am always doing what I cannot do yet, in order to learn how to do it. - Van Gogh -- http://blanchardcreative.etsy.com -- http://snbcreative.wordpress.com/
---