Ok, so it has been a while since I posted an entry. The top is finished and now stored letting the polyurethane cure a bit before I do the final rub out and wax.
I have since turned my attention to the base. The hardest part was making the cross beam. I laminated a piece of walnut between two pieces of VG fir. Once the glue dried, I resawed it in half and cut the mortises for the pegs from the inside using my router and a jig cut at 5 degrees. I then re-glued the two halves together again. I could have tried to chop a tapered mortise through the beam, but I don't think my chisel skills are that good to get an accurate slope with clean sides, etc. This method worked great.
First Dry Fit
Beam Lamination
The feet are simply laminations of VG fir with walnut bottoms. I have buried heavy duty appliance levelers in the feet since the house this is going in is an old farm house that's better than a century old with rather uneven floors.
Feet to be…
The risers are two pieces edge glued. I cut the mortise for the beam on the table saw before gluing them up so that I would get a nice square hole. I used a square piece of mdf in the mortise to keep the pieces from sliding during glue up. Came out nice and even with only glue squeeze out to clean up. Then, it was just a matter of cleaning them up and cutting the tenons for the feet and cross supports. I plan to dowel the tenons, much like the breadboard ends since I expect some movement along such a wide tenon. I put a 1/8 radius bead detail around the mortises to ease the edges a bit. In the pictures, it looks like the beams through tenon and peg are loose, but that's just the round over shadow line.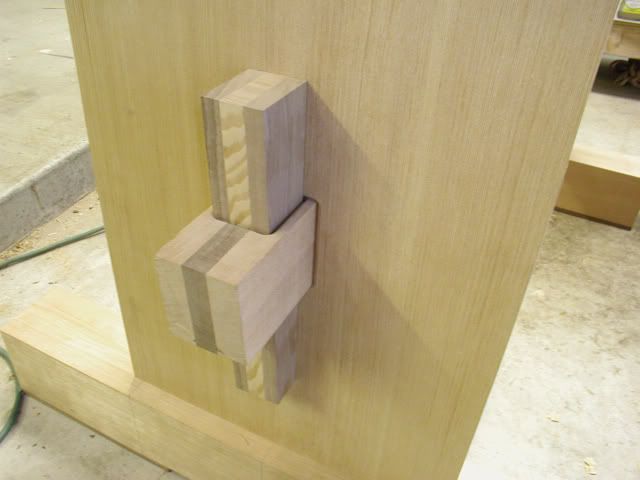 Pegs in place
I decided to make the pegs out of left over walnut and fir, only this time with the fir in the middle to contrast wiht the beam. It sounds like an artistic touch, but in reality I didn't have a solid piece of walnut left thick enough for the pegs and was too cheap to go back to the wood store for 8/4 stock. They just need to be cut to length and rounded out a bit on the edges and corners.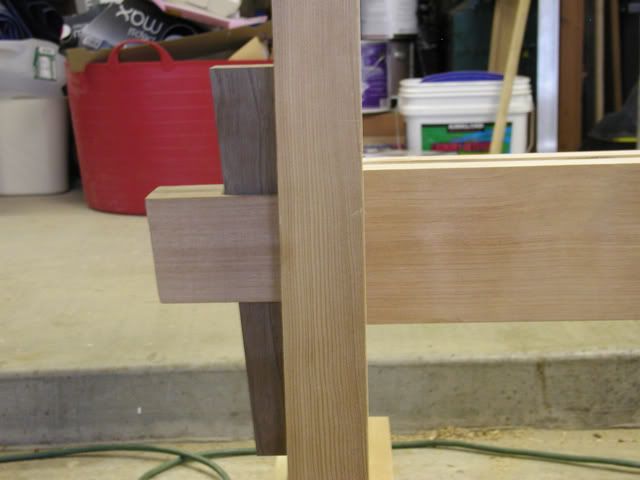 Tight fit…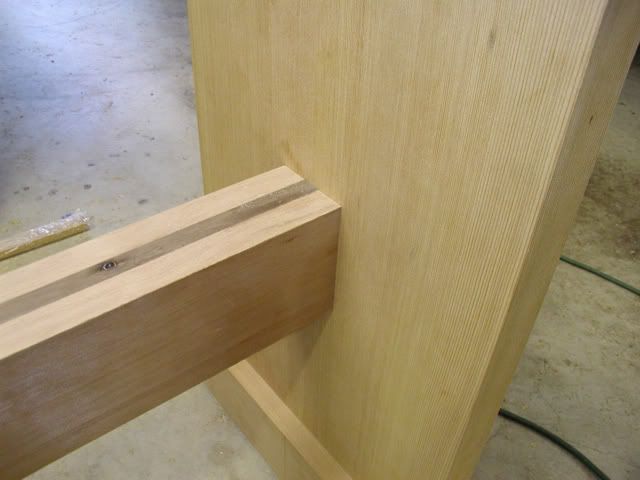 Tight, inside and out!
Now, I just have a lot of work to do on the bandsaw. Right now it looks blocky, but there's a lot of detail work ahead. Stay posted….
-- GSY from N. Idaho
---