I decided that I didn't need to re-create the tap guide, as the one I had from version 2 sould work just fine. Here you can see the tap inserted into the soon-to-be guide nut. However, prior to this, I found my hole wasn't quite 90 degrees, so I put that to the side and created a new blank for a nut. I took my burnisher for scraper, loaded that up in the drill press and checked to see if the table is set right – it wasn't so I spent the next 15-20 minutes looking for a socket wrench to adjust the level of the table. I got that taken care of and proceeded on.
I don't have any pics of the created nut, but perhaps I can get a pic or two of the process. I don't think I had my blade as sharp as it should be as the nut was pretty ragged in the cross grain, a lot more than I'd like.
Once I had the guide nut created, I used the same guide for the screw as that one was still good shape. Even though I figured the hole wasn't quite 90 degrees. Instead of using clamps to hold the guide and nut together, I chose to use lag bolts to hold it all together while creating the screw. It took me some time to line things up, but managed to get it done. Creating the guide nut here in the pic – you can see the "other side" of my workbench top. It took some time to scrape through what I thought was the right amount.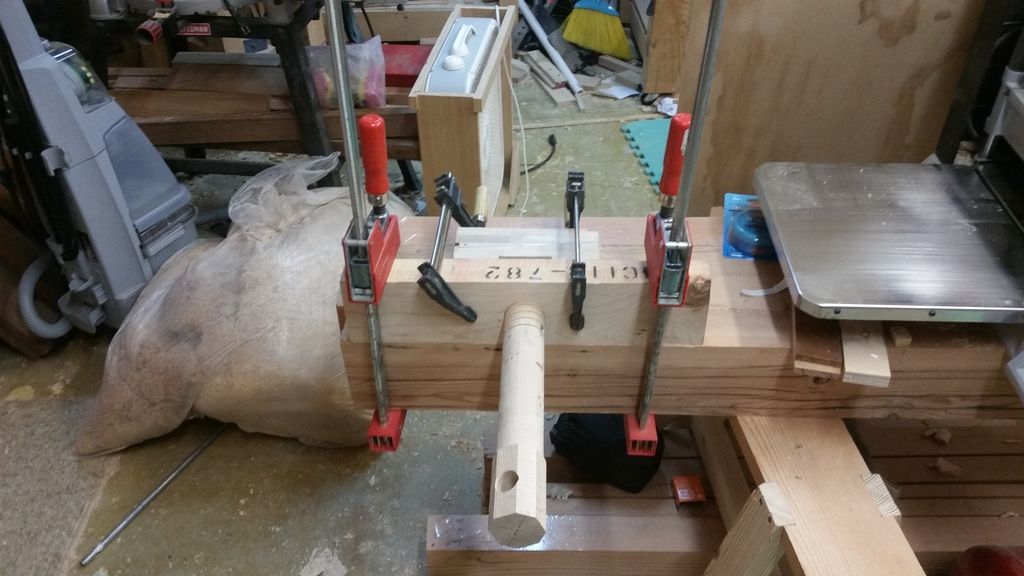 -- Michael S. - Omaha, NE
---