While in transit back to Florida from NY I stopped in Maryland at an Exotic Lumber supplier and I thought I would share my treasured find. I bought some Purple Heart and Walnut for a few gift projects but while searching through other stacks of lumber I came upon 3 boards I found absolutely stunning! I don't have a specific use for them but could not pass up the chance to buy them. Here is a photo of what I found "Quilted Makore"
I can't seem to settle on a project so it will sit until I can make up my mind or someone makes a suggestion to point me to a decision. My first idea is to use it as an in-lay boarder on a dining room table about 4 inches in using Tiger Maple as the boarder and apron. A friend suggested to cut it up and sell it as pen blanks which I thought a bad idea.
When I make a final choice of what to use it in I will post the project and its progress here as parts of a series so off to brainstorming on what to make.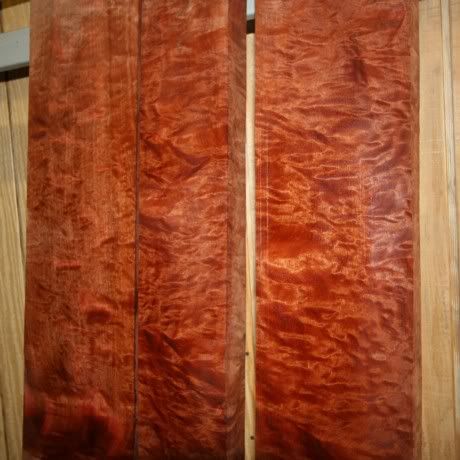 ---