Like a lot of people, I wanted a true riving knife for my older Unisaw. I checked out the Bolt On Riving Knife (BORK) and realized it doesn't maintain a uniform height relative to the blade, because it follows a bigger arc than the blade, being even farther out from the axis of the swing arm. Also, frankly, the means of attachment to the arbor doesn't look very robust to me.
I find this analogy useful for picturing the functioning of a true riving knife. Compare it to your arm. Your shoulder represents the pivot point of the swing arm; your elbow represents the blade arbor; and your forearm represents the articulating arm, with the riving knife held in your fist. Now, hold your arm straight out and level with the floor. This represents the blade (and RK) at full height. Then, lower your arm slowly, always keeping your forearm level with the floor. Notice that to do this, you have to gradually bend your arm at the elbow. (If you are resistant to my suggestion to physically do this, at least imagine it.). If you can figure out how to do this on your saw, you can have a true riving knife.
I live close enough to the Bellingham Grizzly that it was convenient to go in and check out their saws. They have at least 3 different mechanisms for keeping the RK level with the blade. One avoids the swing arm altogether, and simply moves the arbor and RK straight up and down (I say "simply" because I couldn't see the mechanism that does this; it may be very complicated). Another swing arm mount uses 2 toothed plates separated by a cog that rotates between them. Though I cranked this mechanism up and down several times, I couldn't really see how it worked either. But it looked too complicated for me to attempt. The third used a swing arm, with "forearm" actuated by some sort of linkage, but again, I couldn't see enough of it to understand exactly how it works. I suspect my method most closely resembles it in principle. It would be fun to take these machines apart to better understand their mechanisms.
I decided that the best way to accomplish what I wanted was to make a joint at the "elbow" part that could slip over the blade's arbor flange. This would make it unnecessary to remove the arbor shaft. As the articulating arm (forearm) had to have a solid base, I had to figure out where and how this could be mounted. The arbor casting is somewhat triangular in shape, with the blade shaft forming one corner, swing arm pivot another, and worm driven gear for changing blade height the third. Within this triangle is a sort of web of cast iron (like a duck's foot web, not a spider web). It would have been ideal if this web had been flat and coplanar with the rest of the arbor and table. But it was neither. So I tried bolting a plate (1/4" steel) to this by using spacers (small-diameter bits of tubing or pipe tack-welded on), ranging from about 3/8" to slightly more than 1/2" in length). After welding these spacers on, I could drill 5/16 holes for mounting bolts, and then, using a depth gauge, determine how much to grind off the spacers. I used 3 bolts, figuring I would need that many to have a solid mounting. The bolts tap into the cast iron web.
I then cut the hole in this plate so it could slide over the arbor flange. A 2 1/2" hole saw was about right for this, requiring a little enlarging on the oscillating spindle sander, only a few minutes worth. The "forearm" needed the same hole. To achieve concentric pivoting at the elbow, I cut three 1/4" wide arced slots about 1/4" out from the 2 1/2" hole, and concentric to it, and then bored and tapped 1/4" holes into the "forearm." (The slots were in the mounting base). Wanting to have smooth studs (rather than threads) to run in the slots, I ran the threads down on the bolts to leave 1/4" of smooth shank, and enough thread to tighten while allowing free movement of the arm without wiggle. One bolt head had to be ground thinner to not clash with the arbor casting; one head had to be removed altogether for the same reason, leaving just a stud, but the remaining 2 were sufficient to hold everything in place. Those bolts (on final assembly), were put in with medium strength Locktite. When in the horizontal (full up) position, these concentric plates have a gap at the top about 1 1/4" wide. This is partly because it would be too high otherwise, and would interfere with the throat plate, and also because my Uni has flats on the shaft that accept a wrench for blade changing (a really nice feature that I've seen on very few saws). So I did not have to sacrifice this blade changing aid, for which I am grateful.
All the above was relatively straightforward (but made harder because I hadn't removed the table, and had to do everything reaching through the throat). Drilling holes for the mounting bolts was a real challenge, requiring a right angle drill and a drill bit I'd cut in half. I only had to attach and remove everything about 50 times to make small corrections and adjustments.
The tougher problem lay in figuring out how to actuate the forearm to make it rise and fall proportionally with the blade. I cut out poster board mockups of various schemes and pinned them to a piece of plywood, with pivots consisting of brass binder clasps. Everything I tried simply didn't work. Spent a lot of sleepless nights puzzling over this. Finally, one idea I hit upon actually showed promise. I finally tried this scheme, using a mockup made from angle iron and a piece of 1/4" hardboard, and to my amazement, it did work. But there were two problems with it: it took up too much space where the riving knife was to go; and it required a precisely dimensioned, precisely curved slot. I hesitated.
About that time, I ran into a blog by TTalma showing an arrangement similar to mine, and he revealed the necessary placement and configuration of the actuating arm I had been struggling with. Once I had this conundrum resolved, I tried it and it worked. And I'm very pleased with the results.
At least two others have worked out schemes similar to mine, and they are worth checking out if you plan to try your own. In some ways, theirs are superior to mine (except in functionality) as they are skillfully machined and nicely finished (see TTalma"s blog "Home made riving knife," and a SMC thread titled "Delta 34-350 12-14" riving knife retrofit"). Mine is crude, and plenty ugly, and shows signs of extensive trial and error—weldments, holes without meaning and even a slot with (now) no purpose. Several times, I had to cut something off and weld something else back on.
To follow my design, you would need a means to cut steel (I use a 4 1/2" angle grinder with 1/16" thick abrasive metal cutting disks); I also have an upright metal cutting bandsaw which I converted from a 14" wood cutting saw (Grizzly), with a jack shaft and stepped pulleys to reduce blade speed. I use a 1/4" bi-metal blade, which cuts slowly but surely, and can make fairly tight radiuses. I use this tool, on many projects. Others might use a plasma cutter or acetylene torch. And of course you'd need the usual drill press, wrenches, grinder, taps and dies, etc. Though I did quite a bit of welding, if you had a well thought out plan, very little welding would be needed. When you're making it up as you go, as I did, expect a lot of false starts and blind alleys.
This took me from 10 to 15 days, and a lot of frustration. Was it worth it? For me, yes, because I like my old Uni, and I like the challenge in something that "can't be done," though admittedly there were moments when I wondered why I was torturing myself so. If you have a machine shop, you can make a much more elegant riving knife mechanism than mine, but I think mine works as well as any.
As for the knife itself, I found a one foot-square piece of 14 gauge plate, which seems to be a perfect fit for the Freud Diablo TK blade. If I decide to use a standard kerf blade, I'll need to use 11 or 12 gauge. A good way to determine the right thickness is to cut a kerf in a piece of hardwood, and take it along with you to the steel yard. If it fits over the plate without binding, you're good to go. The knife is held on with two 1/4" studs, spacers, washers, and nylock nuts (don't want that thing loosening up). The slot in the knife is open at the bottom to make putting in and taking out easier. I decided instant removal and installation weren't that important to me, at least for now. It doesn't require removal to do blind cuts.
I've been having a heck of a time with photobucket, being a newbie at this sort of thing. I fear the photos may be cut off, and don't know whether the text will be included or intact.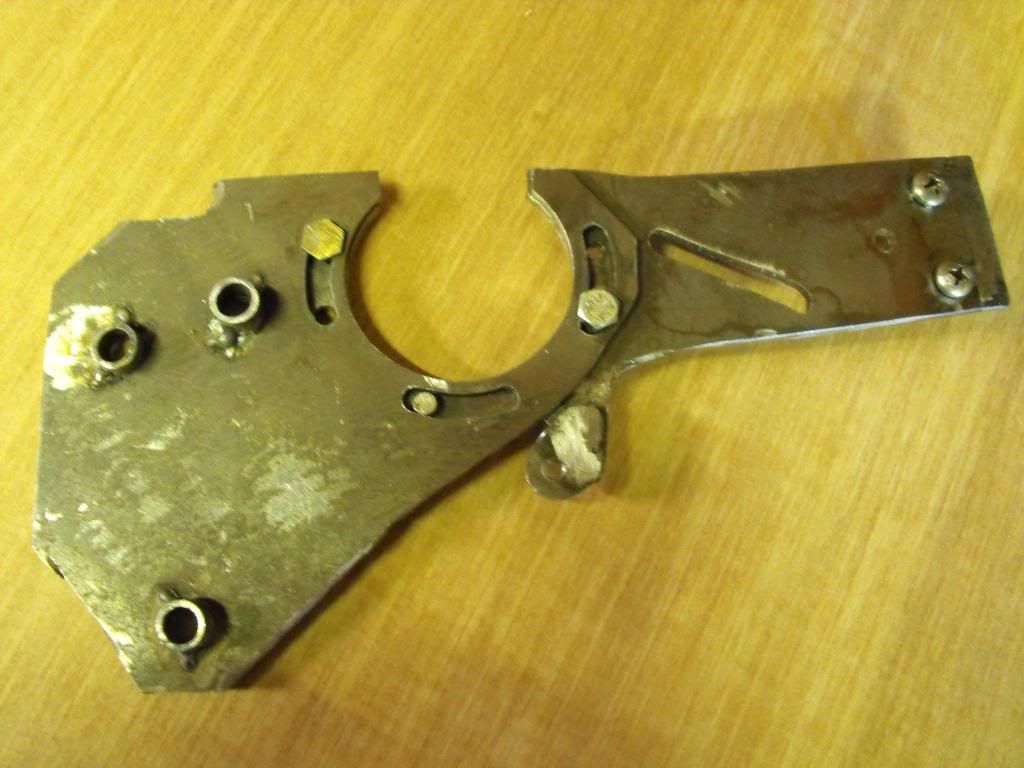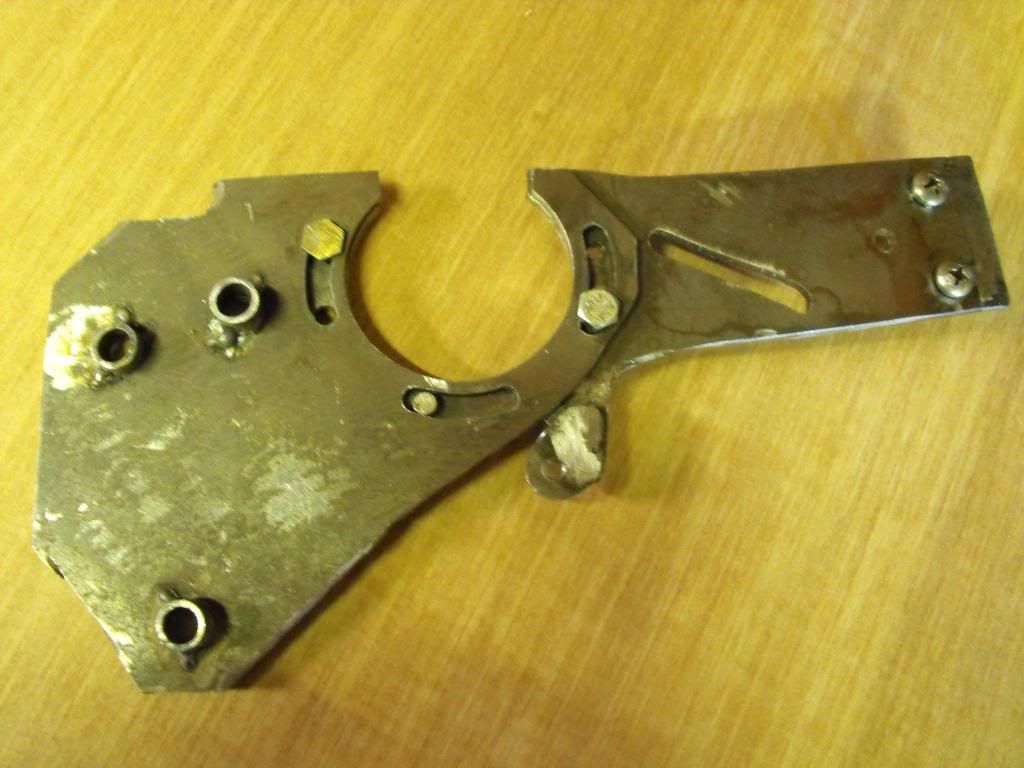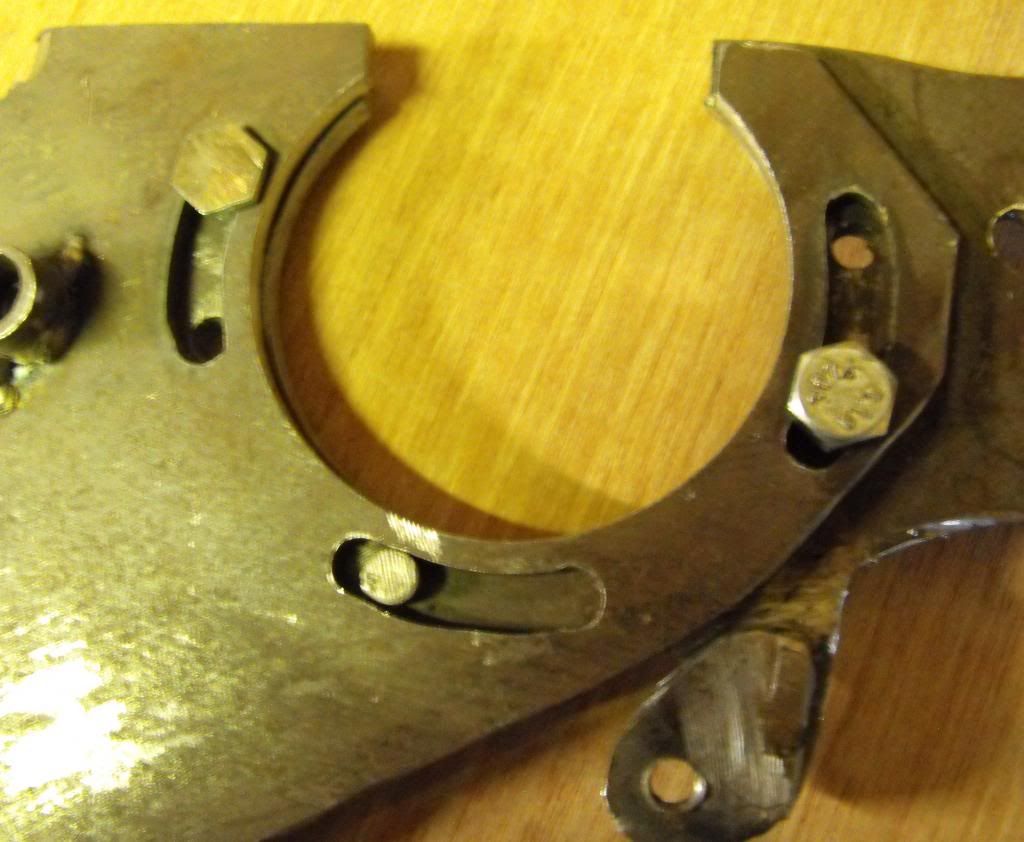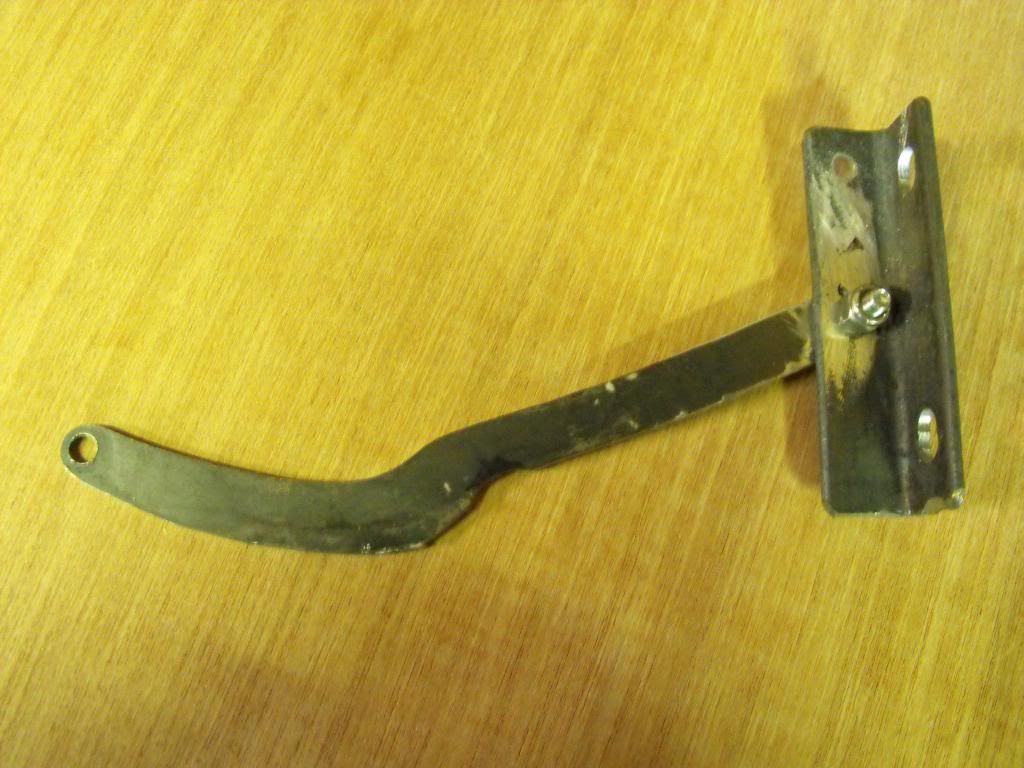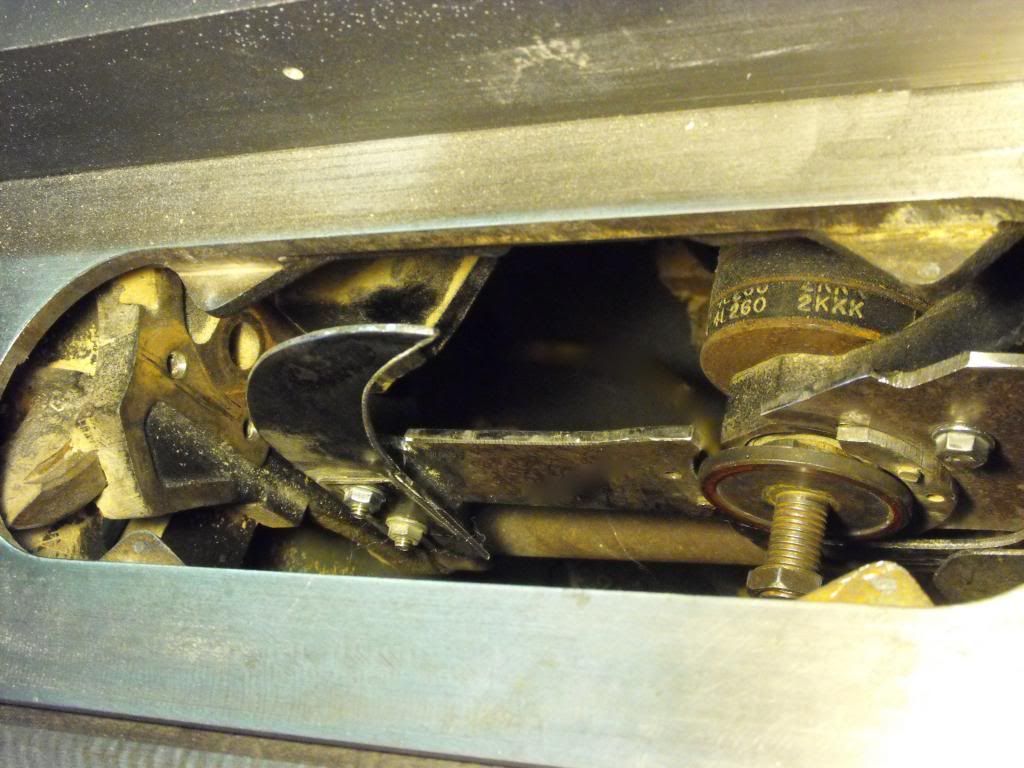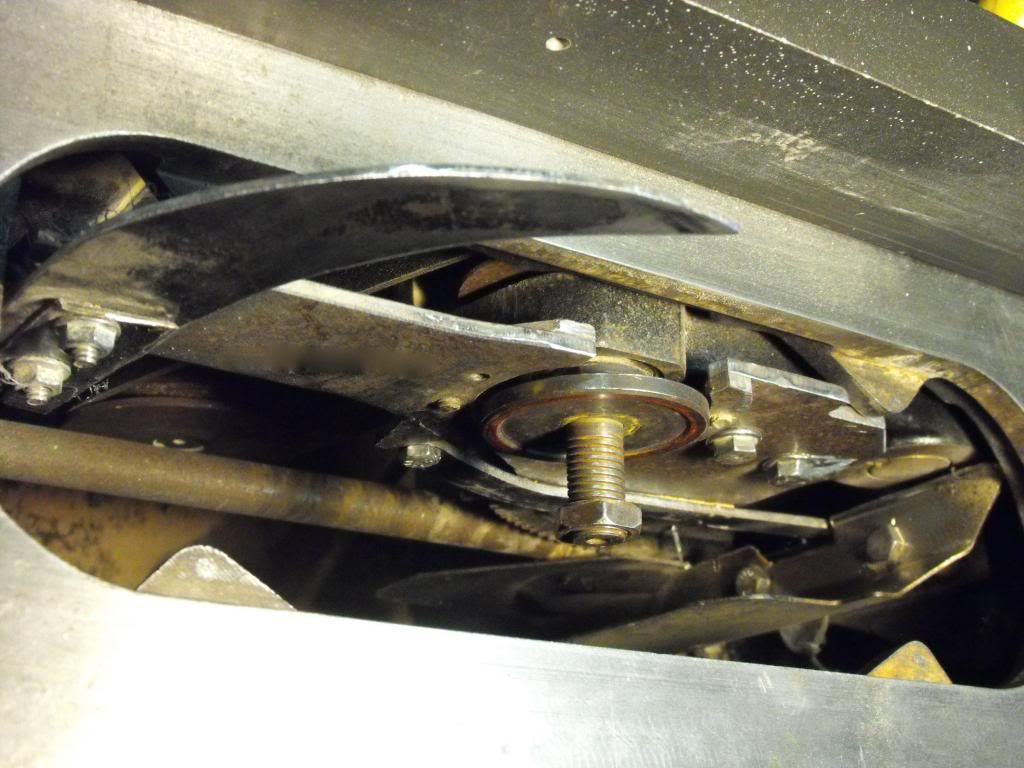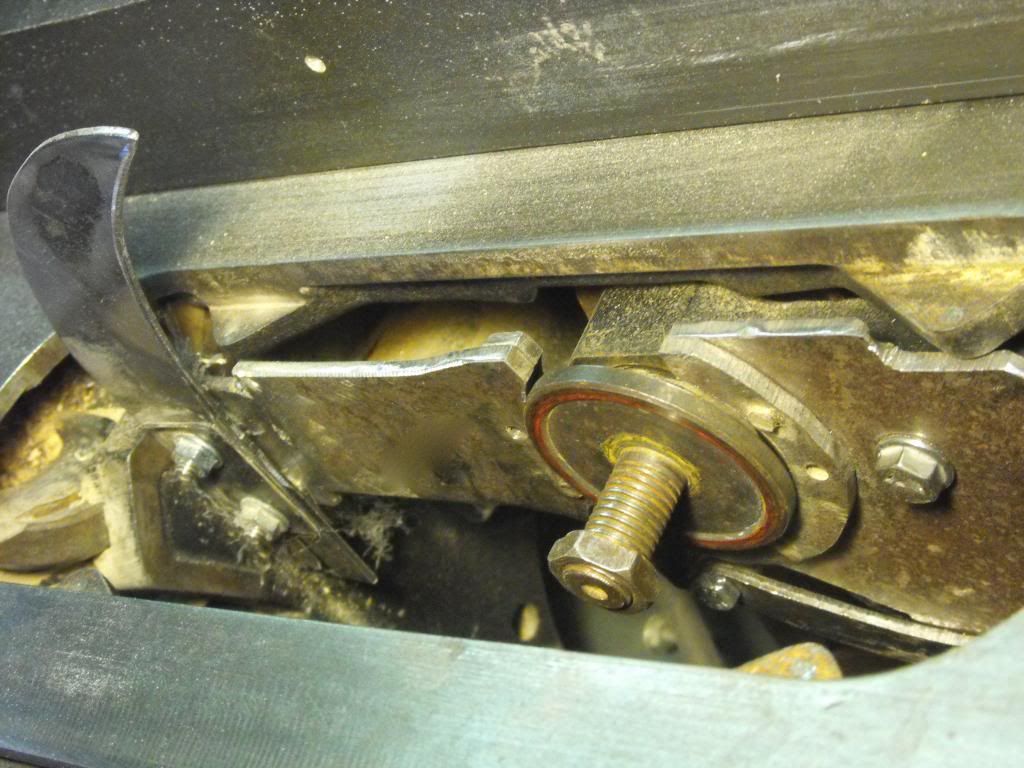 -- I admit to being an adrenaline junky; fortunately, I'm very easily frightened
---