I recently read a short article in one of the current woodworking magazines about a simple three step, foolproof (thats the part that caught my attention) method finish. The first step was to wipe on and then off a light coat of BLO. "to bring out the natural color" or words to that effect.
Although I was going to whip out the small face vise the very next day cool temps and some sanding etc of the frame was in order first. Among others I wiped the tail vise with BLO just to see what in would look like. and was absolutely amazed.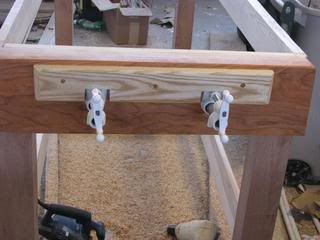 I had never really seen Cherry with the grain defined like this, probably because so much cherry is stained. And the white Oak looks quite good as well. The face vice was next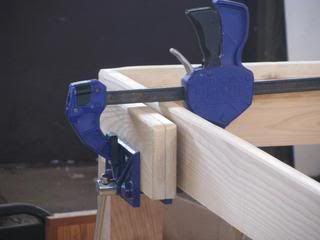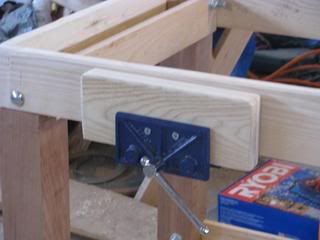 I decided that I had no choice but to start the glue up of those pieces that I had cut for the top. I was not really comfortable with the idea of trying to dry glue in sub-freezing temps, but I also didn't want to have to wait until spring. taking it into the house would have been self defeating as I would not be able to lift and carry it back to the shop.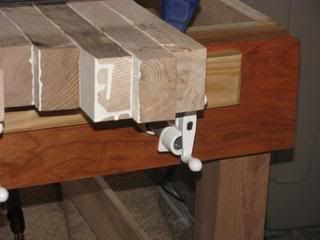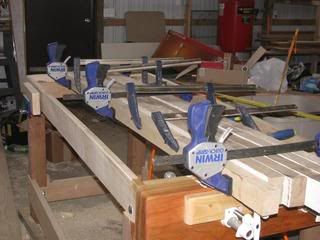 As you can see the glue on the out side had certainly frozen by the next morning.To be a little more comfortable I kept it clamped until the 3 rd day. As nothing seemed to spring apart I crossed my fingers and manipulated it to the planer to start the flattening. with rollers on both sides of the planer i could send it through with a lot of helping it, shave off a small amount. I then shut of the planner, raised the cutting head and rolled it back through and started the process all over again. This soon became a drawn out process. At the end it looked about like this and I was done for the day.

-- RTB. stray animals are just looking for love
---