I'm not certain but what this should be separate but any way… Before I joined us I thought that workbenches, real workbenches were limited to professional cabinet makes, magazine editors, and hand tool advocates. Having now been exposed to a much wider school of thought I have come to realize that this is not the case and that I too was in need of something of this nature. ( I got tired of moving everything off the table saw every time I needed to make a cut.) I 've spent several weeks reading and looking at benches and came to realize that most benches are made to suit the individual that makes them. I also realized that any bench that I made had to fit me and allow for my limitations
1. It would have to be higher than usual so that I could stand upright when using it.
2. Because of our pending move it would have to be able to be disassembled
3. At my age its probably going to be a one time deal
4. I'll probably break some of the 'rules'
5. I want it to be some of my best work, since your bench does your bragging for you.
6. Since I' ve been blessed with all this wood I want to take advantage.of the differences and show off some of the beauty and contrast. THEREFORE this bench is going to be 40 +/- inches high. The base will be built first. Building the top and then putting it on saw horses will not give me a place to work Bending over something at that height wood limit my work to about 15 minutes every 3rd or 4th day the rest of the time being spent recovering. So with every thing more or less planed (in my head) I moved on with the certainty of the poorly informed. I had some cherry 4+ by 4+ that I felt were about the right size and sturdiness for legs. Of course a little lay out and sawing was indicated.

AND
The left legs, of course look very similar, but have been assembled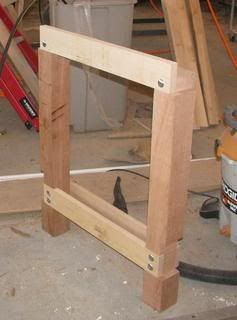 AND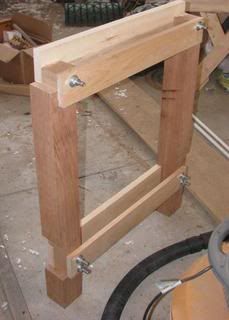 Other materials have beet cut and are awaiting a slight increase in the temperture to continue with the rough assembly. ( its now somewhere below 0. F) Bolts are 1/2 in X 6in carriage bolts with large flat washers and lock washers
-- RTB. stray animals are just looking for love
---