I picked up Mike and his brother Chad and met with the son(executor) who opened the barn for us. The trailer backed in to the area where the wood was directly overhead.Starting at the far right where most of the cherry was Mike handed the wood, one board at a time to his brother to be stacked on the trailer. I made like a big shot, I supervised. Since the cherry came down first it was stacked to one side of the trailer.With some careful loading and several strong straps we managed to load about 1/2 of the wood. The trailer was lowered somewhat by the weight. (the trailer is rated to handle a load of 7000 pounds.) when we returned to my barn/woodshop they unloaded all the wood, keeping it separated.
CHERRY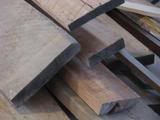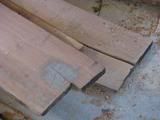 WOOD INSPECTOR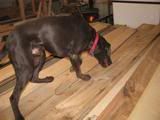 There are a couple of other piles not shown That together probable have as much wood as the pile of cherry but are somewhat mixed. With most of this wood Its going to take planing to identify each board.
To answer some of the question That have been mentioned. Scrappy, The first project will to be trim the board to remove checking where it exists. Reduce some of the longer board to more manageable lengths, I can't really think of any projects that will require 16-17 foot lengths. I'am not going to undertake to do any resawing at this time but want to plane one side to better identify each type so that they can be placed in the proper location. When this has been accomplished I can then think about getting the other half of the wood and doing the same thing. For those who mare care the pile of cherry is about 15 ft long 6-7 ft wide and 3 ft high.
-- RTB. stray animals are just looking for love
---