I guess a little background is in order. I do have a 16 ft open trailer. I have ruptured tendons in both biceps. After a long history of back problems I underwent surgery to remove bone from each of my 5 lumbar vertebra. In a nutshell I am lifting impaired. If anyones interested I'll post a picture of the foot long scar down my lower back (presuming I can convince my wife to take the picture, she funny that way)
The afternoon of the purchase I hooked up the trailer and returned to the sale where we loaded Just the wood leaning against the wall. There was considerable good wood behind the butternut and quite a bit of things like used stakes that had been used to stake berry bushes. Some of this type of wood has in fact been converted into kindling On the following day I returned and down loaded some of the wood from the area above the rafters. I also picked up a small chest freezer that my wife had bought for one of my daughters..
After returning Home and parking the trailer in the barn, nee wood shop.I did not lift anything for the next 10-12 days.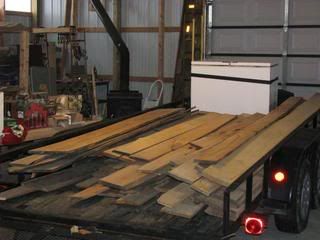 I have a man who works for/with me by the hour on an as needed basis, usually 2hours, twice a month, generally cleaning the horse stalls.Mike can do the hard physical work that I can no longer do and is happy no matter how much or how little work that there is. After about 2 weeks after the above, I had Mike come by and after he cleaned the the horse stall He and I together unloaded the trailer. I explained that I had a job but would need 2 people. He related that he could get his brother to work with him as long as I could give them 2-3 days notice.
-- RTB. stray animals are just looking for love
---