I started out with a bunch of sycamore. It's been sitting in my garage now for a year. I finally started to make use of it.
A sample with one end shellac, one end Arm-R-Seal

My wife is in need of a desk, but we wanted something simple. She said she didn't even want a drawer. So we measured, and started on a couple boards.
The boards had some twist. I spent a lot of time getting that out.
I tried ripping one board on the bandsaw, then jointing one of the rips. I have the Jet benchtop 10" jointer/planer combo. While it did the job, it left me with a very tapered board.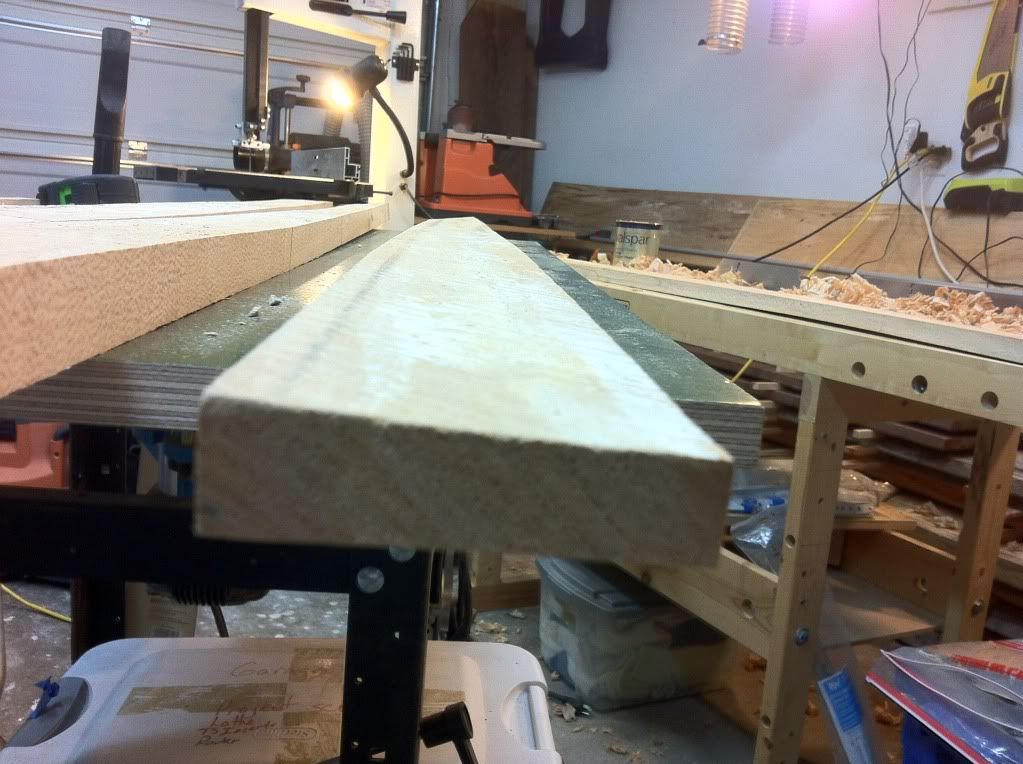 In the process, I also made 2 hand planes and got a floor full of very cool shavings. I actually enjoyed that so much that I spent a couple weeks flattening boards as much as I could on one side and then planed them to thickness.
The final table top came out to about 5/8".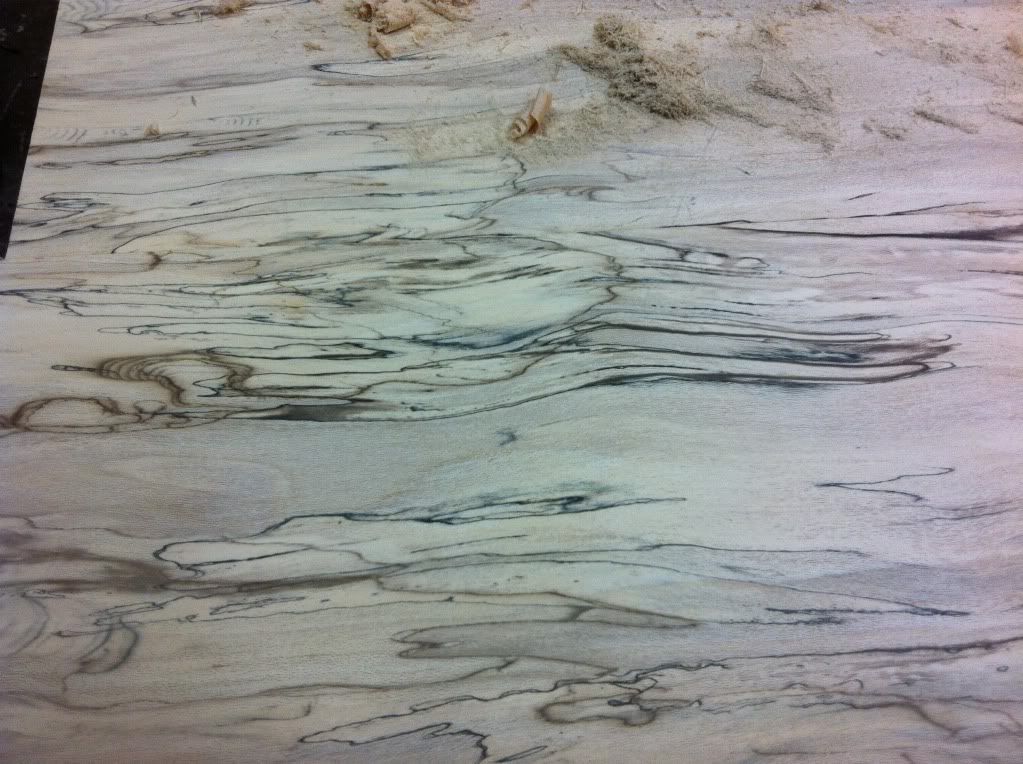 The table top will have a natural edge on it.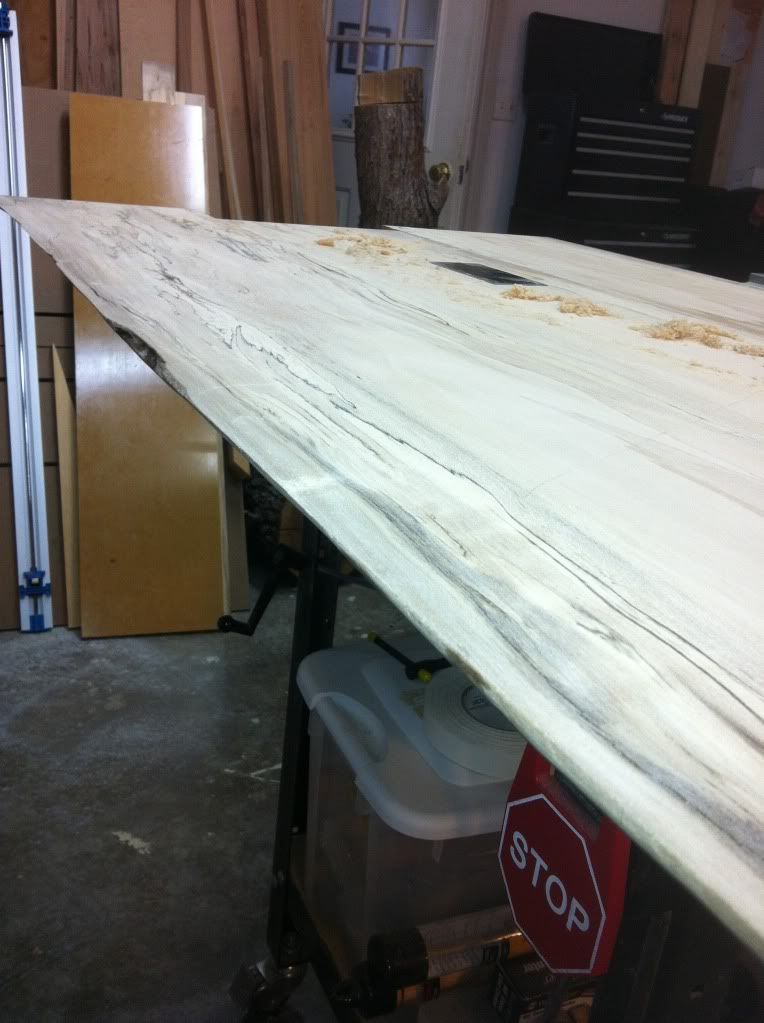 I used a straight edge to give a general straight front edge…

Completed the layout for table top size using that established front edge…

Cut it close with a circular saw and straight edge, then flush trimmed it.

Next, I began milling up legs and aprons. I'll be using Mortise and Loose Tenon joinery. I laid out the joinery on the legs, and got everything milled to final thickness.

I also decided to add some something different to the back apron – both in hopes that if it turns out really well, it can face the room, and if not, it can face the wall, but always be there as an attempt at some inlay.

Notice the ebony and curly maple square in the middle of one of the long aprons. It was routed on both faces and each edge. The ebony bookended the maple on the face, and a 3/4" strip across top and bottom.

I flushed it up with a card scraper, but left it bowing out just a little. Something no one will know without actually feeling it with their hand, but a detail I wanted.
Starting on the inside of the apron, I laid out the inlay – a bow tie with a very narrow middle. I actually was going for point to point but just couldn't keep the mortise right. With the medallion (I don't know what it's actually called for something like this in the middle of an apron) slightly bowed, I couldn't just put the router on the face of the apron without it being unstable, so I laid/clamped a couple 2×4's down on either side and used them as router rails. While it worked, they were too thick. Next time, I'll use something JUST thicker than the work piece.
I considered making or buying a template for the design of the inlay, but wanted to try it without it. I have the Inlay Kit from Rockler with the collar and bit. I may still go that way on the outside, but who knows.
I used a utility knife with a fresh blade (my marking knife just broke a tip off!) to outline the area. Then used a 1/8" router bit to excavate most of the mortise, finishing up with chisels.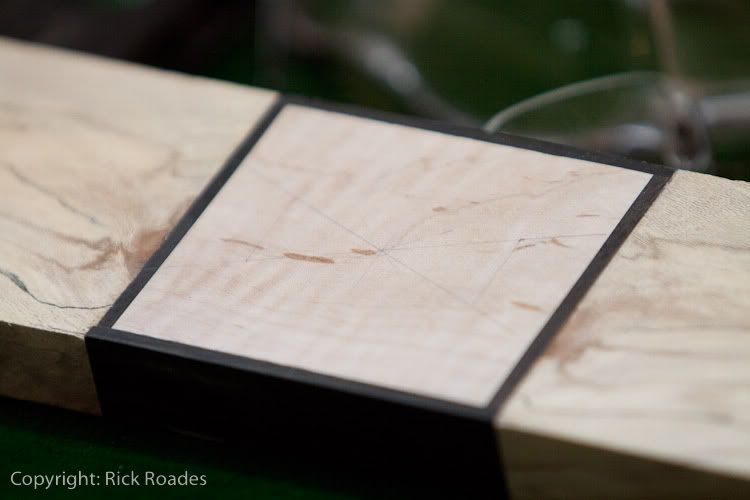 I did a custom fit for each side of the bow tie.

I glued in the inlay…
An hour later, I removed the clamps (done with a block and wax paper)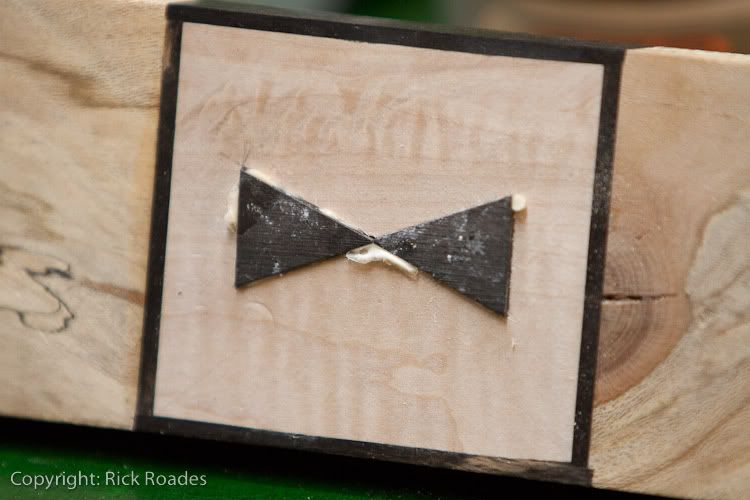 After cleaning up the squeeze out, I let it sit for another hour, then started flushing with a card scraper.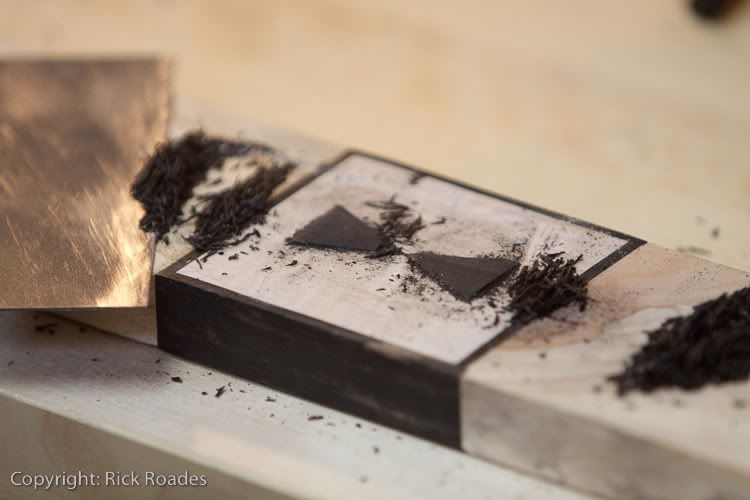 The final product wasn't too shabby, but I'm glad it was on the inside. It's not perfect.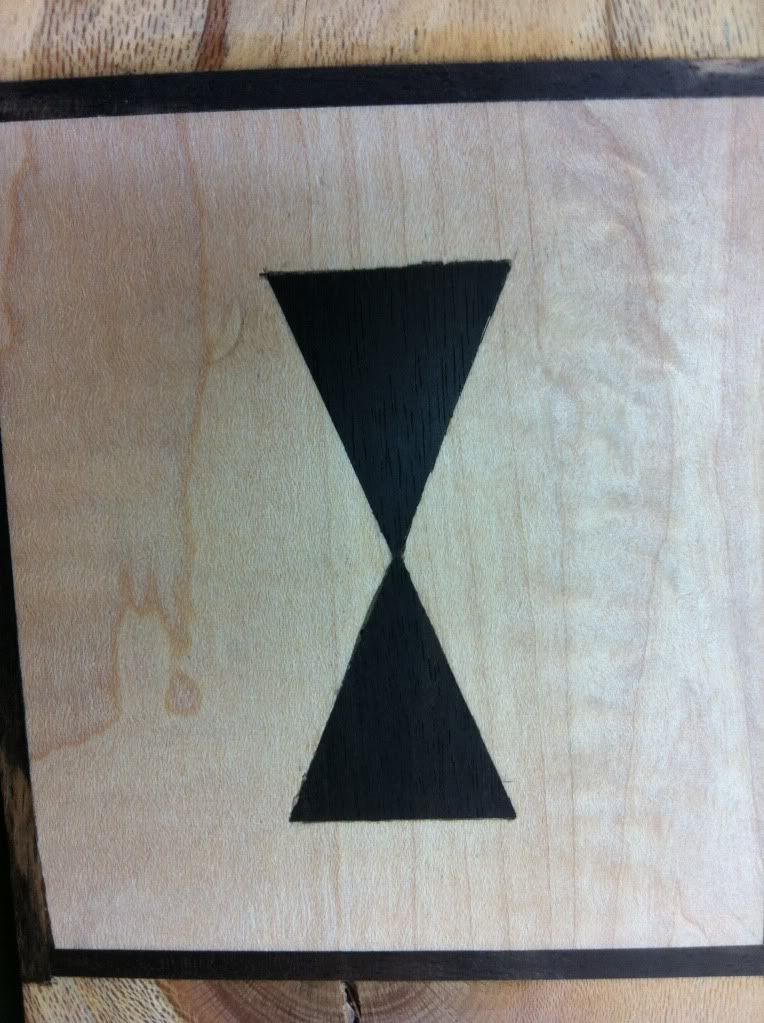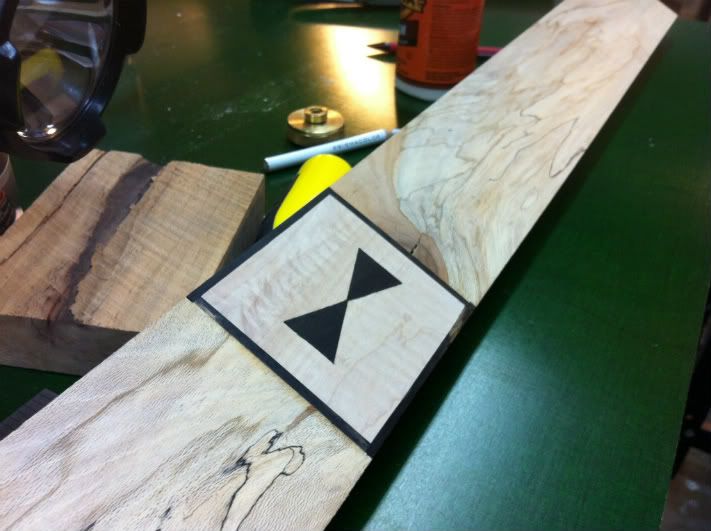 Well, that gets me current. I had wanted to start this project blog at the beginning, but just didn't get to it. But I'm getting close to the end. So far, things are going according to the adjusted plan that developed as I began working on it.
Well, not completely true. I started with a sketch up of something different. But because of some wood movement issues I would have, adapted to the simple desk.
But I hope the wood itself – which is anything but simple – will be enough to make this and interesting piece.
Thanks for stopping by…
-- There are many tempting parking places on the road to success
---