This will be kind of a "Duel" review….One over the G0513X2 17" Bandsaw, and one over Grizzly's customer service.
I received the Bandsaw several weeks ago, but because I had been so busy….I did not have time to even un-crate it. It stood in the corner of my shop for about a week and a half before I could even open it up and start to put it together.
I opened up the saw, looked it all over….no scratches,dents,blems etc..so we're off to a good start. As I looked through the directions to make sure I had everything….I noticed I could not find a bag of hardware. Now there is VERY little assembly to do on this saw…basicly four bolts for the bed…four bolts for the fence….and one knob/crank handle that needed to be added…(This knob raises the blade guide)....the bolts I could have lived with out…but I needed the knob/crank handle.
Now I have never really had to deal with Grizzly about a problem like this…and was afraid that since the saw sat in my shop for almost two weeks before I noticed the missing parts…they would give me some trouble.
No such thing…I called Grizzly's customer service, told them what happened and why it took me so long to call them, all they said was.."We are very sorry for the inconvenience, what parts are you missing ?" After I told them what was missing they said "It will be shipped out tomorrow !" ...two days later the missing parts were sitting on my front porch. Not bad imo !!!!
Now on to the saw…. As I stated earlier…about eight bolts and one crank handle is all I had to put on. As far as adjusting all the settings….again, VERY easy…..very easy to follow and precise directions. I really did not know what to expect when it came to adjusting this saw….I have a great old Rockwell bandsaw that runs like a dream….but it is a cranky old thing…some days it is a breeze to adjust a new blade…and other days it takes forever and just will not hold a adjustment.
This G0513X2 17" Bandsaw took me about 30 minutes to adjust everything…and that was only because I was not used to this saw. Now that I know where all the different adjustments are and how to use them…it only takes about five to ten minutes to change out blades and to reset all the rollers to fit the new size blade….I was ALL smiles !!!
Accessory's and options ?? IMO this is a very well thought out saw, it has two different see through windows…one to see what your blade tension is at (Has a nice very easy to read scale for this) and another to watch the top of the top wheel to see how your blade is tracking. It has a large easy to use lever to release blade tension…and all of the adjusting wheels to set the tracking, raise or lower the blade support etc are large and easy to use.
The cast iron table is large and very easy to adjust and true up to the blade. It has cast iron wheels instead of aluminum and once I had the blade set proper ran smooth as silk and with no vibration. It also comes with a over sized re-saw fence that attachés to the existing fence in about five seconds.
Power ??? The largest lumber I have resawn so far is 12" wide mahogany…...Once I got used to the saw and how to set up the fence….I made several dozen 1/16" thick slabs, all came out smooth as glass and it never bogged down a bit.
When I had done these same cuts on my old rockwell….lets just say I would still be out in the shop pushing the wood through.
It also has a very neat "Rack and pinion" for the cast iron bed that works very well.
This is a GREAT bandsaw…plenty of power, plenty of nice options, good dust control…that I would highly recommend to ANYONE…it also has free shipping.
The ONLY negative thing I found was "One" adjustment for one of the bottom blade rollers…all of the rollers are locked with allen head bolts/screws…all work very well and all the allen wrench's are included. But one allen head under the bed toward the back….could not be adjusted with a allen wrench, when you but in the short end of the allen wrench you do not have room to turn it up and down with out the long end hitting the bed or the saw body….and you can not put in the long end because it is to long and hits the saw body and goes in at a angle…this is a easy fix by just swapping out the allen head for hex head bolt.
I have seen several reviews about members not even using the blade that comes with it…and I agree…when I ordered the new saw I ordered a full set of Timber wolf blades to go with it. I am sure the factory blade would do fine for some light sawing….but there is no way it would stand up to any serious hard wood…so I didn't even try it…but put on a new timber wolf during the adjustment and set up stage.
Here is a close up picture of it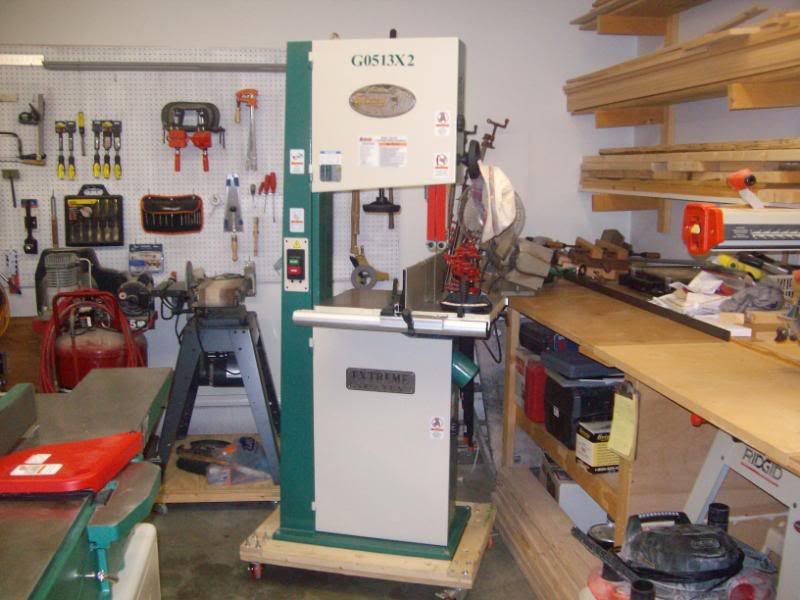 And in this one you can see (Kind of lol) how big the re-saw fence is.
-- Don S.E. OK
---
---
---
---