Well, I have finally used my saw enough to do a proper review for you. As many of you know…I did some up-grades in the shop…..with a new 8" Jointer, http://lumberjocks.com/reviews/705 , A new 15" Planer http://lumberjocks.com/reviews/755 , a new 17" Band saw (No review yet) and a new Cabinet saw.
You can ask A1Jim, Todd C., Lenny and a few others….I about drove myself and them insane trying to decide what saw to buy…at first I was looking at a Steel City with a titanium top…..but with all the talk about them maybe going out of business…I decided against that.
I then narrowed it down between this saw, and a Powermatic pm2000…and while you can never go wrong with a Powermatic Pm2000….with as many new tools as I bought…every penny counted.
I was MORE than happy with the 8" Grizzly Jointer I bought…so I decided to go ahead and buy the Grizzly G0690. Here are some pictures of it in my shop…(Do not laugh, my shop is a wreck at the moment)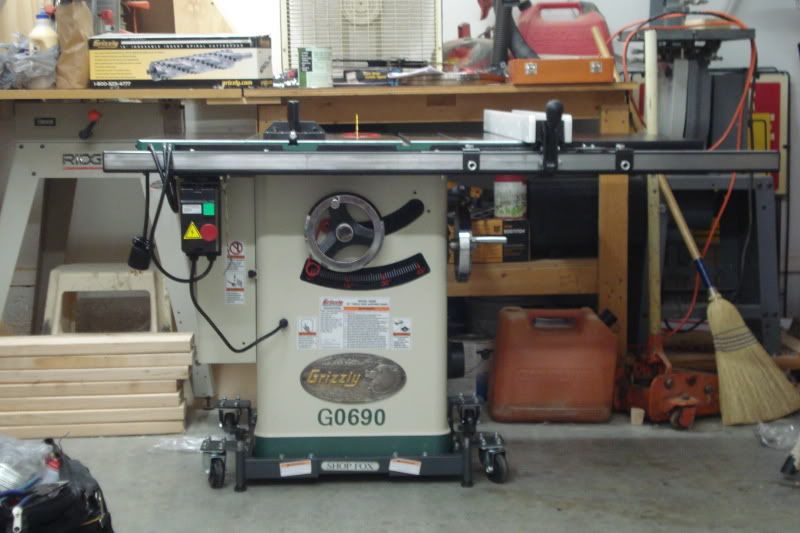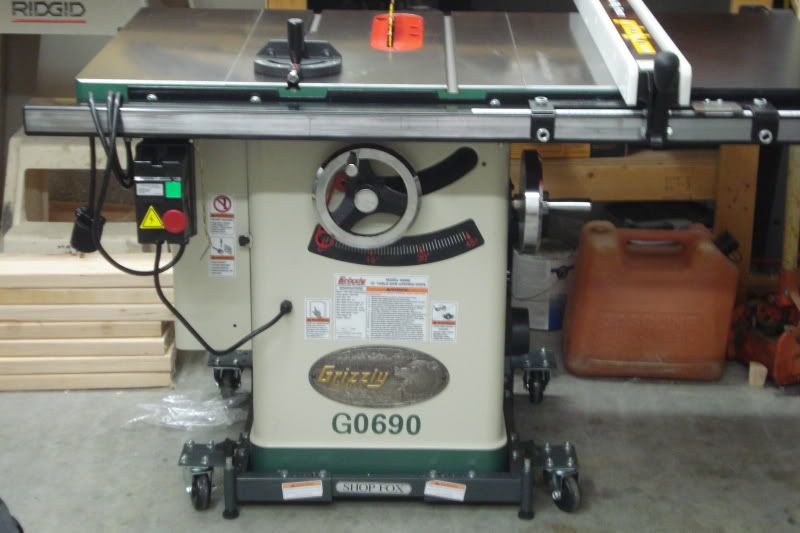 Let me start off by saying…. "I LOVE THIS SAW" ...assembly was a breeze….Nickle test ??? Try a "Pocket" full of nickles….I lined up 12 of them and fired it up, not a one fell, then I turned it off, got some wood, fired it up again and made a few cuts…and again nothing fell.
Power ??? after years of using a contractor saw and one wore out unisaw…I really did not know what to expect….but it passed any expectations I may have had. For the last week and a half I have been shoving 2" thick mahogany, red oak and maple through it….and I may as well been pushing paper through it. This thing sounded like a jet engine starting up in my shop…not in a bad loud way…just sounds powerful.
It has a great quick connect riving knife and splitter, just pull a pin, pull it out, switch them or put one in…all in about two seconds. The trunnion in this thing is a MONSTER…and I mean BIG….those cast wheels for adjusting…smooth as butter. Once you get it going, you can give it one good spin and it will almost free wheel all the way the other direction.
The cast iron top is so smooth and shiny it almost looks like a mirror, (In the second picture…that is not rust…but the reflection of the yellow box on my radial arm saw…now that's like a mirror). It comes with a factory blade insert and a dado insert, I ordered a zero clearance insert for it when I bought it ($26). While I will upgrade the miter gage in time when I find one I like on sale. The factory miter gage is actually pretty good and can be adjusted to take out all play in the T-slot miter tracks.
The fence is a knock off of a Biesemeyer fence…but after a little adjustment, it is straight as a arrow when wood is ran through the blade and down the fence.
About the only bad thing I can say, is not even about the saw…but about the shop fox mobile base I bought for it. Some of you who may remember my review over my Jointer, may remember me saying I do not like these factory base's…that I prefer to make my own. Well I did the math…and for what I pay for the good casters I use http://lumberjocks.com/reviews/701 , I could buy a shop fox and have one together in a few moments. BIG waste of money imo…..the shop fox is rated for 700 lbs (So it says) My saw weighs in around 600 lbs…if you look real close at the pictures….you can see the wheels are already starting to bend out…I had the adjustment all the way up after a couple of days…and the rubber feet still dragged on the floor.
Since these pictures were taken…I have built my own mobile base and tossed the factory base in the storage building….I may use it someday on a smaller piece of equipment (But I doubt it).
But back to the saw…there are MANY and I mean MANY good saws out there for almost every price range. But if your looking for a power house of a saw…loaded with extra bells and whistles (But not so many that it is a pain) that cuts very true and accurate…I recommend trying out the new Grizzly G0690. I am pretty sure I just bought my last saw !!!
Edit: I forgot to add, the only tools you will need for this saw is a Phillips screw driver, a good straight edge, a 1/2 or 13mm wrench and socket and what every you wish to use to align your blade, fence etc….Grizzly sends you almost every tool you need to assemble your tools….and while they may not be "Snap-on" quality..they are not punched metal either. You get a full set of long allen wrench's with a holder and a couple of wrench's with the saw its self, including two big heavy wrench's for blade changes. And then in each and every box, (Guard, fence, inserts etc) there is also the tools you will need to install just "That Piece"
Also, the directions say "Assembly time 1 hour"...lol…this may be true for a mechanical engineer….or if you want your square cut to be a triangle…..but plan on atleast 5 to 6 hours of assembly time. I get a little "Obsessive" when it comes to trying to get my tools to a perfect tolerance…I know this is impossiable with any tool…but I try anyways. With help, you can get this saw together and all the alignments done in about 3 1/2 to 4 hours….By yourself….between 5 to 6.
-- Don S.E. OK
---
---
---
---