I have been woodworking without a table saw (TS) for nearly 30 years; using a radial arm saw as the workhorse of my tools. I never had the room for a table saw when I worked out of my 8'X11' basement shop. In 2007 I became the happy owner of a dedicated shop, attached to my garage. It is only 8'x18' but it has an 8' ceiling and is almost double the space I had. I plan to retire from my job of 32+ years next July and planned to use the money I will receive for my unused vacation time to by a top notch TS. Reading reviews here on LJ as well as Google searches and reviews in magazines; I resolved that the PM2000 was the saw I wanted. As this was to be my first and last TS, I decided to spend the money and get all the bells and whistles available. In other words, purchase my "dream table saw". During my research I learned of a site: "Powermatic": http://www.woodwerks.com/ that sells custom made PM2000s. You pick any color you want including an accent color if you like, motor size, fence size, etc. They even put a plate on the front that reads: "Custom built for (fill in name)." I wanted the 5 hp motor, had selected colors (dk gray with navy blue trim) and 50" Accu-fence. The whole thing was going to cost about $3,600 delivered.
Then Woodcraft came along with a 20% off Powermatic and Jet tools sale about a month ago. For the same saw I wanted, but not customized, the final cost including delivery was $2,700. It was a deal I couldn't pass up. (At least that's what the wife said!) So, on Tuesday May 26th my dream TS arrived. It was to be lift-gate delivery and I planned to ask the driver to drop the lift-gate just inside my garage and we (a brother and two neighbors) could work it off the lift-gate onto the garage floor. Turns out the driver left the truck on the street, used a pallet jack to lift the saw and he, the pallet jack and saw came down on the lift-gate together. He walked the saw up my driveway to the garage (two of us pushed while he pulled), spun it around and dropped it right in my garage.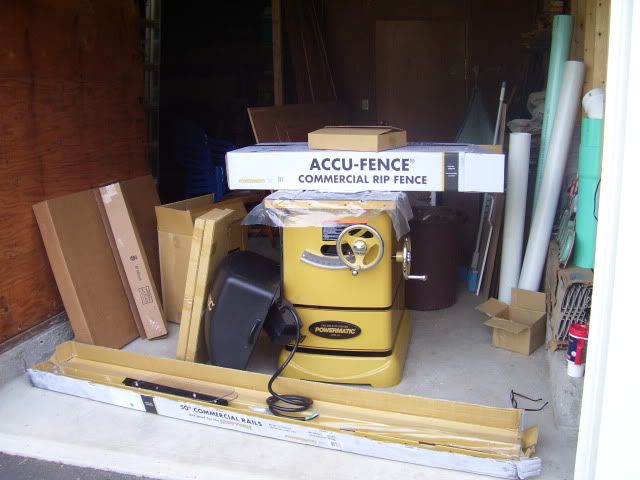 There were lots of boxes. One for the rails, one for the Accu-fence, the extension wings, the extension table, etc. All the boxes were sitting on top of the box that encased the saw and were held there with shrink-wrap. The saw itself was encased in a cardboard box with no bottom and 2X4s at each corner. I wanted to get pictures of everything step by step but my helpers were too anxious to see things so we started opening boxes and learning what was what. After all boxes were off the saw and its box was removed, I wanted to employ their help in getting the saw off the pallet and onto the garage floor. We tried to slide the saw to an edge only to learn that it was bolted to the pallet with a heavy piece of metal and a lag screw. There were two of these.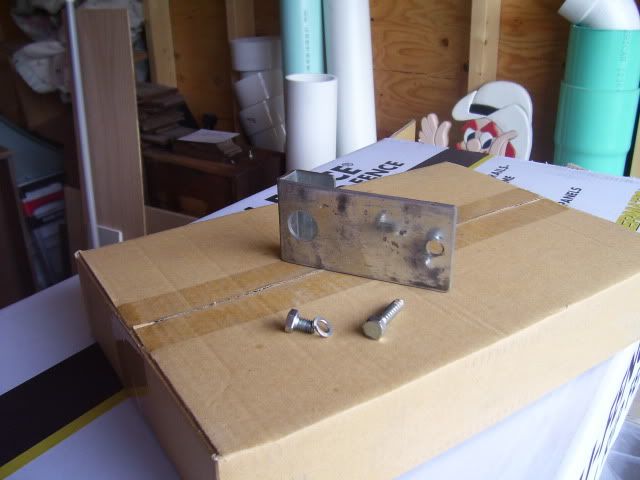 That's why there was no bottom to the box. With the brackets removed we slid the saw to an edge and then to the floor. We lifted the edge that was still on the pallet to a steep angle, pulled out the pallet and then rested the saw fully on the floor. I have nothing to compare it to but this is one beefy saw. Delivery weight for everything was listed as 750 lbs. The owners' manuals, one for the saw and one for the fence system, were clear and easy to follow. I thought I was missing one bag of hardware for the fence and rails but on a hunch I tipped and shook the hollow tube that sits on the front rail and out popped the bag of hardware. Over the course of several days, working about an hour a night, I got the whole saw assembled, adjusted and aligned.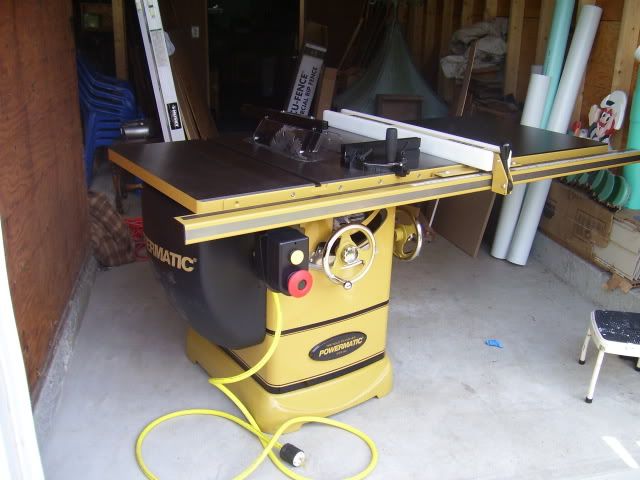 As advertised, the blade is easily installed via a lock button, the blade guard and riving knife click in and out of place quickly and easily.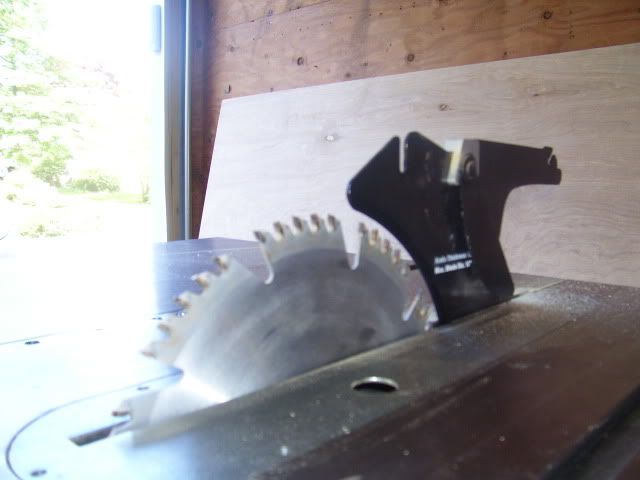 This again, is the 50"Accu-Fence model so it has an extension table. The table has optional legs and I opted not to install them as I will need to move (position) the saw each time I use it. Lag screws hold the table to the fence rails along its length. This saw has built-in castors that work right out of the box. My shop has that rubber tile flooring that fits together like a puzzle. I will have to take that up in the area of the TS in order for it to roll. As other LJers have mentioned and as pictured in one of the top three photos, the saw comes with a 4' cord (10 gauge). This was not going to fit my needs so I purchased a 12' length and replaced it. I also installed a twist lock plug rated for 30 amps. So now I could finally plug her in and fire her up, right? Wrong. Back in 2007 when my shop was built, I asked my electrician what gauge wire I would need for a 3 hp, 220v TS. He told me 12 gauge would be sufficient so that's what I ran. I ended up with a 5 hp motor but in either case 10 gauge is the proper wire. So I had to disassemble one side of a partition wall, pull out the 12 gauge wire back to the breaker box, run 10 gauge wire and install the outlet. On Tuesday June 2nd, a week after receiving the saw, I finally got to turn it on. What a sweet sound and as advertised and reported by others, hardly any vibration. OK as others before me, I had to post a picture demonstrating the
nickel test. Believe it or not, the saw was running as this picture was taken.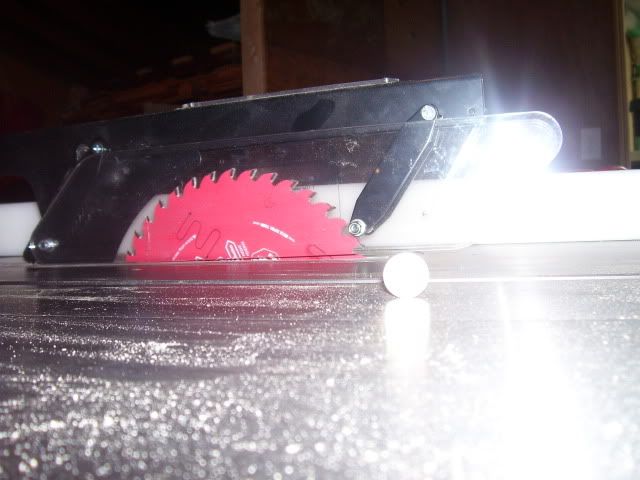 With the nickel standing on edge on the table I hit the start button and the nickel never budged. You might also notice in this picture that my Freud Fusion blade had arrived. So, while not the specific color I wanted and without my name on it, I'd say I am delighted with my "almost" dream table saw, and about 14 months earlier than I expected to have it.
My thanks to my brother, C.M. and my neighbors Joel and Ken for their help on delivery day.
-- On the eighth day God was back in His woodworking shop! Lenny, East Providence, RI
---
---
---
---