I have wanted one of these saws since I first laid eyes on one. Rob Cosman had a set of these in his toolkit , and I first got to handle one about 4 years ago. The problem was that rob's was kinked. so I didn't get to use it.
My new Lie-Nielsen panel saw arrived today, so the first thing i did was rip open the packaging and put it through it's paces.
I may not be extremely accomplished as a furniture maker, but i have done my share of construction with hand tools, and feel I can give a fair description of this saw.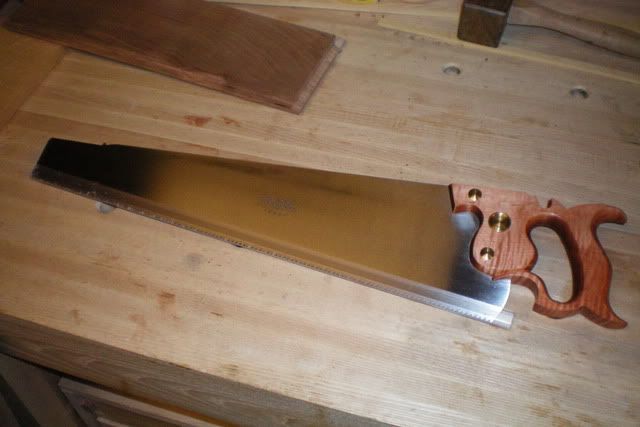 The first thing I noticed was the handle, it is the fit and finish you expect from a Lie-Nielsen. I was surprised at how large large the finger hole is. I usually make Handles for my handsaws a fair bit smaller, for my normal three finger grip. this handle allows for a four finger grip.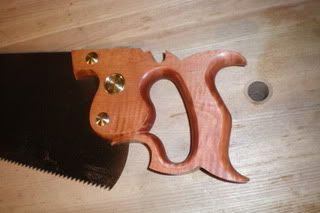 This saws handle is very similar to the handle used on their large tenon saws.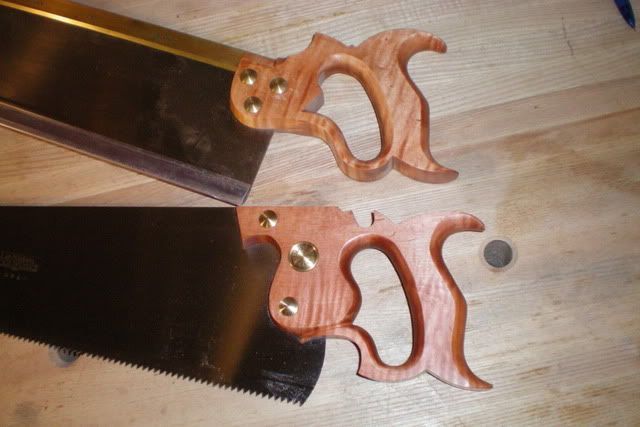 As with any saw, the real story is how does it cut. The version of saw I ordered is rip( think I may save my pennies for a crosscut as well). So I can only compare to the rip saws i own.
This saw is by far the best Rip saw I have ever used. At 7tpi, the cut is aggressive, but not very hard to start.
I actually compared the speed of the cut to my large frame saw(5tpi) and to my other rip panel saw , which was a sandvik i re toothed from crosscut(10tpi).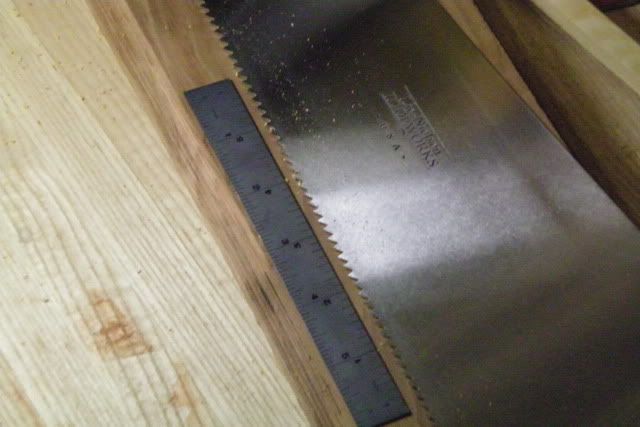 the Lie-Nielsen cut much quicker than any saw I own, with a smoother cut.
This is a sample cut in maple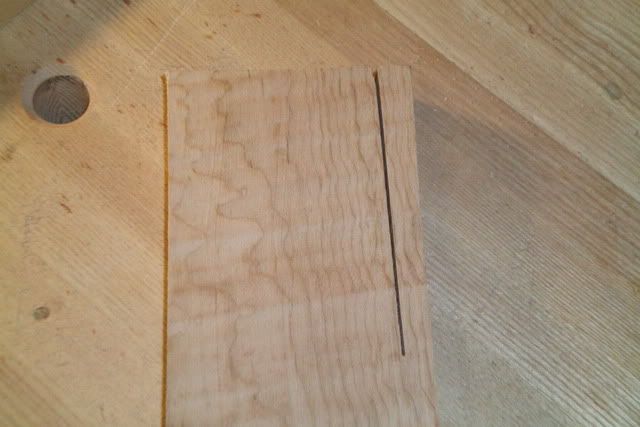 Backside of the cut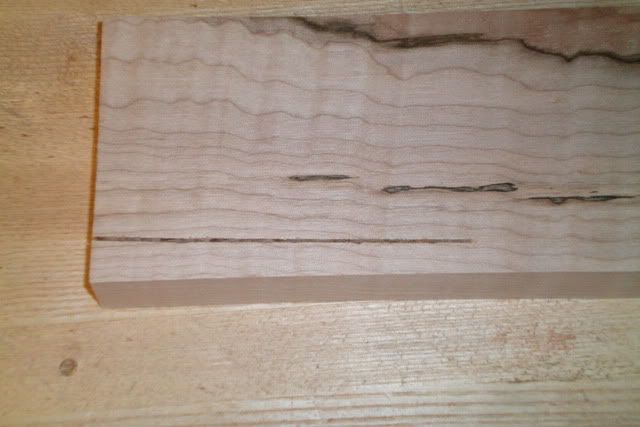 The smoothness of the cut and the ease of tracking a line are the real story with this saw. I haven't been this impressed with a tool in a long time.
I think Lie-Nielsen really has a winner here, and anyone who tries this saw will want one.
The saw is Priced at less than 300 dollars Canadian. I don't have the exact figure because the saw is not on their website yet.
With this saw, cutting as quick and smooth as it does. I expect we could see a huge growth of the hand tool woodworker community, as this is the tool that has been missing from the market.
I cannot give it a high enough recommendation.
EDIT
Having used tyhis saw for about a year now. I have a few things to add.
If you have big hands, gripping this saws handle for extended use can cause cramping, it needs to be just a bit thicker to be comfortable. I have this problem with a few other Lie-Nielsen tools, so it is not just this saw.
Also, the saw plate is just a touch too thin. after nearly kinking this saw a few hundred times, I have finally kinked it. I think a few more thou of thickness on the sawplate would solve this, as My disston D-23 is not really much thicker, but far more rigid.
I am going to leave my origional review and thoughts in place. but for longeveity, I think Lie-Nielsen needs to tweak this design.
-- Junior -Quality is never an accident-it is the reward for the effort involved.
---
---
---
---