I'd been using a Carba-Tec mini-lathe for so long I can't remember when I bought it.
When my 65th birthday came around (remember my b'day cake?)


I decided to get the variable speed version. A while back I had tried to make my old mini-lather variable but you just can't do that with an old AC motor

So here is a picture of the new one right out of the box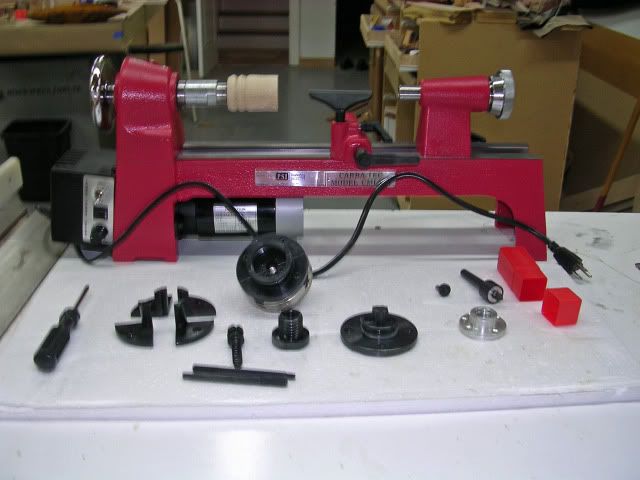 I also order a 4 jaw chuck so I could try some new turning stuff.
One thing that surprised me is the tool kit that came with the lathe. It had 2 wrenches, an 11/13 mm and a 12/14 mm wrench. The only bolt on the lathe is 10mm for when you want to loosen the tension on the motor so you can change the belt from low speed to high speed (or vice-versa).
I took the old lathe off the turning station and I had to make a new base for the new lathe. It has a different footprint but would fit just fine in the old station.
You can see that I have the Jet 1100 cfm dc. All of my shop is on a permanent collector system but the lathe is in a different area. What I ended up doing was running a flex hose from the back of lathe over to the unused inlet on the dc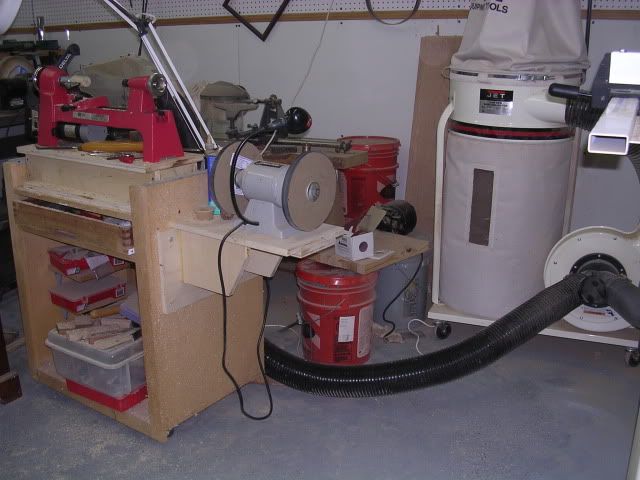 The other tools have automatic gates when they are turned on and I don't have a spare gate, right now. I decided that I would just clean up the old turning area, move the new lathe closer.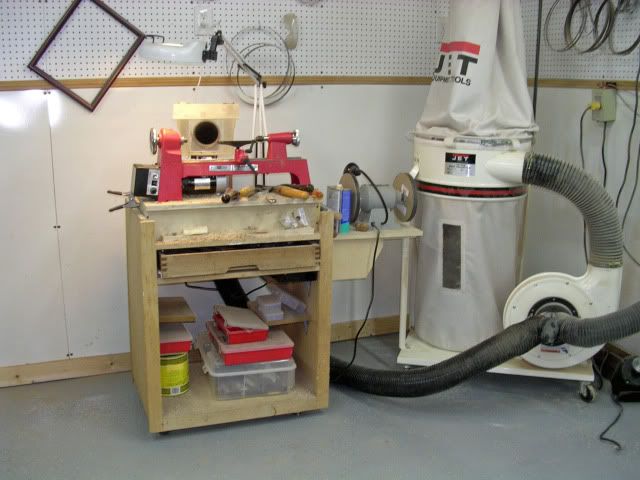 The drawback is that I have to remove the hose from the collector and put the cover back on when I am running the other tools but that is no big deal. When I am using the lathe I just crack one gate enough to activate the system and it really sucks.
Oh, the review?
The first item I tried to turn was a bottle stopper. I hadn't cut the corners so I was dealing with a square piece of oak. After a few attempts I noticed that the machine was squealing. "Damn. 1/4 horse is just not strong enough." WRONG. Of course, when you are turning square pieces it put a lot of torque on the wood, thus the mandrel jars every time it hits the corner. I tap my bottle blanks and screw them on to the mandrel.
After a few jars the lathe had burned the tapped hole and the wood was just spinning in a pressure mode. The mandrel was spinning in the hole and that was the squeal. So. I guess 1/4 horse IS strong enough.
I originally had a concern because the tool rest was not staying secure on the base. After tightening the nut on the bottom it stayed secure wherever I placed it. That was the only adjustment I made from out of the box. (Other than cleaning the goo off of the raw metal.)
So, for ease of installation, ease of use, simplicity of operation and POWER of the motor I give it 5 stars.
My first turning was a bullet pen with antler handle. Look for that in my newest project.
Lee
-- No piece is cut too short. It was meant for a smaller project.
---
---
---
---