Intro: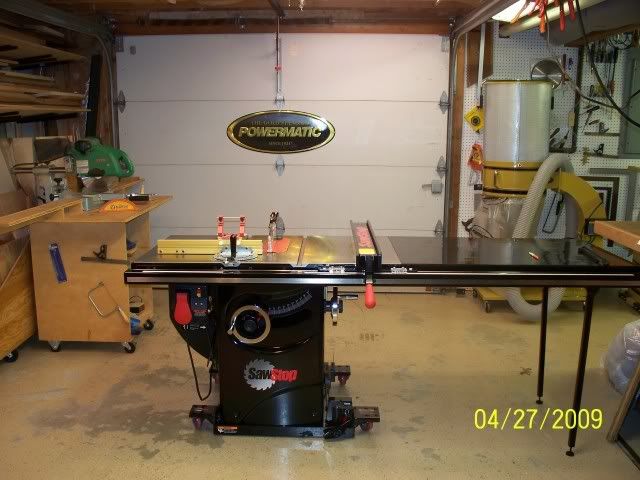 The saw is a 3hp, 585 pound monster. I purchased the 52" fence, hydraulic mobile base and extension table. Setting it up is definately a two person job (although I did it alone with help from my wife only in setting up the front rail). I did get help in lifting it onto the mobile base, however, as this is the only way to mount it to the base. The instructions call for help in setting the saw upright since the base cabinet weighs 200+ pounds. I was able to do it alone but only after dancing with the saw across the shop and bruising both shins. I would not recommend this at all.
The saw arrived on a pallet split between 5 boxes. It was securely packaged and there was no visible damage:
Installation took 4 to 5 hours to complete. The instructions were dead on accurate and easy to follow. The parts were stored in individual packets for each operation and were both numbered and color-coded. The adjustments to the saw took another 4+ hours. Being a glutton for punishment I went through all of them even if it did not appear to need it just to familiarize myself with the saw's operation. Out of the box the fence was within 0.010" of being parallel with the blade. This was easily adjusted to less than 0.001". The blade bevel was 0.003" out of parallel with the table out of the box and, again, adjusted to less than 0.001". I chose not to use the stock miter gauge as I already owned an Incra 1000SE. The ruler was dead on on the left side and out 1/32nd on the right, which was easily correctable.
Performance wise, since I am coming off using a Craftsman contractor table saw, there is no way to compare the two since they are in completely different worlds. Here is a picture of the saw easily passing the nickel test with the dust collector running:
I have cut 3/4 plywood, 4/4 hardwood and 8/4 maple on the saw and have yet to bog it down. I estimate that I can feed plywood at over 30 feet per minute without even testing the saw.
The only downside to the saw that I found was in the dust collector port. The port is 3 13/16" in diameter and my hose is 4" so it only fits with the help of duct tape. I contacted Sawstop and they are aware of this issue and will be sending a new port that is the correct diameter later on along with an overhead dust-collection blade guard.
I had to use technical service for only a couple of very minor issues and they responded promptly and resolved my issues promptly.
The saw ran a little over 3K total, including taxes. After using the saw for a couple of weeks now would I buy it again- without a doubt!!
-- Challenges are what make life interesting; overcoming them is what makes life meaningful- Joshua Marine
---
---
---
---