I had first read about this bench in the September '07 issue of American Woodworker. Earlier this month I met the inventor and got to try out the system. The system allows you to have a work surface at a height that you need.
I ordered the leg set, the caster set and their "one rail" system.
Here's what they all looked like when the packages arrived.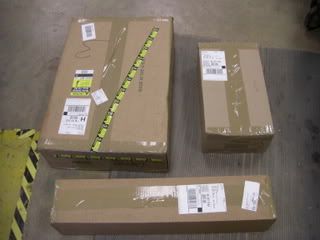 Here's the legs. They are made from 11 gauge powder coated steal.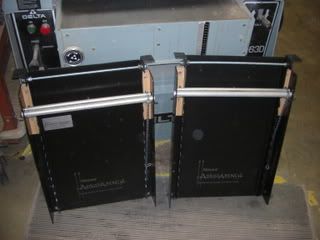 Here's the whole base assembled. The One Rail system eliminates one of the support rails without compromising support. Unless you purchase a full kit, you have to provide the wood rail (or rails) and the threaded rod.
You also have to provide the top. Here I used an old piece of bowling lane wood. With the thickness of my top the bench can go from 28 1/2" all the way up to 45" high.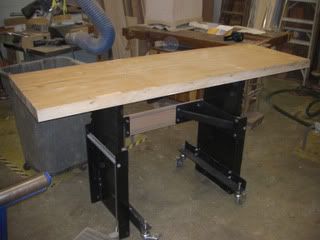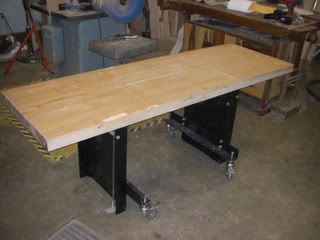 I've only had it assembled for a few days now, having it on casters makes moving it around the shop very easy. The casters can be adjusted up to about 3 inches so it can be leveled and lowered so that the top can rest on the steal legs directly, if the work you're doing is to much for the wheel locks.
This is a great bench. The only down side I've found is that if the legs are close together, then the sliders can bind up if you try to raise or lower one side to far in one movement. Other then that, it is a great bench system, and I'd recommend this system for anyone looking to make a new bench or assembly table.
-- "At its best, life is completely unpredictable." - Christopher Walken
---
---
---
---