As the title of this post suggests, this is a review of Grizzly's G0656P 3HP 220V 8" Jointer. Some of you may have seen my initial post claiming my joy over purchasing this jointer and a G0703P DC system and the subsequent shipping issues UPS had delivering it. I won't rehash any the shipping issues but if you are interested in reading about it, check out the comments within my original post by clicking here
Packaging
———————————————
The base and table were packaged in fairly sturdy containers. As you can see below, the table was in a plywood crate with a molded foam bottom. All of the bare metal parts were coated in the packing grease with large surface areas coated with the thick wax paper covering.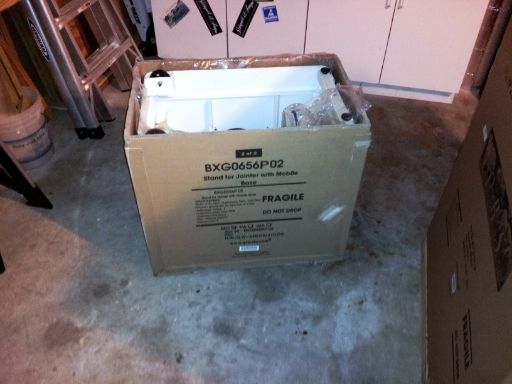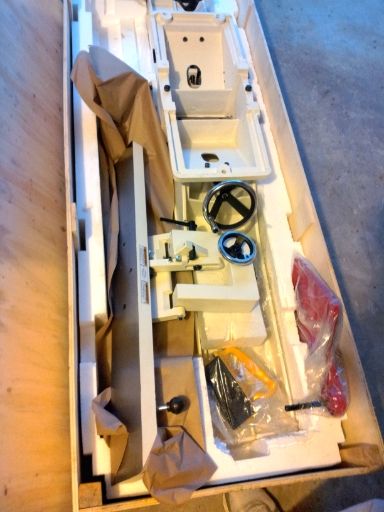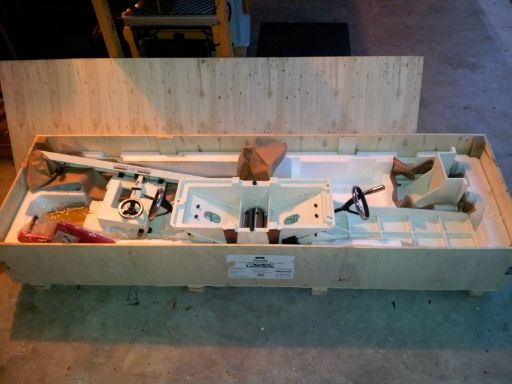 All metal parts and hardware were of course lathered in grease. Here are a few picks of everything spread out for display: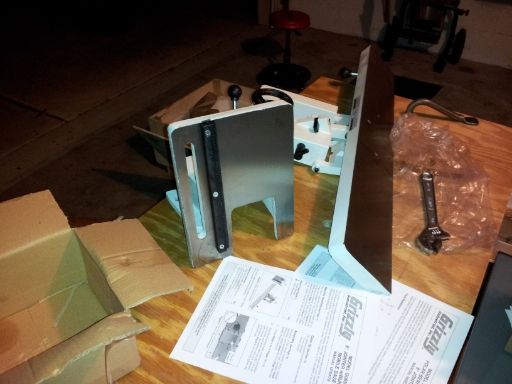 Fit & Finish
———————————————
As other Grizzly owners have noted in previous tool reviews, the fit and finish isn't top notch but I can say its not as bad as I feared. I've work in metal working shops with industrial tools such a 600 ton break press for bending steel as thick as 6". The finish was on par with many industrial machines I've seen. Paint was a little rough in spots, flaky on a few edges and over sprayed on a few others. The base had two very small dings on the left and right side of the front almost level with each other but not noticeable unless you catch it in the wrong light.
I did manage to bust the head off of one of the hex headed set screws used for the gib screws. Fortunately, I had a spare machine screw with the same thread profile on hand which worked much better.
After it was all put together, its really is a nice looking machine. The Polar Bear theme has a very nice appeal. The big, oval Grizzly badge on the front really sets it off.
Assembly & Setup
———————————————
The overall assembly was pretty straight forward and easy to follow. The mobile base is a tri-wheel design with two fixed wheels on the outfeed side and a foot activated, depress-able steering wheel caster on the infeed side. The table is definitely heavy and requires two fairly strong people to lift it onto the base. Fitting the table to the base consists of three 3/8 in machine bolts.
Once the base is on, the next step is to put the belt on and align it. This is easier said than done since the manner in which the motor is mounted makes it rather difficult to get all axis aligned nicely. It becomes even more difficult due to the alignment getting thrown out of whack when you tighten up the nuts. Suffice to say, I'm hoping I don't have to deal with it much.
One issue I found was the OEM belt is absolute crap. It has several wide spots. Even after aligning the pullies as close as I could get them using my +/- .0005" accurate Woodpecker straight edge, the belt vibrated to the point it almost sounded light a small machine gun.
I loosened up the belt and used a utility knife to shave down the high spots the best I could. It was easy to tell where they were by manually moving the belt and noting where things tightened as the thick spots went around the pullies. Needless to say, a linked V belt is definitely an upgrade I will be making sooner rather than later.
For the most part, the tables where fairly coplanar. I used the gib screws to snug down the outfeed to get it aligned nicely with the infeed. What I couldn't get to square up is the fence to the table. I settled for getting it as square as possible fore and aft of the cutter head.
The fence did assemble easy enough but I am a bit disappointed in its operation. The 90d stop is about useless. I haven't had a need to move it yet so I set it at 90 as detailed above, locked it down tight and it has stayed put while squaring up my 5" Roubo Bench Legs and stretchers so I can't complain too much.
I spent several hours dialing in the height of the outfeed, adjusting for coplanar and perfectly setting the blades. They were just slightly out after adjusting for coplanar. After the adjustments, I have the blades a hair less than .001" above the outfeed.
Operation
———————————————
First and foremost, I must admit, I'm coming from a Lowe's Porter Cable Bench Top jointer so take it for what its worth but there is no comparison. This thing is an absolutely beast. I truly wish I had gone straight to an 8" with this kinda horse power. I've typically run 1/32" passes or less in the past but 1/32" is childs play for this thing. Not a whimper or groan is ever made. The table is nice and smooth after applying some good paste wax so my boards seemed like they were riding on air.
The push blocks are sturdy and comfy with lots of grip which makes it nice for doing edge profiles. Speaking of which, even with the hard to square fence, as long as I kept my pressure over the cutter head, I always ended up with dead nut 90s. I used to cross my fingers and do the jointer god dance while trying to edge profile on my little bench top.
While shopping, I was a bit concerned about cut quality of straight blade knifes but didn't feel like spending the additional $300+ go get a spiral head upgrade. I'm glad I didn't spend the extra money! After getting everything dialed in, my boards come out with a shine like I had just hand planned them. I do my final pass at about half speed to get a lot of cuts per inch and man, its very very difficult to see any cut marks at all.
The boards are dead flat and often show instances of a tight fit suction effect when trying to lift them off the outfeed. I then glued up my 3" x 5" x 64" stretcher from two boards faced on the jointer. I couldn't be happier seeing a completely dead flat fit. The joint line is almost invisible.
Conclusion
———————————————
First off, for those of you on the fence about getting a full sized jointer over a bench top, don't hesitate. Go big. Even if you have to put in 220V, its worth it. If you are working on anything larger than small arts and crafts or boxes, then go for a full size jointer. I would even skip the 6" and go with the 8". The 72" table is soooo much nicer to use! Anything longer than 2' with my bench top always made me worry but after jointing my stretchers, I'm confident my 5" thick, 8' long top will be a dream to glue up, all considered.
Dust collection with the new G0703P I purchased at the same time has also been great. A few chips do make it past the cutter head but its all very minor and so much less than the Dust Deputy/ShopVac combo I used with my bench top. The amount of dust left over the shop is way less if not gone.
Its not without its minor flaws, like the fence I can't get adjusted straight, the crappy belt which still vibrates a bit but nothing like it did, below pair gib screws, poor fence stops, and a few rough edges here and there.
Overall, I'm very happy with this purchase. I got what a paid for. A solid "user" machine. The price beat anybody else by a long shot and the quality is better than I expected for the money I paid. Grizzly customer service is rock solid and great to work with. I will be more than glad to buy from them again. I highly recommend this jointer to anyone, regardless of budget. Its a solid tool I'm sure will last me a lifetime.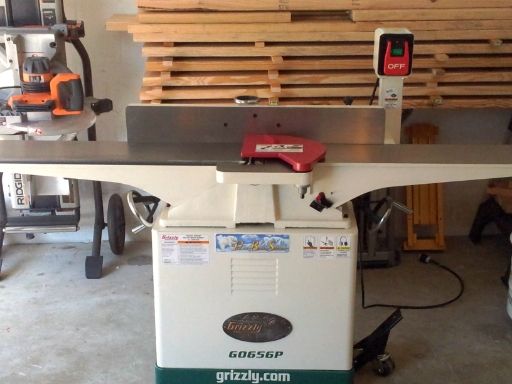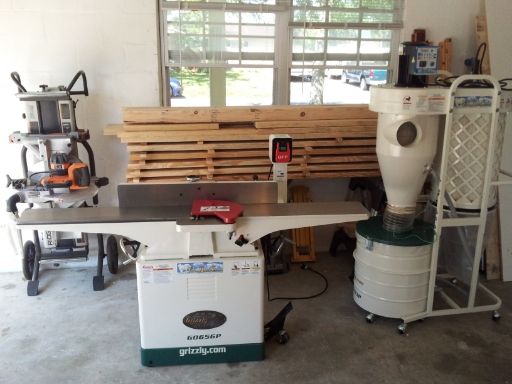 -- Don't mind me, I'm just soaking up knowledge
---
---
---
---