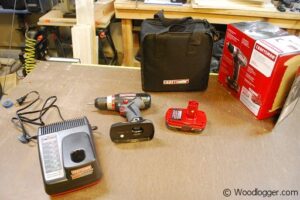 I recently purchased a new Craftsman Power Drill DD2100 from Sears.  I've been using it for about three weeks now and I have to say so far, I have NO complaints.  In fact I think it's as solid a drill as I've ever used.  The drill came as part of a kit, and I was able to pick it up for $109 (on sale) from Sears.  For the price I think it's a great bargain.  I was able to replace my old 19.2 cadmium battery-powered drill with a new high-end one for about $100, and since it is part of the Sears C3 line of tools the batteries are interchangeable with other C3 tools.  It also comes with a charger that will still charge my old battery packs. If you want to see more pics / information check out my other entry at: https://www.woodlogger.com/2012/11/craftsman-power-drill-dd2100-review/
The drill was actually purchased as part of a kit (model# 935704).  The kit includes the following items:
DD2100 Heavy Duty Drill/Driver
CH2030 Multi-Chemistry Charger
PP2020 XCP 19.2-Volt Compact Lithium-Ion Battery Pack
2 Double Ended Screwdriver Bits
Tool Bag
Operator's Manuals
If you've read any of my other reviews of Craftsman product then you already know that I have mixed feeling about Craftsman tools.  Craftsman hand tools are hands down the best in the world.  No one beats them, and the warranty they offer.  Power tools on the other hand are a different story.  I think as a general rule high-end Craftsman power tools are usually pretty solid, but if you get the low-end or middle models of a craftsman power tool it's a bit of a gamble.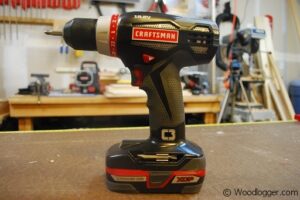 The first thing I have to say about the new drill is the size and weight is a big improvement over my old drill.  It's more compact making it easier to use in tight spaces.  The handle and grip is also wrapped with a soft rubber grip.  Another plus is it just feels more powerful when I'm using it.  The manual states that the new battery technology XCP gives the drill 10% more torque than other lithium batteries.  I'm not sure if it's the battery, or the fact that my old drill was 12 years old.  Either way it's a more powerful drill which is always a good thing.  Here is some basic info about the drill:
Two variable speed gear box with ranges 0-375 / 0-1,600 RPM
Powerful motor up to 465 in-lbs. with forward and reverse selector
24 – position adjustable torque clutch
1/2" all metal, single sleeve keyless chuck
Micro texture grip
19.2 volt compatible lithium-ion battery
Built-in LED Work light
1 year warranty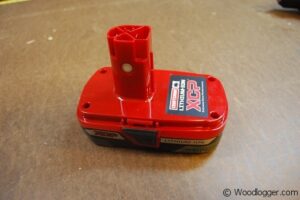 The new battery technology XCP is supposed to give your 19.2 tools more torque.  More power is almost always a good thing.  Another nice thing is the light that shows you when your battery is getting low.  It switches green to yellow to red to alert you how much energy is left.  Here are some of the features listed about the battery:
Up to 35% more run time
Up to 10% more torque
Extreme Weather Performance (Operates in temperatures from 5° to 158° F)
Energy indicator light on battery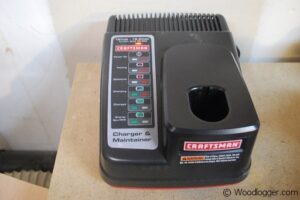 The new charger that is included as part of the kit is also solid.  I've used it to charge three different types of batteries.  It's designed for the 19.2 battery line and it's really nice that it can handle all the flavors of that voltage.  It has light indicators to tell you what type of battery is being charged and what the status of the battery is.
Overall I really like the entire kit that Sears has put together.  The drill, battery, and charger all seem solid, and they even throw in a storage bag to keep it all in.  The drill feels lite, but strong and I believe will last for many years.  I think if you're a casual woodworker like me, then this is probably a good fit for you. If you want more information than check out my entry over at: https://www.woodlogger.com/2012/11/craftsman-power-drill-dd2100-review/
-- Daris, Indianapolis, https://www.woodlogger.com
---
---
---
---