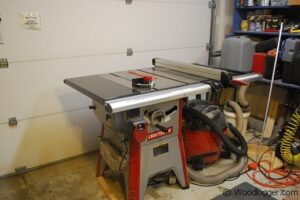 I've had my Craftsman Table Saw for about a year now, and it is rock solid!  I previously owned a craftsman saw that had the tabletop made out of aluminium.  It was okay for the money, but wasn't very sturdy.  Frequently when I would feed plywood into the table it would tip the whole saw.  My new saw has been really solid and almost a year later I can say I'm very happy with it.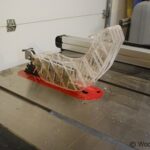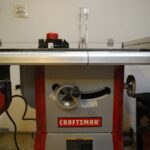 Before I go any further though I have to say I have a weird myopic bias for and against Craftsman tools.  I believe that Craftsman makes the worlds best hand tools.  No one beats them, and the warranty they provide.  Power tools on the other hand are a different story.  I think as a general rule high end Craftsman power tools are usually pretty solid, but if you get the low end or middle models of a craftsman power tool it's a bit of a gamble.
The table saw I purchased is the Craftsman 10" Contractor Table Saw Model No. 351.218330.  This is the second table saw I've owned, but I think it's a great starter saw if you can afford it.  I paid roughly $550 (on sale)for this one, and that's not a bad price for a solid table.  If you know for sure that your not going to use it much then save your money and go cheaper.  Conversely, if you know your going to want to use it every day, then you may want to look at an even higher end saw.  This saw for the money and performance was a perfect balance for what I need.
I'll try and break down the best features of the saw as I see it:
The saw allows for cutting at a 45" angle.  There is a blade tip wheel that allows you to easily adjust this.
The saw includes a solid rip fence.  I've read other review where folks weren't too happy with the rip fence.  I've never had any problems with it and I use mine all the time.
The saw comes with a miter gauge that is adjustable from 30" to 90".  I usually only use this to square up stock, but I have made a few cuts adjusting this to a 45" angle and it was dead on.
The saw comes with two table inserts.  The first is a standard insert, and the other is a for a stacked dado blade.
The saw comes with a REALLY nice feature for me and that is a foot lift lever on the bottom of the saw that allows it to be moved easily.  The saw is on four wheels and the lever engages those wheels making easy to move.
The saw includes a riving knife and blade guard.  I have to confess I frequently remove the blade guard, it's a little bulky, but the riving knife is great and really cuts down on kick back.
I think my biggest criticism for this saw was the initial setup of the saw.  It was a nightmare!  Truly a nightmare!  It felt like a thousand pieces, and a couple of times it was a must to have two people flip it over and then right it.  I had to adjust the rails numerous times.  It was an all afternoon, nearly all day project to put this thing together.  In Craftsman's defense I complained about his install to a friend of mine who has a large heavy duty Rigid saw and he informed me it was the exact same headache.  So I can't necessarily blame Craftsman for this, as it appears to be a common thing.  However, keep in mind if you purchase this don't think you'll be using it an hour after you get it home.  You'll easily spend an entire afternoon putting this thing together. Also another thing that bugs me about table saws is that they don't include Zero Clearance plates. You can buy one over at amazon, or see how I made my own at woodlogger.com
Overall I really like the saw!  I think it's a solid entry, and mid level grade saw.  If you're a casual woodworker like myself I think you'll find that it's an excellent way to go. If you want to see more about this review or other woodworking products check out my other posts over at www.woodlogger.com


-- Daris, Indianapolis, https://www.woodlogger.com
---
---
---
---