Delta Drum Sander 31-260x
Video Review on youtube
Part 1 http://www.youtube.com/watch?v=koEMTEoB2rA
Part 2 http://www.youtube.com/watch?v=HLfVV_1LDes&feature=related
Disclaimer
I would rather of not chosen something like the Delta drum sander, but finding a used commercial unit that I liked had been a battle over the past year. To be honest, I really did not want a sander with only a 1-1/2 HP motor although width was not an issue here. I wanted something like a 5 HP 26" Woodmaster. However, price, timing and no warranty on used equipment ended up making my decision…one I hopefully do not regret.

The Review – Walk through
This is more of a walk through than a review because I am writing this all right now with very little time spent on this machine. So everything you read here will only be first impressions and not long term usage. The machine weighs about 250 pounds and comes shipped in one box that is extremely well packaged. The nice thing about Delta is they do not put copious amounts of grease all over there stuff so the time spent on wiping down the machines was minimal compared to say…Grizzly…which I highly recommend btw.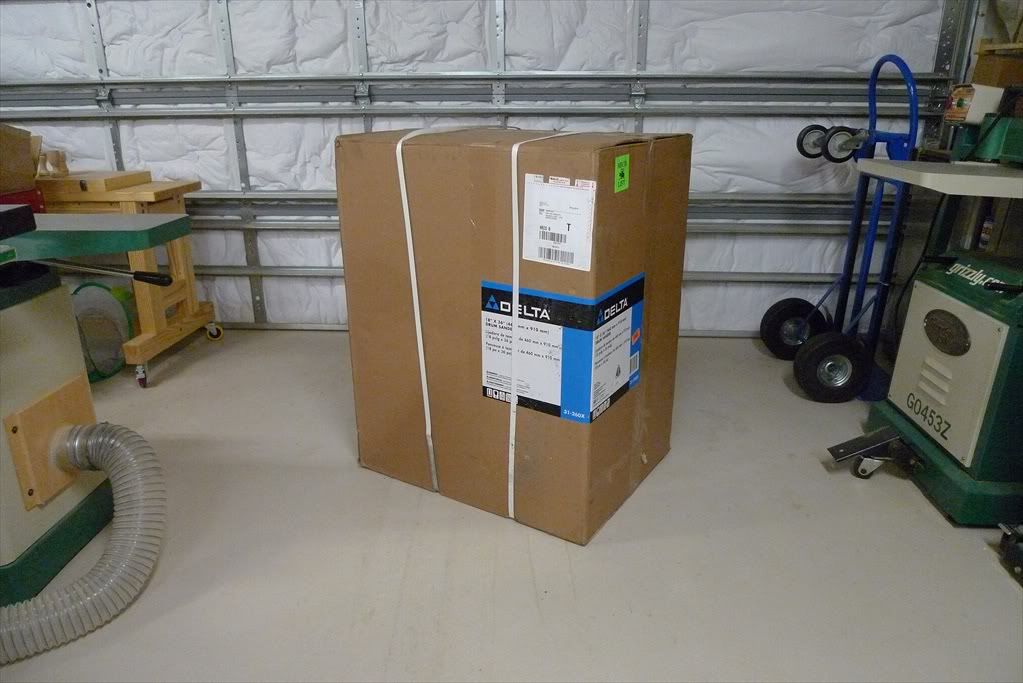 There were two Styrofoam containers in the box. The top one seen here house the frame and misc pieces. The bottom housed the Drum Sander head and motor assembly. The drum sander comes pre loaded with what I believe is 80 grit paper. Delta also included 4 rolls extra of each 80 and 120 grit.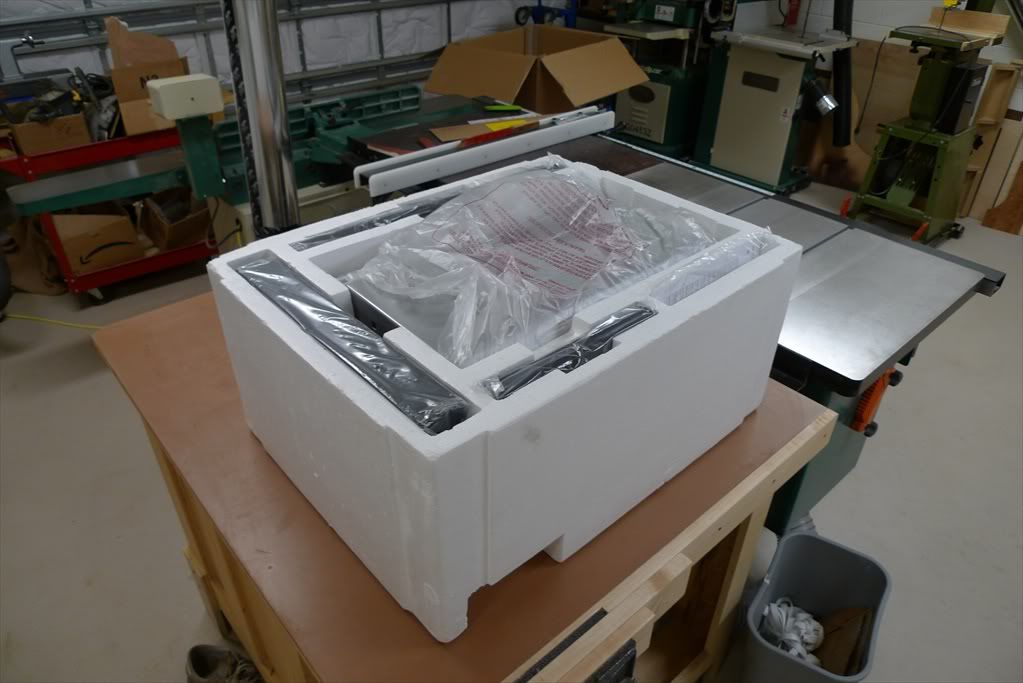 This is the base. I decided now was a good time to add casters rather than attempting after assembly. These are 3" locking casters bought on Amazon for about $7 each. The metric hardware for these was obtained locally from ACE. I had to drill into the base legs an hole just passed the leveling legs (which I am not using) so I could put on the casters.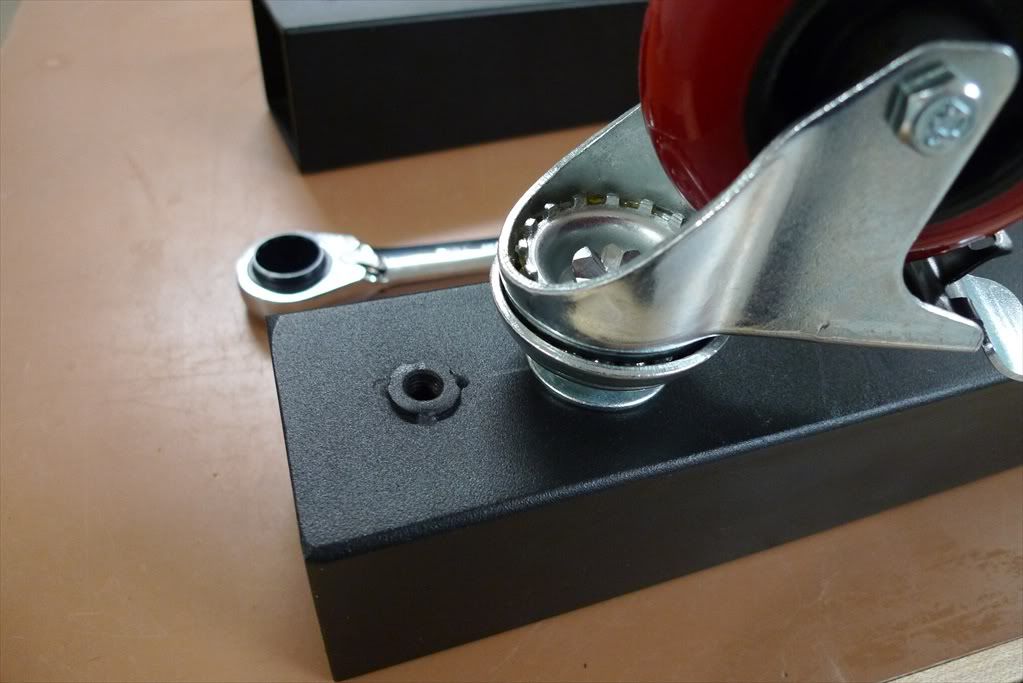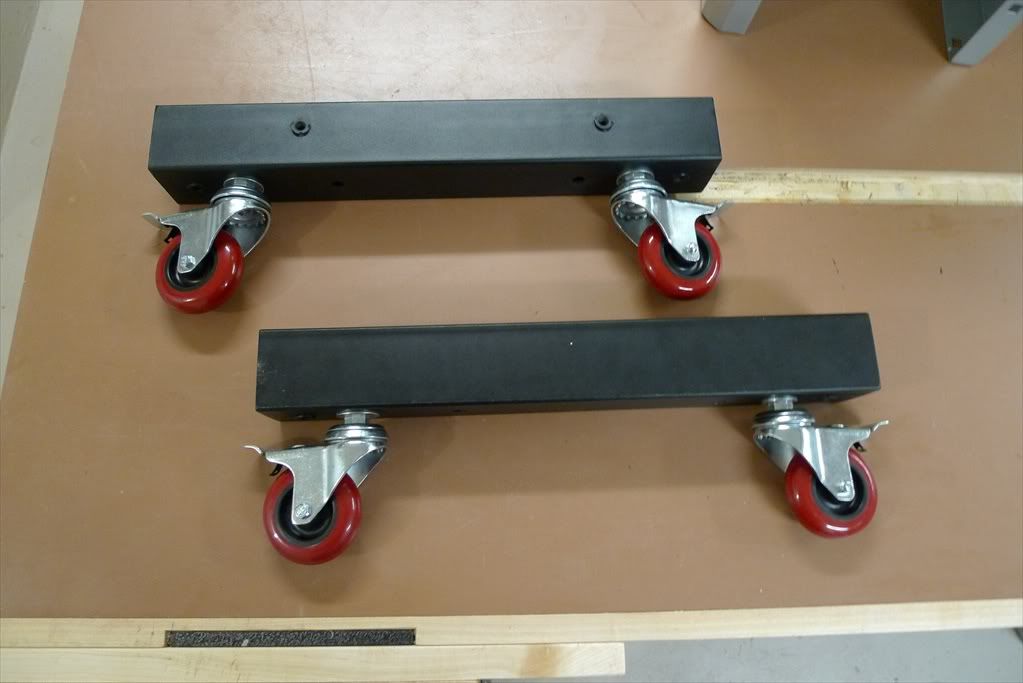 This is the feed motor and belt assembly. It is cast iron and easily weighs in at 60+ pounds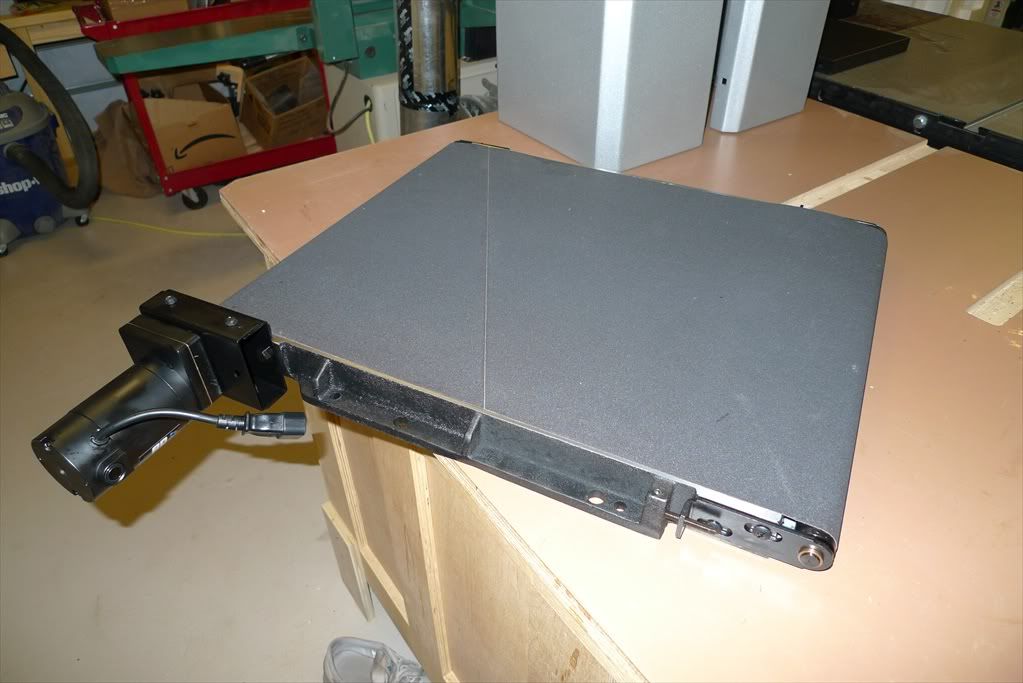 This is a close up of the bushings, not bearings,...which sucks but no one on this class of machines produces them this way. As long as I keep them lubricated everything should be fine…I hope?

This is a shot of the rest of the stuff in the box. The crank wheel is cast iron. The handle on the wheel did not move very freely on its axis. I shot some lubricant in there and it mildly improved performance. I noticed there was an o-ring that separated the handle from rubbing on the wheel. This was a very tight fit and likely the problem…so I removed that and it rotates easily now. Problem solved.

This is the base assembled. This was very easy to do even with the casters on once I got the hang of doing a balancing act and one bolt in. It took less than 10 minutes for this part.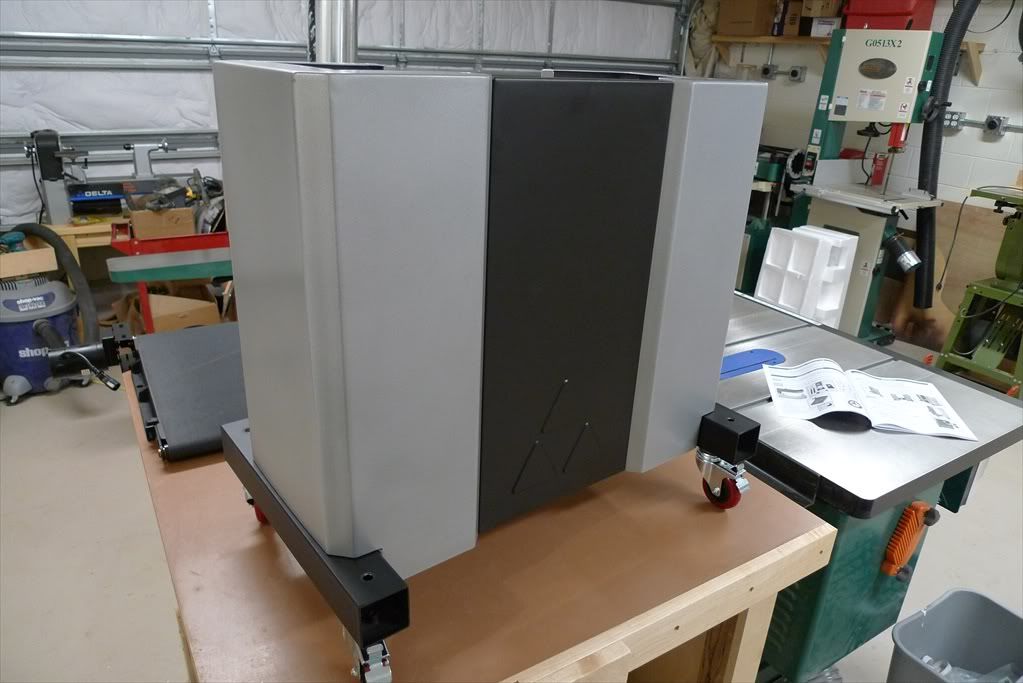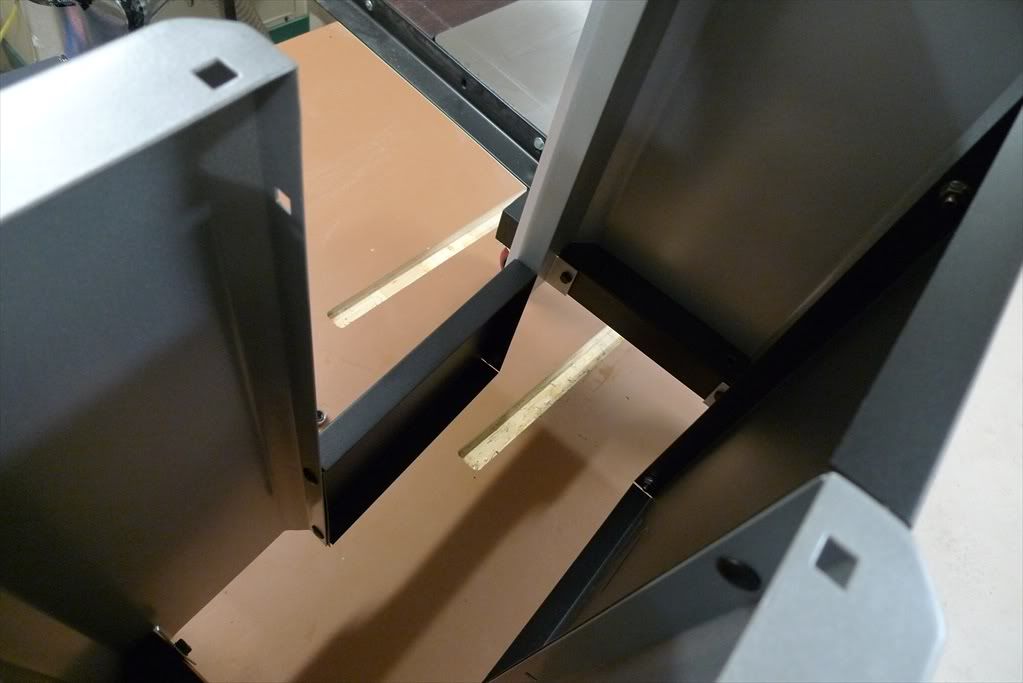 This is the lower half of the box. This was very heavy and makes up to bulk of the weight. I would guesstimate it is about 130-140 pounds. I moved it myself albeit with a good bit of effort. I would definitely recommend 2 people for this. I would have liked an extra set of hands. The instructions call for the head assembly to be placed on its side for the install to the base as seen in the pictures. However, that is not as easy as just setting it on the base…which is what I did after 10 minutes of frustration trying to install it their way. So I recommend to skip that step of theirs.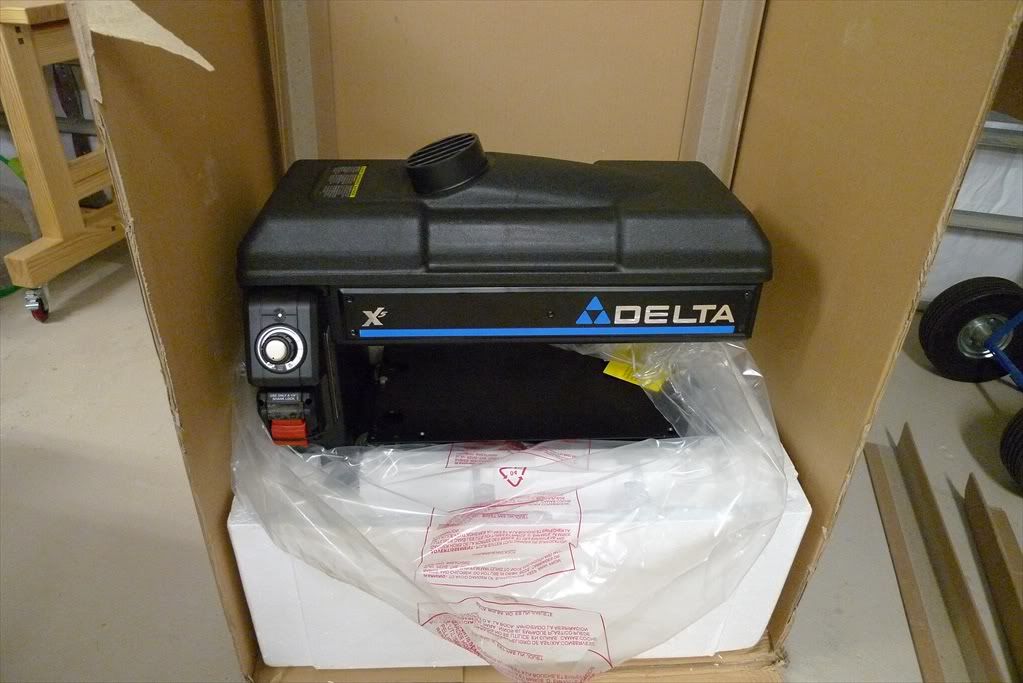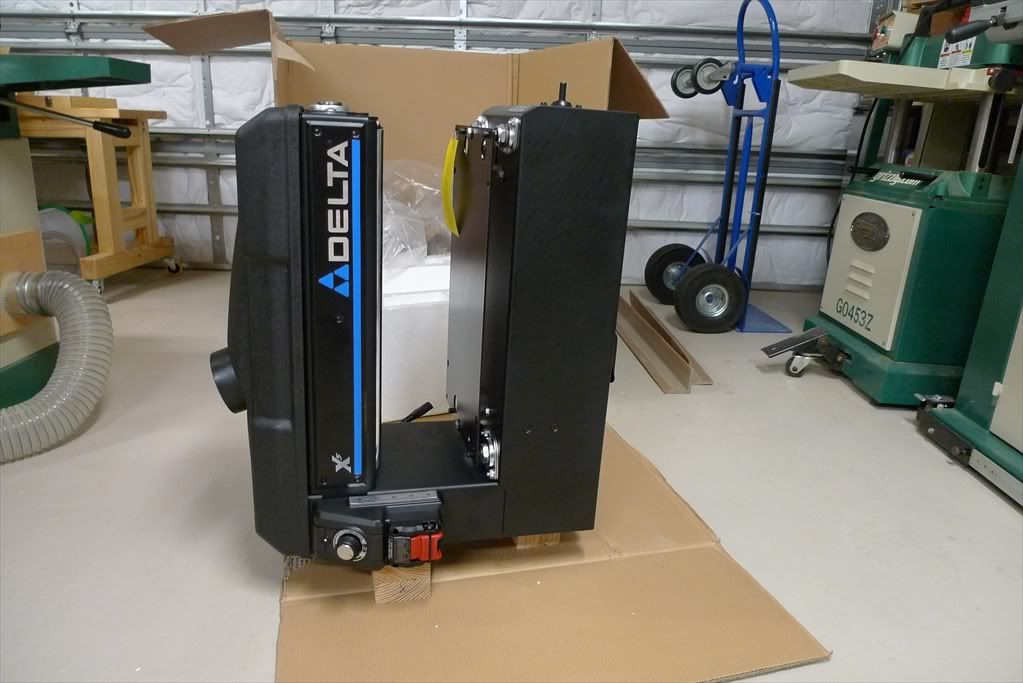 Here you can get a good view of the motor and table lifting gear drive belt assembly. You will never see this easily once it is installed.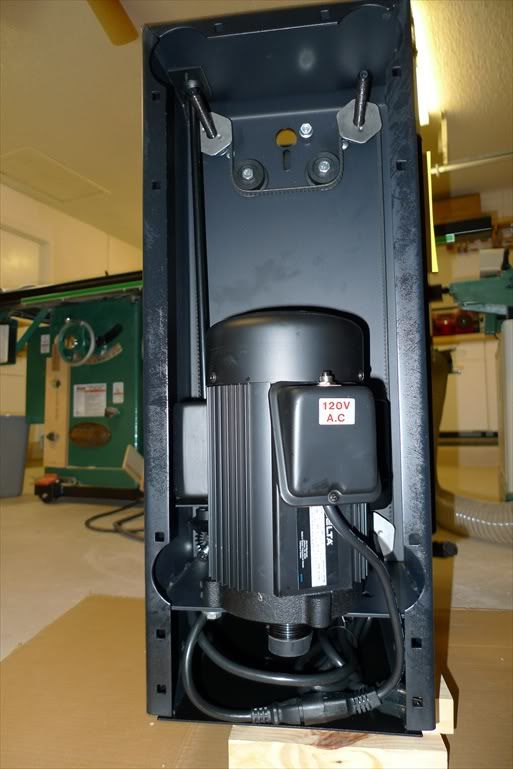 Since its sitting on locking casters its easily mobile. Installing the base to the drum sander head took 45 minutes and was a bit frustrating trying to locate the bolts through the holes and tighten everything up. But, it is solid and well built so nothing worth complaining about.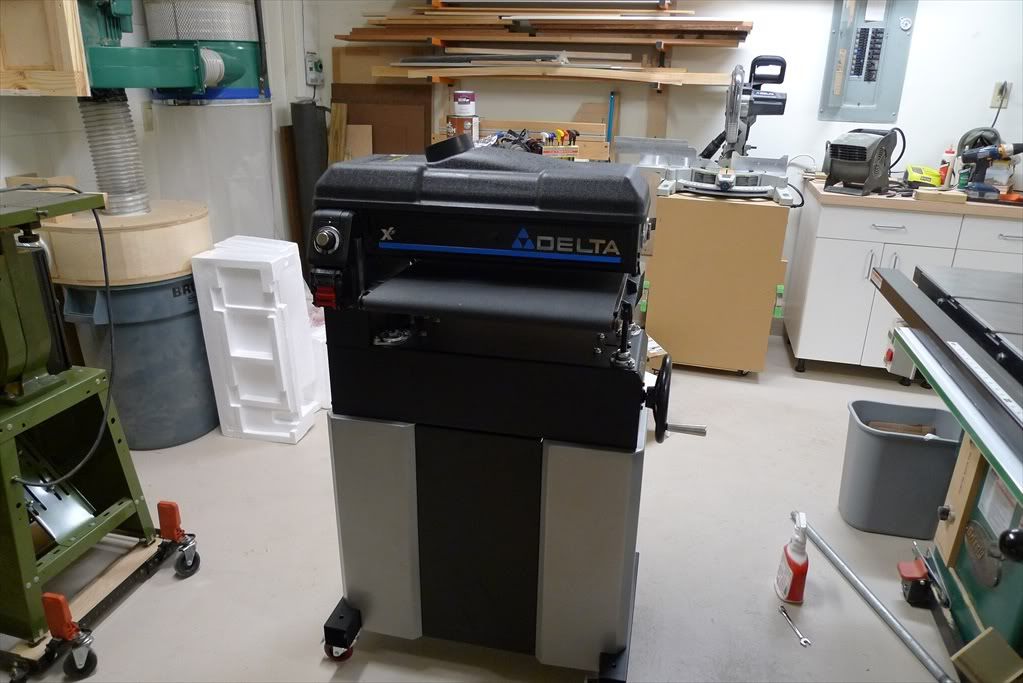 This is the close up shot of the wood sample from the video after running the pre installed 80 grit on it. Its pretty rough and I am definitely going to change the grit. I will try the 120 the machine came with and see how I like that and possibly move up to a 150 for my main purpose of trying to to clean off machine marks quickly and evenly.

Conclusion:
My first impression with setting up and running the machine are positive. I like how easy it is to adjust the tracking system, although I have yet to run a full width board through to check for table for true parallelism. During setup I followed directions to help get it all parallel, but I will find out how good I was real soon. I will update to let you know how that goes. I am super impressed with the dust collection so far and the variable speed drive belt power. I think Delta has a solid performer here for this segment of the drum sander market. I can not yet say if I will regret going with a smaller HP sander like this yet or not…only time will tell. However, the 5 year warranty will be piece of mind because I intend to use this a lot.
Comparing this to the JET sander is probably the best possible candidate. There are quite a few differences between them…most notable table adjustment vs head adjustment. Secondly….the head deflection problem on the JET is not an issue with the Delta machine. That alone is what pushed me towards the risk of the Delta vs the much more widely used JET. I just could not get over the head deflection, it was a deal breaker for me.
Since there are virtually no reviews of this sander hopefully this will open a dialog on it. I know Delta's sanders were a hit or miss in the past…this one seems to have improved on those issues. I will update this review as needed as I use this sander. I will give you all the facts so good/bad. There needs to be competition in the drum sander market and it seems Jet has been running the show far to long with no innovation. Maybe this sander will change that…we will see.
UPDATE 7/20/11 – More adjustments have been made.
I have had time to really put the machine to use. I found out that following the manual's directions left my table a little more than .03" (about a 1/32" of and inch) out of alignment across the full 18" drum (not terrible but not good enough for me). I opened the manual again and messed with the setup block instructions which took a while, and then the table would not raise or lower easily. So I had to follow the other instructions which remedied that…but totally through off my setup block alignment. After screwing around for another hour following their directions I decided something different. Common sense!
I took a piece of plywood 18" long and laid it on the table, raised it up until it just kissed the drum and then adjusted the open end until it looked parallel to the eye. I then adjusted the front right nut because the lifting mechanism was binding a little and then tightened everything back up.
I am now within .01" across the whole 18" drum and know I could do a little better with some more tweaking but across 18" that is pretty good. I ran a full width maple butcher block through once (far end was out .011) and then rotated it 180 degrees and ran it back through without making any adjustments to table elevation and it was dead on every side.
1 / 64 of an inch is = 0.015625 so across 18" the .01 right now it is out is not to shabby, again…I am sure I can get it better will a little more adjustment.
So I am very please with this sander right now. I have managed to make it bog, but that was me just being stupid and not paying attention to how much I was trying to bite off. The 1-1/2 HP motor is more than adequate when paired with the correct grit of paper. The dust collection is FANTASTIC when hooked up to a high CFM collector.
I stand by my original 5 star review and while I think it is pricey (aren't all drum sanders) I like that it is covered by a 5 year warranty and everything is working as it should. I am feeling less buyers remorse every time I use it ( I originally wanted a 26" Woodmaster DS… More power and more $$$) because it is getting the job done.
---
---
---
---