Well, I have been wanting to get one of these since I first read about them, a ways back. I read all the reviews and really wanted this planer over the DeWalt two speed. I finally got the opportunity to buy one and I took delivery of it about a week after Christmas. I bought it from Highland Hardware..they had it on sale for $499.00, and $48.00 shipping. It came UPS, and it was really heavy. Hand trucked it down to my shop and opened it up. Packed very well, and didn't seem damaged at all. I had finished a custom made rolling stand for it and I quickly mounted it. Here it is mounted to the cart, and set up ready to plane…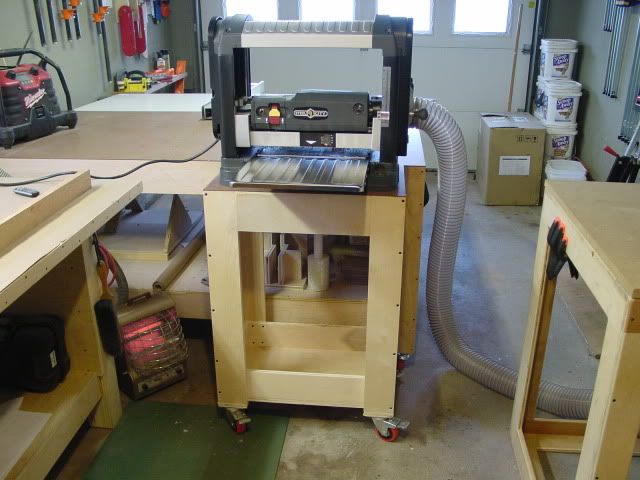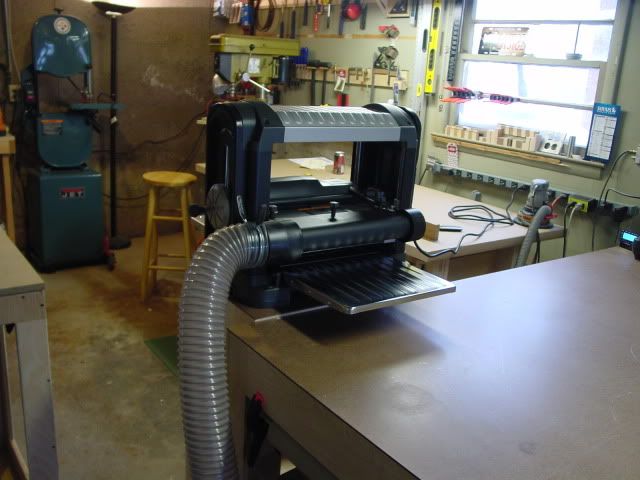 After mounting it I looked over the instructions and then checked the tables for level. Everything seemed in alignment. I then wiped it down with a rag and some mineral spirits. It had some oil on the tables and in a few other spots. I fired it up and did some test planing. It is really quiet…you don't hear any planing sounds, just the motor whining. I was planing a piece of 4/4 cherry. The chip extraction was excellent, and the surface quality after planing was amazing…glass smooth, no knife marks..excellent! There was no noticeable snipe…I mean not even negligible, sandable amounts..NONE! Although, I was planing a relatively short piece of wood..I will have to wait and see how it does with longer pieces.
So I wrapped it up and moved it to the corner where it sat for about a week. I scrounged up some scraps and some drop that I bought at the local hardwood dealer and figured I would give the planer a decent workout, because most of what I had was F1S, and various thicknesses. I set the planer up and the first thing I noticed was everything was covered in oil again. So I broke out the mineral spirits and wiped it all down again and re waxed the tables. I started pushing some maple through it and I noticed that the chip extraction wasn't as good as it was with the cherry. I was getting some chips out the front and the back, and piles under the infeed and outfeed tables. It was planing well, and effortlessly. I was taking 1/32" passes, with hard maple and it wasn't even slowing down at all. I finished that up and it sat for a day while I ripped and glued up a cutting board. When the board was out of the clamps, I went to flatten it out with the planer, and I had to wipe the planer down AGAIN! Geez..i think they over lubricated this planer…. But it worked flawlessly to flatten the cutting board, with no snipe, and no tear out of some figured spots on the board.
So overall I would have to say I LOVE THIS PLANER! It gets high marks for packing, factory set up, quietness,
quality of planing, lack of snipe. The only thing I have to criticize is, the excessive amounts of lubricant that I am STILL wiping off it, and the decent, but not outstanding chip collection. I give the planer 5 stars, and I highly recommend it to anyone thinking of making the helical head jump in a portable planer.
-- http://www.facebook.com/pages/DSO-Designs/297237806954248
---
---
---
---